. . .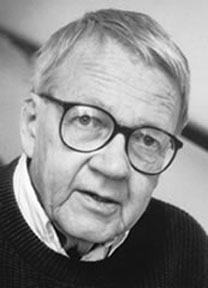 He looks around, full of secrets;
His strange deep thoughts have brought, so far, no harm.
Carefully, with fists and elbows, he prepares
One dark, tremendous chord
Never heard before–his own thunder!
And strikes.
          And the strings will quiver with it
A long time before the held pedal
Gives up the sound completely–this throbbing
Of the piano's great exposed heart.
Then, soberly, he begins his scales.
. . .
– from "After-School Practice: A Short Story" by Donald Justice
The Collected Poems of Donald Justice (1925-2004) were released in paperback last year. When the young Justice went off to the University of Miami (FL), he had it in mind to become a composer. He soon decided, however, that he had more promise as a writer, and he changed majors and graduated with a degree in English. But this was not before he had taken some lessons with none other than Carl Ruggles.
One of the very few things I don't like about living in New York is that my apartment is too small for my piano. Roland ep.9 's, whatever their virtues, don't come with dark tremendous chords.
A little slow out there. Jacob Sudol has some Scelsi, and, just below, Jerry Zinser files a dispatch from L.A.