Ecce Cor Meum
Paul McCartney
Kate Royal, soprano
London Voices; Boys of Magdalen College Choir, Oxford; Boys of King's College Choir, Cambridge
Colm Carey, organ
Mark Law, piccolo trumpet
Academy of St. Martin in the Fields
Gavin Greenaway
EMI Classics 094637042427
That Paul McCartney was a member of the Beatles should be ignored for the next few minutes as you read the following.
Our expectations are immediately met within the first thirty seconds of music: Bland choral writing, sophomoric orchestrations (not by McCartney, I assume), and predictable melodies that are served with cliché "lyrics" in English (interspersed with Latin). To listen for another fifty-five minutes (which took "eight years to compose") would be a waste of time, and unfortunately the liner notes provide no interesting reading material to justify the overly produced booklet filled with typical pictures and prose.
Some memorable quotes (not melodies) from the liner notes:
"I've never had a lesson in composition or notation." – Paul McCartney
Speaking of Anthony Smith's request for a choral work to induct a new concert hall at Magdalen College, Oxford, "His hope was for a 'choral piece which could be sung by young people the world over – something equivalent to Handel's Messiah."
"McCartney instinctively did what many great classical composers have done before him…" – Peter Quantrill
Through Ecce Cor Meum, McCartney reminds us that despite tremendous pop success, not everyone makes a good composer (the opposite is also true). This vanity project gives us plenty of reasons to lament the state of "classical music" and renew fears that professionals will largely be ignored and forgotten and be replaced by frauds with money.
Veni Creator Spiritus
Philip Swanson, et al.
Philip Swanson, trombone
Barbara Bruns, organ
MSR Classics 1137
Philip Swanson (b. 1949), trombonist and composer, is joined by Barbara Bruns, organ, for a collection of duets for trombone and organ, with one organ solo. The literature for this combination isn't enormous, but it works well. For anyone looking to compose church music, and not use voices or trumpet, may find the trombone/organ duet useful. Philip Swanson's composition Variations on Veni Creator Spiritus is mostly meditative and slow, and one longs for the rhythmic energy and bounce present in the final variation (Variation IV). Overall the work is idiomatic and tuneful, and would work appropriately in a church setting.
Hugo Distler (1908-1943) was a prolific performer and improviser, and his Partita "Nun Komm der Heiden Heiland" is, like Swanson's piece, a set of variations on the aforementioned chorale.
The other work by a living composer on this CD, Domine, Dona Nobis Pacem by Frigyes Hidas (b. 1923) is a meditative song for trombone and organ. I don't know this work, but I wouldn't be surprised if it exists as a work for voice and organ. Think: "The Lord's Prayer" by Albert H. Malotte. Also on present in this recording is Rachmaninoff's Vocalise as arranged by Barbara Bruns.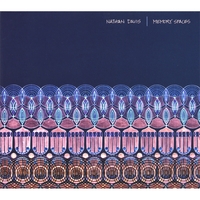 Memory Spaces
Nathan Davis
Kaija Saariaho
Diving Bell (2002) for triangles and processing opens the disc with one color that is sustained, successfully, for eight minutes. The simplicity is moving and, even to a non-electronic music person, its message was clear. I was less enthused about Crawlspace (2002) a "study" in laptop sounds (literally, the sounds that a laptop makes) and how they interfere with the processing software and, apparently, another audio device nearby. Talking to Vasudeva (2002) for river stones, processing and field recordings "explores the intermutability of stone and water: the ease with which stone impels water to follow its form and the persistence of water to wear stone smooth." Like Diving Bell, this work makes use of a limited palette, including stones from a river near the composer's one-time residence, and sounds from his walks near the river.
Kaija Saahiro's Six Japanese Gardens, for percussion and electronics, is a suite of six miniatures, each one based on impressions of actual gardens in Ryoan-ji, Saiho-ji, and other locations. The electronic component acts a vehicle for "chanting monks," and is largely independent of the percussion writing.
Larkin Gifford's Harmonica
Phillip Bimstein
Phillip Bimstein's "alternative classical" is best described as collage work, taking found sounds, some completely unaltered, and combining original (acoustic) music from more traditional ensembles. Casino combines narrative from Tom Martinet, an ex-priest who has worked in Vegas since 1974 as a "dice-caller," and various casino sounds (dice, poker chips, roulette wheels, etc.). Bimstein adds a wind quintet score to create a comical, but insightful, triptych that is as maniacal as Las Vegas seems (I've never been).
Half Moon at Checkerboard Mesa, The Bushy Wushy Rag, and Larkin Gifford's Harmonica continue the collage practice, combining sounds from across the country, from a St. Louis Cardinal's baseball game and the "beer man," to a harmonica player from Springdale, Utah. All are worth a listen or two.
Rockville Utah 1926 is for string quartet (no electronics) and is a straight-forward, lyrical work based on an earlier composition by Blimstein. It is meant to "evoke the life…of remote rural Utahns…before they had electricity." At first, Rockville seems out of place, but when considering that the rest of the CD is mainly electronic, this rustic work sits well amidst the technology.