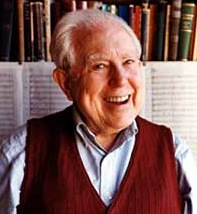 Emerging from Elliott Carter's "What Next?" for me paralleled uncannily the experience of the characters onstage, all of whom have just endured "some kind of accident" whose significance and impact, however powerful, remain baffling. Details from the libretto and the set design suggest a multi-car collision has occured, and, amid the wreckage, the victims intermittently soliloquize about their plight and attempt to comfort each other, though all — physically, at least — are unhurt. But an absurd, profound interpersonal disconnect ultimately predominates, and the opera ends with a pair of oddly fastidious road workers who, after they clear the debris, lead the accident victims to safety.
A post 9/11 work written a few years before the event itself, "What Next?" externalizes the "musical deeds" in Carter's later music and reveals his emotional landscape to be one founded on catastrophe and alienation. The opera is a comedy, but not the sort that makes you laugh. And nor is the piece something to awaken audiences' sympathies for the characters: "What Next?" throws all such reactions back onto listeners like light hitting a mirror. My pulse only quickened in the opera's final measures, when the clamorous opening percussion sounds return (the "accident" sending us off) and a soprano's lonely high note rises to the rafters. In these moments, the opera at last irretrievably sheds its pretentiousness, and it becomes clear that, while not a cuddly work, "What Next?" is art at its truest and deserves the long life its creator has enjoyed.
"What Next?" has two more performances at the Miller Theater. The libretto is by Paul Griffiths, and the performance and production are first rate.