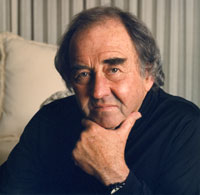 Another full house at Zipper Hall, and we enjoyed ourselves with the music of William Kraft and his "Encounters" series of works for percussion. This was the third and final program in the Kraft/Encounters retrospective given by Southwest Chamber Music, honoring Kraft for his 85th birthday. By the end of tomorrow the whole series will have been recorded, and next year a 3 CD set will be available of this important set of compositions by a man who has been such a major participant in contemporary music in Los Angeles. Unfortunately, the conversations with Bill Kraft will probably not be in the CD. Listening to Kraft's comments, not limited to his music, has been one of the treats of the series; he is a witty, charming, thoughtful, knowledgeable gentleman.
Last night's concert gave us the newest Encounters: the world premiere of Encounters XV for Guitar & Percussion; and Encounters XIV (2006) Concerto a Tre (for piano, violin and percussion). To these were added two earlier works: Encounters IV: Duel for Trombone and Percussion (1973); and Encounters V: In the Morning of the Winter Sea (1976) for cello and percussion. Kraft's compositions explore the textures of sound; he makes extensive use of a wide variety of tuned percussion and seems to delight in the unique sounds that result from simultaneous notes on two or more instruments, often with special striking or bowing techniques. His works explore the variety of sounds from his selected pairings, not merely from the percussion alone. For example, Encounters IV begins with a duet between tympani and a trombone using a range of mutes. That work also included use of tuned steel mixing bowls; since the original bowls could not be located, tuned cowbells were substituted.
The percussion responsibilities were shared last night. Lynn Vartan performed Encounters XIV and XV. The two principals of Mexico City's Tambuco Ensemble, Ricardo Gallardo and Alfredo Bringas, performed Encounters V and IV, respectively. Tambuco played a key role in Southwest's performances and recordings of the complete set of chamber works by Carlos Chavez, and Tambuco brought some of their instruments, such as the tuned cowbells for the performance (and recording). In an interesting symmetry, Kraft conducted the world premiere of Chavez' Tambuco. Bill Booth was the dueling trombonist, Peter Jacobson the cellist, Shalini Vijayan the violinist, Ming Tsu the pianist, and John Schneider the premiere performer on guitar. Watch for these recordings.