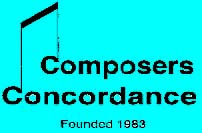 New and specialized ensembles, groups of composers and performers banding together, DIY concerts and record labels… All the stuff of now. But let's pay a little respect to New York's Composers Concordance, who've been DIY-ing it for a good 25+ years now.
Their latest outing is a marathon show, Jan. 31st (6:00 pm doors, 7:00-10:00pm performance time at the club Drom, 85 Avenue A, between 5th & 6th, New York, NY. 212-777-1157)
No less than 23 composers are on the bill: Roger Blanc, Thomas Bo, Luis Andrei Cobo, Charles Coleman, Dan Cooper, Larry Goldman, David Gotay, Patrick Grant, Franz Hackl, Don Hagar, Arthur Kampela, Alon Nechushtan, Daniel Palkowski, Milica Paranosic, Akmal Parwez, Joseph Pehrson, Gene Pritsker, Paola Prestini, Jody Redhage, Kamala Sankaram, William Schimmel, Andrew Violette, and Theodore Wiprud.
Gene Pritsker, Composers Concordance co-director, talks about the concept for this presentation:
"We are exploring the relationship composers have with their instruments and how they go about writing music in which they know that they will be the performer. Dan Cooper and I talked about assembling a large group of composers and requesting a four minute composition from each. We are programming them back-to-back in a marathon setting and constructing a performance that highlights the composer as a performer: short compositions as vehicles for direct expression, from the composer's mind to body to the audience.

We selected 150 composers and e-mailed them all on a secretly chosen day and time. The first 23 to respond to this e-mail were programmed for the event. We created a random criterion as opposed to a competition for choosing the participating composers, though all 150 candidates were composers whom we, the Composers Concordance directors, knew and respected."
Tickets are $10, but there's a two-drink minimum, so the later pieces are likely to start sounding all warm and fuzzy…
…………………………………………………….
If you really want to make Jan. 31st a full-music day in the city, at 3pm prior you could head to St. Ignatius of Antioch Episcopal Church (552 West End Avenue at 87th Street) to hear The New York Virtuoso Singers, The Raschèr Saxophone Quartet and conductor Harold Rosenbaum take on a concert of works for winds and choir. On the program is the US premiere of BMI Young Composer Award recipient Rafael Nassif 's piece for for three choirs and three trombones [wait, I thought we were talking saxes here?…], and a world premiere by our own S21 contributor and great pal Rob Deemer, plus works by Stefan Thomas and Jouni Kaipainen.
Tickets: $20; Students and Seniors: $15 TDF vouchers accepted. Tickets available at the door one hour and 15 minutes before concerts, or call Ticket Central at 212-279-4200. And there's a 2pm pre-concert talk for you earlybirds, with the Raschèr Quartet.