The Society for Universal Sacred Music, Harold Rosenbaum, Artistic Director, will present Roger Davidson's Unispace for choir, piano, organ and percussion, performed by The New York Virtuoso Singers, Maestro Rosenbaum conducting, on Saturday, February 9 – 8:00 PM at St. Ignatius of Antioch Episcopal Church, 87th St. at West End Ave. in Manhattan.
Unispace, written in 1982, is the world's first major choral work about the spiritual and scientific aspects of living and working in space. It was inspired by the 1982 United Nations conference on the peaceful uses of outer space and was performed in major cities as a benefit for UNICEF. The performance will feature a multimedia display of imagery from NASA.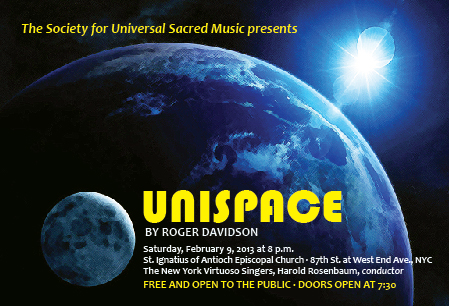 The February 9 performance is free and open to the public. For more information, call 914-241-0303 or visit http://www.universalsacredmusic.org/.
Roger Davidson has been a composer from an early age. Born in Paris in 1952, he began teaching himself the piano at the age of four and started taking violin lessons at eight. His recordings include One God, One World and Missa Universalis (Soundbrush Records), both of which include choral works representing the beginnings of what he later termed "universal sacred music." Mandala, an orchestral work, was a finalist in the 1983 St. Paul Chamber Orchestra composers' competition. The work was later recorded on the CD Mandala (MMC Recordings) that features soloists Richard Stolzman and Jeffrey Silberschlag. Visit him at http://www.rogerdavidsonmusic.net/.
The mission of the Society for Universal Sacred Music is to foster the creation and performance of music that celebrates the unity and fundamental Brotherhood and Sisterhood we all share. The Society is now celebrating its 12th anniversary and is a community of musicians and listeners, with a common desire for peace and spiritual harmony. Each year they sponsor several events with new and existing works in many different styles. Visit them at http://www.universalsacredmusic.org/ and http://www.facebook.com/pages/Society-for-Universal-Sacred-Music/85880356374.