Many Sequenza 21 readers will know Carlton Wilkinson best for his blog The And of One and for his work as a composer and presenter of contemporary concert music; but the man wears many hats. He's also a college instructor (currently on the faculty at TCNJ) and a music critic for the Asbury Park Press.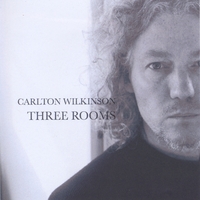 Wilkinson recently shared another facet of his work: Three Rooms, a self-released album of avant pop songs. It's currently for sale at CD Baby and iTunes. The recording primarily consists of spare piano-vocal tracks; but also includes percussion, guitars, and judicious employment of synthesizers.
One can certainly hear influences of Carlton's experimental compositions in the arranging touches such as flurries of noise and percussive adornments. But there's a fair bit of prog sensibility here as well, no doubt abetted by Wilkinson's singing voice bearing more than a passing resemblance to Adrian Belew.
Wilkinson has graciously shared an MP3 with us for previewing. Please don't re-host and, if you like it, support grassroots music-making and buy the recording!
MP3: Trigger