yMusic
Beautiful Mechanical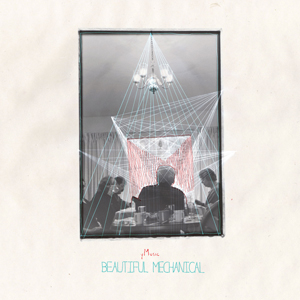 Ever since the inception of the New Amsterdam imprint, we've been talking about the "indie classical" phenomenon: The genre cross pollination between contemporary classical artists informed by indie rock and indie rockstars who are interested in concert music. While there have been a number of significant releases on New Am and other labels, Beautiful Mechanical the debut release of yMusic, may be the most synergistic example of this fertile crossover domain's musicking yet.



My Brightest Diamond & yMusic | A Take Away Show | Part 01 from La Blogotheque on Vimeo.
yMusic is a Brooklyn based sextet of classically trained yet versatile musicians (personnel: violinist Rob Moose, trumpeter CJ Camerieri, cellist Clarice Jensen, vlutist Alex Sopp, clarinetist Hideaki Aomori, and violist Nadia Sirota). All of them have performed conventional concert repertoire, more avant-garde material, and their fair share of pop gigs and recording sessions. As such, they're an ideal collective to collaborate with both classically trained composers and indie musicians.
The contributors have similarly eclectic backgrounds. Son Lux, who composed the title track, is also a classically trained composer. But his motoric, electronica-inspired take on chamber music in the title track sizzles with chart-topping energy. And while it asks a lot of the musicians, it never puts them in the position of playing something unidiomatic. Annie Clark (better known in pop circles as St. Vincent) spread her wings for the first time in a chamber music context, but the results are most compelling; her composition "Proven Badlands" is one of the standouts on the album. It ranges in sentiment from pastoral Americana in a Copland-esque vein to jazzy brass riffs to post-minimal ostinatos: yet all of these styles cohere in a fascinating postmodern collage with considerable momentum.
Shara Worden (My Brightest Diamond) not only works with yMusic on Beautiful Mechanical, contributing two cuts to the album; she also employs them on All Things Will Unwind her latest record for Asthmatic Kitty. We'll be talking more about that record in another post, but you can check out a video below of one of Worden's "indie art songs" that she performed with yMusic at last year's Ecstatic Music Festival. Here, her instrumental compositions exude a fetching conflation of gentle whimsy and supple lyricism.
Gabriel Kahane's "Song" does indeed lead with melody, which begins in conjunct fashion but gradually becomes more questing and wide ranging. Trumpet and winds are ultimately given long-breathed and intricately shaped lines that channel something of Les Six's enigmatic use of an extended triadic vocabulary. Sophisticated stuff that belies Kahane's succinct title.
Two of New Am's mainstays, Judd Greenstein and Sarah Kirkland Snider, each contribute a work as well. Greenstein's "Clearing, Dawn, Dance" is lithe, airy, and fleet-footed; it's played with mercurial grace by yMusic. Snider's "Daughter of the Waves" likewise takes a delicate, almost Impressionist approach, with ebullient cascades of sound along the way.
Few albums with such a diverse array of participants can boast uniformly high quality. But Beautiful Mechanical is the exception: a case in which many cooks leaven and thicken the broth. It looks to be one of contemporary classical's noteworthy recordings of 2011.