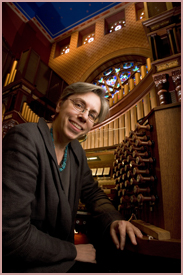 In her recital at Columbia University on Wednesday, organist Gail Archer is premiering a new composition by Sequenza 21 friend Hayes Biggs. His Three Hymn Tune Preludes use stirring material for their inspiration: He Leadeth Me! O Blessed Thought, Be Thou My Vision, and Eternal Father, Strong to Save.
The recital is the first of Archer's "An American Idyll" programs that occur throughout the city during 2012. Their focus is American repertoire, including many neglected and under-performed pieces. Now that's an "Idyll" we can all vote for!
An American Idyll
All Concerts are FREE and first come, first serve.
Wednesday, January 25@ 7:30pm
Location:  St. Paul's Chapel at Columbia University.
117th St. & Amsterdam Ave.
Subway: take the 1 Train to Columbia University/Broadway (116th Street).
Program: Ascent (Joan Tower), He Leadeth me! O Blessed Tho't!*, Be Thou My Vision, Eternal Father*, Strong
to Save* (Hayes Biggs), Wondrous Love (Samuel Barber), Praeludium super Pange Lingua (David Noon),
and Sonata for Organ (Vincent Persichetti)