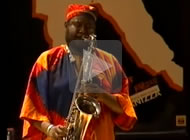 Sad to learn of free jazz saxophonist David S. Ware's passing. An astounding talent.
Here is video footage of DSW with several frequent collaborators, including William Parker and Matthew Shipp.
Below, check out an astonishing reworking of a treacly pop song into an avant jazz showcase of virtuosity and ingenuity.