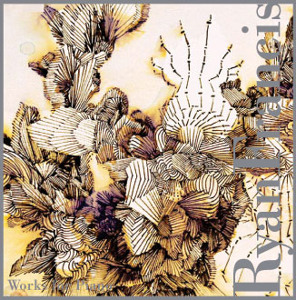 Ryan Francis
Works for Piano
Vicky Chow; piano
Tzadik CD 8080
Composer Ryan Francis (b. 1981) may have just turned thirty, but the Juilliard grad has already amassed a formidable hour plus of solo piano works. These compositions are featured on his recent Tzadik CD release. They are given energetic and laser-beam precise performances by pianist Vicky Chow, a similarly youthful artist best known for her work with the new music collective Bang on a Can All-Stars.
Chow is formidable in the Chopin inspired Consolations (2007), an imposing and hyperkinetic nocturne that features swirling cascades of overlapping accompaniment figures and hypnotic melodic figures. Another homage to the classical music canon, this time to musical "bird figures" referenced in Haruki Murakami's book The Wind-up Bird Chronicles, is found in Francis' similarly titled "Wind-up Bird Preludes" (2005). These works are more fragmentary, seeking to juxtapose birdcall motives rather than make them cohere. Thus, Mozart, Rossini, Schumann, and others are successively alluded to. All the while, the inevitable references to Messiaen cause this ornithologist—composer to serve as birdsong pater familias and master of ceremonies.
Even from the vantage point of an emerging composer just a little over a decade out of his teens, a work written when one is eighteen might be something to suppress rather than spotlight. But one is glad that Francis didn't choose this route, preferring instead to include his set of aphoristic but abundantly attractive Moonlight Fantasy pieces on this CD. There's a taste of Joseph Schwantner's shimmering harmony alongside Francis' already present penchant for brief contrasting sections, busily effusive rhythmic language, and authoritative dramatic contrasts.
Francis' best work on the disc however, is a bit more recent and it is to date his most unconventionally constructed. In an updated version of Conlon Nancarrow's punching of piano roles to create his studies, Francis worked away from the piano (not his usual writing practice) to create a set of Etudes (2008) using MIDI mapping. The results suggest that Francis should put himself outside his compositional comfort zones more frequently, as these are a dazzling group of pieces, incorporating facets of post-minimalism ("Loop"), electronica ("digital sustain"), and Stravinskyian ostinati mixed with Nancarrow-esque rhythmic canons ("Harlequin). What might Francis' at this point conjectural but likely inevitable "Piano Works Volume 2" have in store for us? Judging by what one can hear in his music already, the sky's the limit!
Ryan Francis: Works for piano performed by Vicky Chow by Vicky Chow