Long Distance Poison
Ancient Analogues
VCO Records cassette 005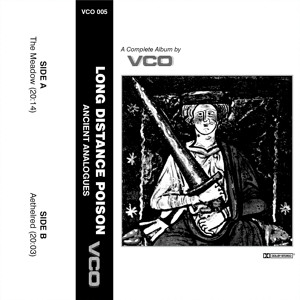 Brooklyn based analog synth performers Long Distance Poison craft two side length drone-based compositions on this cassette out on VCO (buy via Discogs).
Both "The Meadow" and "Aethelred" contain drones with an edge – no mushy ambience here. What's more, the static connotation one can associate with the term 'drone' gives little idea of the pliability and motility of the held tones here. Overtones abound, gradually accumulating; but the group holds off on punctuating the sound environment with melodic or noise-based interjections until a sense of the spaciousness of the grounding material is firmly established. The belated arrival of contrasting elements, many in the treble register, creates pointed interjections and a rousing response to the already rich sheen that has accrued. This is music that one is glad to have linger in the air and sad, at its conclusion, to have evaporate all too soon.
Those who think that, in our digital rich age, cassette must be a compromised medium with which to share audio need to hear this: it will likely disabuse them of that notion. Analog synths thrive in this analog medium. Long Distance Poison proves that their gear and its method of distribution needn't, despite this tape's title, seem ancient. What is old makes decidedly new sounds on Ancient Analogues.