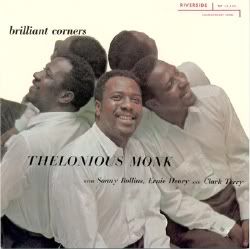 This October 10th, 2005 I would like to first wish everybody a happy Canadian Thanksgiving. Secondly, and more related to music, I would like to wish everybody a happy Monk Day.
Eighty-eight years ago today the illusive, illustrious, and ever-eccentric "High priest of bop" Thelonious Monk was born. In my opinion, Monk fits firmly in the middle of two of the mose important big threes of jazz. The first of these is the most individual jazz piano voices – Duke Ellington, Thelonious Monk, and Bill Evans. The other is the three great "M's" of jazz – Mingus, Monk, and Miles. Furthermore, in my humble opinion, the natural flow of Monk's chopped up city-syncopations and the off-kilter almost shattered lyricism of his melodic conception easily make him one of the most important composers in the long line of American compositional experimenters.
For those not familiar with Monk's music I'd like to make a few recommendations from my iTunes selections for the day – the three great consecutive mid-50's Riverside albums – Brilliant Corners (highlights being the every quirky title track, "Pannonica" with Monk's brilliant céleste playing, and "Bemsha Swing" complete with jazz timpanis), Monk Himself (Monk's originality is never clearer than when he plays alone), and Monk's Music (which features a great selection of tunes and the two greats from different generations of tenor saxophone playing – Coleman Hawkins and John Coltrane).