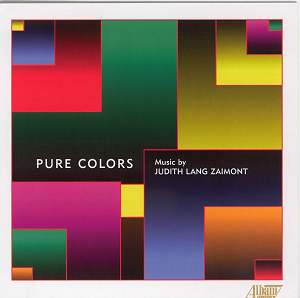 While cover art may have something to do with the impulse to purchase a particular recording,  it's unclear just how  important it is to separately title a CD. 
I don't recall titles being an issue in the days of LPs;  a list of works and the names of the performers and composers were generally what we saw on album covers.   And the Schwann catalogue (plus Fanfare, Stereo Review, High Fidelity and  other record review journals)  organized their  write-ups  just  the way we do today, according to the  artist's surname.   Nevertheless,  starting about a decade ago I began to  create titles separately for discs of my music, in part as  a way to keep track of  which piece(s) were on which disc. 
 This has turned out to be a fun thing to do –  and takes as much thought as designing titles which matter for the pieces  themselves.   If there's any 'theme ' at all  implicit to this particular  group of pieces,  the CD title  offers the listener a guide,   suggesting  at least one way to approach this music.   My first try at titling was for the  1996 CD Neon Rhythm –  a natural choice considering that the disc features the cool color of winds  and most of  the music is built on dance rhythms.
 For each later recording  there is a small side-story  just about the titling process.   The one with  the best inside joke is a  2005 Albany disc  of  small-forces chamber music.   I had the good fortune to have my husband  create  that cover art.   When Gary and I discussed the music to be included and he  heard that one of the titles I was tossing around  was "pure colors",  he went away and came back with a design featuring anything but the pure  variant of each color !:  they're all off-tone variations of prime colors,  and the whole thing is based on versions of a single  angled shape.   Considering the 'angularity' of several pieces on the disc   — especially  WIZARDS, and clarinet solo Astral –   the design concept fit perfectly, and it remains my favorite CD cover so far.
A  full list of  my CDs with cover thumbnails may be found here.