---
THREE TALES
OF 20th CENTURY TECHNOLOGY
---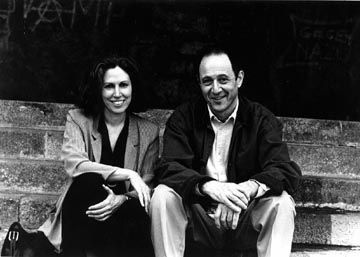 Three Tales by Beryl Korot and Steve Reich debuted at the Vienna Festival in May and arrived at BAM last week.
---
By Duane Harper Grant
What do the airship Hindenburg, the Bikini
Atoll and Dolly, the cloned sheep have in common? They are the core material for
Three Tales, the video/opera by composer
Steve Reich and his wife, video artist Beryl Korot, which arrived in Brooklyn last week as part of BAM's 2002 Next Wave Festival.

Like Reich and Korot's 1993 masterpiece The Cave, Three Tales is a new artistic form of music theater that mixes historical film and video footage, video-taped interviews, photographs, texts, and specially constructed stills. The parts are assembled on a computer, transferred to video tape, and projected onto a large 32-foot screen. The drama unfolds from the interplay of video projection and the musicians' and singers' performance.
Putting aside the ambiguity implicit in using technology to dis technology, Three Tales, the opera, is a chilling commentary on the power of 20th century technology and the possibilities for use, and misuse, that we humans wield. Simply told, visually and musically, with an often austere and almost cartoon quality (especially the repeating or reoccurring phrases of talking heads in the third movement), it is all in keeping with the minimalist ideals of simplicity and repetition. But, because of this simplicity it is able to seem much larger than mere theater.
.
The effect is not unlike the simple, almost too obvious, questions a child would ask but because of that innocence and simplicity a child is able to get right to the point and that directness is a quantum leap from grown up mental circumvention, ruminations and conundrum.
Each tale was chosen by Korot and Reich to present an idea or a thesis on technology and its ramifications in recent history. Just what that idea or ideas and thesis are is what makes Three Tales the provocative and captivating piece that it is. Reich and Korot are too much the artists to provide easy answers.
The milestone events of technology in the 20th century are many and varied so one must ask why they chose these particular three. Do these events speak to broader ideas and issues? Are they statements of a foreboding nature used to say "hey, maybe just maybe, we are getting way much bigger than we really are."
And just what happens when again we approach technological advancement with bravado and even something smelling a little of arrogance"? We now wield so much power but are we really paying attention to the possible consequences? Do we set inexorable things into motion which ultimately we cannot control or foresee. Do we know how those things will play out? Do we care?
Three Tales is visually driven although Reich says that he wrote the music first then sent it upstairs to Korot who then created the visual/video to go with it. This is opposite way to the way movies are done but similar to the production of music videos. Humans are first visual then aural.
What one may not notice at first, as I did not, is that the visual element of Three Tales is in a way even more understated than the music. The minimalist visual element has a stark and, at times austere character. But it is used effectively to set the viewers' minds in motion.
The music is vintage Steve Reich and is brilliantly realized and performed by the Reich Ensemble and the Synergy Voices led by conductor Bradley Lubman. Reich never strays too far afield from his long-held sensibilities. The body of his work is varied to be sure but always distinctly Reich. Three Tales, too, is distinctly Reich. At times one has to "get used to" the use of droning voices in their higher registers and indiscernible lyrics and words (but after all this is opera). But this effect effectively produces a state and feeling of eerie cataclysm. The piece, I really think, warrants several listenings and viewings. To that end Three Tales will be available on DVD at some point in the future. So it seems, not all technology is bad.
The Next Wave festival at BAM runs until December 22nd. The festival is now celebrating its twentieth year. Check the web:
BAM
Three Tales:
Music: Steve Reich
Video: Beryl Korot
The Steve Reich Ensemble and Synergy Vocals
Conducted by: Bradley Lubman

November 16th, 2002
---
UNCOMMON CHANCES: The group Ethel is a string quartet. They play contemporary music. Often in places you don't usually find string quartets. But don't call Ethel a string quartet. It's a band. "What image does a string quartet put in your head? A dour group of people playing perfectly together in perfect harmony. That's not the path that I wanted to go down." The New York Times 10/20/02

BAD DAY (CAREER?): Composer John Corigliano has had a successful career in music. But he's discouraged about his profression. "I'm so discouraged I just don't even feel like writing in classical music or concert music, because I truly feel that we're in a terrible state. The (classical) record industry has collapsed. No one's interested. No one cares. Can you imagine anybody having a riot like The Rite of Spring now over any piece of art or music? Do you think they care? No one does." Denver Post 10/17/02

MUSICAL GAMES: Composer Sam Hayden has written an interactive piece of music for the internet that combines composition with video games. "3D Music extends to the Internet several important concepts in contemporary composition. For instance, it experiments with spatialized sounds, so that a listener hears different music in different locations. Surrendering control of the work's structure to individual online visitors challenges the notion of a classical composition as a fixed entity. Letting audience members determine 'how a piece of music sounds — to a large degree, not to a cosmetic degree — is clearly something very new and radical'." The New York Times 10/14/02

BAZ'S BOHEME: Baz Luhrmann took two years and 3000 auditions to cast his La Boheme. It's currently playing previews in San Francisco before moving to Broadway. Visually, it's unconventional - teeming with "energy and characteristic Luhrmann colour. Luhrmann says his goal was to reinvent opera for a new generation; to bring it from its lofty level to mass audiences, in the way Puccini's art was enjoyed. The opera is sung in Italian, but with English surtitles that include such Batman-era translations as Kapow!, Thwack!and @#!&% for a mock fight scene." The Age (Melbourne) 10/18/02

BRITAIN'S FAVORITE OPERA: It's Mozart's Marriage of Figaro, as voted in a Classic FM poll. "Wagner — whose work was almost exclusively operatic — is the most notable absentee, with no entries in the list which features just four composers." Andante (PA) 11/012/02

CHANGE AT THE TOP: Many of the world's top orchestras are introducing new music directors. "All this giddy change is partly coincidence; music directors come, and they go. But a new century also generates a new zeitgeist, and that surely motivates managements, some of which have gently or not-so-gently eased out aging, long-standing conductors. And these are turbulent times for classical music institutions." The question is - what does all this change mean? Los Angeles Times 10/20/02

LEARNING ON THE JOB? Twenty-four- year-old Katharina Wagner, granddaughter of composer Richard Wagner, has been named by her father to succeed him running the Bayreuth festival. But in her first outing as an opera director, she's created a controversial production. "Storms of boos, alternating with bravos, buffeted the production team at the premiere. 'The reactions were very violent,' Ms. Wagner said. 'One woman said to me, `I know how Richard Wagner meant it.' That would be a real sensation if she really did'." The New York Times 10/15/02

EXPERIMENTS IN OPERA: Steve Reich's new "video opera" opens at the Brooklyn Academy of Music this week. "Fat ladies won't ever sing in this one. A chamber ensemble sits below a screen on which video images unfold depicting three seminal events in 20th-century history." The question is: "Can it create an entrancing alternate universe that operagoers can enter and enjoy?" Philadelphia Inquirer 10/17/02

SERIOUSLY OPERATIC POLITICS: The brief yet fierce succession crisis which enveloped Florence's famed opera house Teatro del Maggio Musicale (formally Teatro Communale) this past month was worthy of an opera itself. The behind-the-scenes battle had all the elements of a classic operatic story: melodramatic plot twists, massive egos, a dangerous emperor (Italian P.M. Silvio Berlusconi - who says right-wingers don't care about the arts?), a loyal but ultimately betrayed servant of the benevolent and aged head of the household, and the eventual gathering together of the working class people of the community to force a happy ending. But don't expect these performers to be joining hands and taking a bow anytime soon. Andante 10/14/02

SAVE OUR SHEET MUSIC: "Unimpressed with the San Jose Symphony's efforts to save its music library, the musicians have taken fundraising into their own hands. The musicians have raised more than $20,000 to preserve the sheet music, which is valued at about $125,000. The library consists of more than 1,000 marked-on scores that could be lost when the symphony declares bankruptcy in coming weeks." The SJS ceased operations earlier this year, but a new orchestra being started by the city's ballet troupe might be able to make use of such an extensive library. San Jose Mercury News 10/14/02

Last Week's News

---
Record companies, artists and publicists are invited to submit CDs to be considered for our Editor's Pick's of the month. Send to: Jerry Bowles, Editor, Sequenza 21, 340 W. 57th Street, 12B, NY, NY 10019 Also, feel free to nominate your favorite composer-- even if it's you--for Spotlight of the Week.
---
---
Checking in with the
Crumbs of Philadelphia
---
| | |
| --- | --- |
| | |
| | From left, George Crumb, daughter Ann and son David |
---
By Deborah Kravetz
It was a Crumb Family affair, with pieces selected to set off their
complementarity, including two world premieres.

David Crumb composed Primordial Fantasy (2002) for piano, performed by Marcantonio Barone and chamber ensemble. This is a percussive piece with lots of resonating drums, gong, chimes, joined by trumpet and horn fanfare, which is echoed by strings, but chaotic percussion continues. In a hush, tiny gongs and xylophone set a ground and clarinet, oboe and French horn set the theme; piano provides a light punctuation, then the chaotic piano and percussion return. In the second, quieter, slower, section, piano is more lush, running unison scales, and the chaos returns more gradually. The fanfare becomes more pronounced and jagged, and chaos returns once again.

Was it primordial? Perhaps, but perhaps just a wake-up call of violence, contrasting with a period of peace.

Debussy's Prelude a l'apres-midi d'un faune (1894), which followed, only
reinforced its mastery of the subtle, with its ever increasing waves of
emotion rising and returning to a peaceful state.

Mahler's Songs of a Wayfarer (1885) sung by baritone Randall Scarlata,
served as an introduction to the George Crumb world premiere, Unto the Hills (2002), which sprang from five Appalachian folk songs smoothly sung by the composer's daughter, soprano Ann Crumb.

First you notice that the two vibraphones, two marimbas, piano and other percussion instruments form an open circle surrounding the soloist. Slow percussion tones gradually form round the circle and punctuate the text as
the soloist sings almost a capella. A wooden recorder echoes the melody; strummed piano strings rumble like the autoharp that once accompanied such
songs as Poor Wayfaring Stranger.

All the Pretty Little Horses becomes
up-tempo with striking accompaniment of horse-like clops, bells, snare and marimba, then is repeated a capella, with vocalise by the musicians, subtle
vibe chords, and a final flourish.

One of the most lyric folk songs, Ten Thousand Miles , is sparely interpreted, with slight and subtle tones to outline its harmonic changes.

An instrumental interlude, Appalachian Epiphany: Sunset and Nightfall , is scored as rag rhythms extending from a center circle for vibraphone and amplified piano having its strings manipulated by three musicians leaning
intently into it for various intervals, with occasional other sounds. The
final two movements are Black, Black, Black is the Color and The Riddle, and ended with an echo of the opening Poor Wayfaring Stranger.

If you are going to make sounds, make sounds, and make them say something. I'm not sure if this was a "composition" or an arrangement of well-known tunes that did not seem to be an inspiration for the resulting material, as much as an accompaniment or ornamentation with a lot of equipment.
ORCHESTRA 2001
Mahler to Crumb
Trinity Center
Philadelphia
October 5, 2002
Classical Grammy Winners
---
Previous Interviews/Profiles
Simon Rattle,
Michael Gordon,
Benjamin Lees,
Scott Lindroth,
David Felder,
Mark-Anthony Turnage,
Erkki-Sven Tüür,
John Luther Adams,
Brett Dea
n,
Judith Lang Zaimont,
Meyer Kupferman,
Evan Chambers,
Poul Ruders,
Steven R. Gerber,
Gloria Coates
Previous Articles/
Busoni The Visionary
The Composer of the Moment: Mark-Anthony Turnage
Electronic Music
Voices: Henze at 75
Henze Meets Emenim
On Finding Kurtag
Charles Ruggles: When Men Were Men
Ballet Mécanique
The Adams Chronicles






---