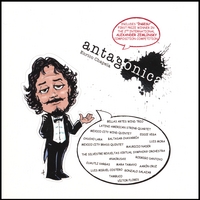 Saturday night at 8 pm, the Brooklyn Philharmonic, under the direction of Michael Christie, gives the US premiere of Enrico Chapela's Noctámbulos, a piece for rock trio and orchestra. Chapela will also participate in a panel discussion on Latin American Identity in Music at 4:30 (details below).
Chapela is a composer on the rise; Boosey and Hawkes added him to their roster in 2008 and he's recently received several high profile commissions. I spoke with him on Thursday about the BAM event and his other activities. Born in Mexico, he started out his musical career as a rock guitarist, playing SXSW with a band in the nineties. He currently resides in Paris, where he's finished a Master's degree at the University of Paris and is pursuing a Ph.D. His dissertation topic is the two-hundred year history of symphonic music in Mexico.
An earlier version of Noctámbulos, titled Lo Nato es Neta, can be heard on Chapela's debut CD, Antagonica. Lo Nato es Neta is scored for rock trio and acoustic quintet. Chapela readily acknowledges the cross-pollination present in the work, "It explores a wide range of rock styles – everything from metal to Pink Floyd to King Crimson." I hear a fair bit of Frank Zappa and the Mothers of Invention in its juxtaposition of rock solos with angular melodic fragments, spiky post-tonal verticals, and Stravinskyian ostinati.
The piece was entered in a composition competition, but didn't place. Happily, one of the judges dissented from the majority and separately arranged a commission for the Dresden Sinfoniker. The result: Noctámbulos, a revisioning of Lo Nato es Neta that features the rock trio as concerto soloists. It also incorporates more improvisation.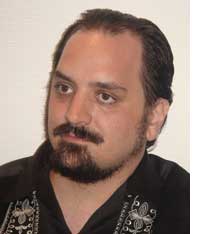 This is an exciting time for Chapela. He's playing the guitar part in the premiere. Simultaneously, he's working hard to finish a commission for the LA Philharmonic. "At first, I thought it would be too much to be the solo guitarist at the Brooklyn Philharmonic performances while trying to finish the piece for LA. But then I realized, who could ask for a better gig than this? Between practicing and writing, I told my wife to not expect to see me much for a couple of months!"

CROSSING BORDERS: A discussion on Latin American identity in music
Saturday, January 31, 2009 / BAM Hillman Attic Studio, at 4:00PM
Moderated by Carmen Helena Téllez / Invited panelists: Gabriela Lena Frank, Enrico Chapela, and Paul Desenne
NUEVO LATINO MAINSTAGE – Saturday January 31, 2009 at 8:00 PM
BAM Howard Gilman Opera House
Michael Christie, conductor; Virginie Robilliard, violin; Chapela Trio; Enrico Chapela, guitar; Jesús Lara, bass; Luis Miguel Costero, drums
Gabriela Lena Frank: Leyendas: An Andean Walkabout (NY Premiere of string orchestra version)
Paul Desenne: The Two Seasons (NY Premiere)
Enrico Chapela: Noctámbulos (US Premiere)