Electronic Dialogues/10
Meyer Kupferman
---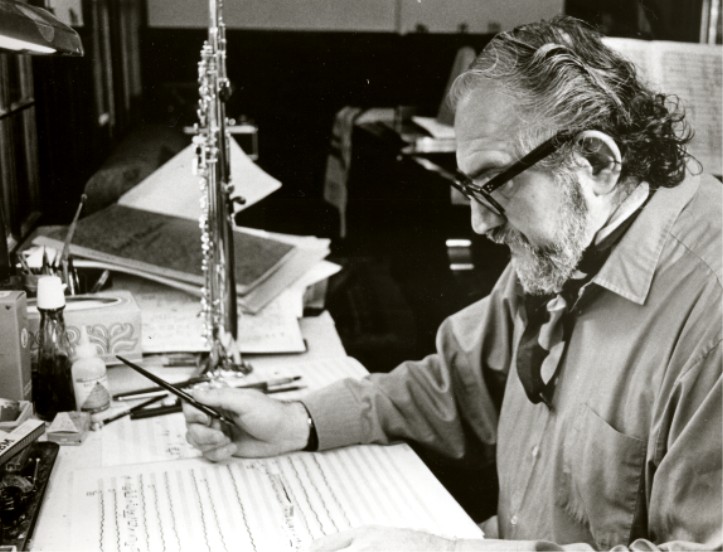 Meyer Kupferman turned 75 on July 3rd but he has no plans to stop writing music. One of America's most prolific composers, Kupferman has composed 12 symphonies, 9 ballets, 7 string quartets, 10 concerti, and hundreds of chamber works. A native of New York City where he attended the High School of Music & Art, Kupferman's studies continued at the City University of New York at Queens College.
From 1951 to 1993, Kupferman was on the faculty of Sarah Lawrence College in Bronxville, New York; serving as Chairman of the Music Department for five terms.
A virtuoso clarinetist, he is self-taught as a composer – a field in which he has been distinguished by receiving awards and grants from such sources as: the Guggenheim Fellowship, the Ford Foundation, the Rockefeller Foundation on the Arts, the National Endowment for the Arts, The American Academy and Institute of Arts and Letters, and the Aaron Copland Fund.
Kupferman's unique style of blending classical and jazz conceptions have produced such works Concerto for Cello and Jazz Band and Jazz String Quartet. He has composed scores for films including "Black Like Me" and "Trilogy."
In the following interview, he talks about the influences that have shaped his long career.
S/21: What were your earliest musical influences? Whose work has influenced you most and why?
MK: About my early musical influences, perhaps a quick and easy response would be that among our 20th century icons Debussy, Bartok, Stravinsky, Hindemith and Shostakovitch were the first to influence my work. Later, Schoenberg,
Berg and Webern clearly left their marks on my musical thought. All of these influences are still in effect – only more disguised. Naturally, in those salad days I immersed myself in the scores and records of the three B's and the music of Mozart, Hayden, Liszt and Chopin. Ultimately, the late quartets of Beethoven made the deepest impact. The first time I heard Toscannini's string orchestra version of Beethoven's "Grosse Fuga" was an overwhelming experience which I shall never forget! Fragments of these quartets still live in my brain and haunt my work every time I go to my desk.
A totally different influence was through my father, who was a wonderful singer and gypsy street musician. It was because of his wish to pass on to me something of his former life in the old country, that I absorbed so many Romanian, Hungarian and Yiddish folk melodies. Their scales, intervals and rhythms are so unique that I am certain these tunes still have an impact on my own melodic shapes, even today. Again, this reflection is disguised – but I know it is there, and I enjoy discovering it!

S/21: Much of your work is jazz influenced. Can you tell us how that developed and how you have used it in your work?
MK: In the early 30s and 40s, jazz, "swing" and the expanding literature of "standard songs", film tunes and Broadway stage songs – all provided a sole image of what American music meant to me. The idea of arranging a tune for a swing band with a slick, unique popular style clearly resembled "compositional thinking" which for me, in those formative years, had something in common with conceiving a string quartet. One could almost say that in the "swing-jazz" era our American arrangers were our American composers. As for me, the influence of jazz was and probably still is evident in certain patterns of rhythm in my personal style. Also very important, the improvisatory flow of my musical phrase structure comes from the variety of freedoms I experienced as a jazz performer on the clarinet and the tenor sax.
Since I was essentially self-taught in composition I was never intimidated
by the strict academic rules of the game my colleagues were so often plagued
by. I learned counterpoint, harmony, form and orchestration by doing it myself, either by arranging jazz, classical or contemporary keyboard works for small ensembles – or by composing brand new "tryout" miniatures for my friends to play.
Together with two or three others, I formed a tiny orchestra made up of young composers who were reasonable performers (like Morton Feldman who played the double bass, Seymour Shifrin who played bassoon and Allen Blank who was a fine violinist). We called the group "Composers Workshop" and met a few times a month to read through our newest pieces. As conductor for this group I developed some beginning skills with the baton and a few cogent insights into the mysteries of experimental score layout. Since we used to talk passionately about each other's music I soon learned some things about "aesthetic leadership"! Painters, sculptors, writers, choreographers and philosophers attended our sessions. We continued our artistic probes later on at New York's Automat, usually to 3 in the morning. Looking back at this now, I believe a curious musical energy emerged from these bohemian gatherings that generated an unusual set of fresh identities like a spark we would be destined to carry for the rest of our lives.
S/21: You are an unusually prolific composer with an impressive output of work in all forms: 7 operas, 12 symphonies, 9 ballets, 7 string quartets, 10 concertos and hundreds of chamber works. To what do you attribute this enormous energy?
MK: Yes, I admit to being a prolific composer. But whey should anyone think this is so unusual? Many artists simply love working. We do not feel any day can go right unless we create something that excites our thinking and challenges our craft. One's art is like a family you have to feed, clothe, educate, love – and give birth to over and over again.
S/21: If you had to select a handful of personal favorites out of all your work, which would you choose?
MK: It is difficult to choose one's own favorite pieces because what I might select on one day as the absolute best, I may push aside for another work the very next day. Who knows? But I will give you today's selection:
Winter Symphony
Fantasy for Violin and Orchestra
Flight Alone for strings
Jazz Symphony
Remember, my list may change tomorrow.
In fact, here's the new one (written on another day!):
Lunar Symphony
Music for Guitar and Orchestra
Third Piano Concerto: Foxfire
Moonflowers, Baby!

S/21: What are you working on now? How is it going?
MK: Right now I am working on a new concerto called Violin Concerto: The
Voyager, commissioned by the Czech National Symphony for violinist Gregory
Fulkerson. It will be premiered in June 2002.

For more information about Meyer Kupferman, visit
http://www.jamesarts.com/MKBIO2000.htm