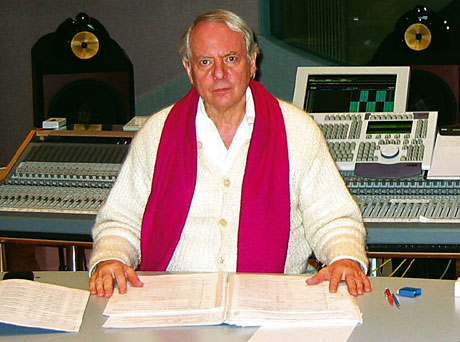 And you thought the master was gone?… Nooo no no, not that easy… His foundation and famous summer courses in Kürten continue — even stronger, if that's possible. Starting today, July 10th, and continuing every day through July 26th, at 8pm there's a concert featuring Stockhausen's work (interspersed with course participants, which spiritually is very much the same thing). It's a crazy insane compendium of S.'s music, spanning decades; there's just too much to put on the main page, so I'll list it all after the jump (and why the hell isn't German Radio or the BBC camped out for this one?? This isn't a 'course'; this is more of a WoodStockhausen!). But before that I'll quote the official press release:
Karlheinz Stockhausen is alive! His after-life is never ending and more comprehensive than ever: The Kürten Stockhausen Courses and Concerts were Stockhausen's favourite project and have gained even larger dimensions after his death. The stream of students who want to interpret Stockhausen's inheritance in a new way, and who for that reason pilgrim from all over the world to Stockhausen's hometown in the "Bergische Land" every summer, is not ebbing – on the contrary. The same applies to listeners and music lovers. Many of them stay with host families in Kürten. The duration of the concert series has been extended from nine to 17 days. The programme includes electronic sounds, as well as piano, singing, violin, viola, piccolo, basset horn, English horn, tam-tam or percussion. The new version of PROZESSION for computers is brand new. The concerts presented are the highest level and are astoundingly full. And, they are augmented by special lectures: Renowned musicologists speak on Stockhausen's life and work.
10.–26. Juli: Stockhausen-Konzerte und -Kurse Kürten 2009 /
July 10th–26th: Stockhausen Concerts and Courses Kuerten 2009
(Information: Stockhausen-Stiftung für Musik / Stockhausen Foundation for Music,
51515 Kuerten, Germany;
e-mail: Stockhausen-Stiftung@t-online.de / stockhausen.foundation@stockhausen.org )
17 public concerts, Suelztalhalle, Kuerten.
Friday, July 10th, 6 p.m. MICHAELS-RUF (MICHAEL'S CALL) Version for 4 trumpets
8 p.m ELEKTRONISCHE STUDIE II (ELECTRONIC STUDIES I and II)
GESANG DER JÜNGLINGE (SONG OF THE YOUTHS) Electronic Music
TELEMUSIK (TELEMUSIC) Electronic Music
intermission
KOMET (COMET) for a percussionist and tape
KLANG – 9. Stunde / 9th Hour HOFFNUNG (HOPE) for violoncello, viola, violin
Saturday, July 11th, 8 p.m. SAMSTAGS-GRUSS (LUZIFER-GRUSS)
SATURDAY GREETING (LUCIFER'S GREETING)
for 26 brass instruments and 2 percussionists (stereo projection)
LUZIFERs TRAUM oder KLAVIERSTÜCK XIII
(LUCIFER'S DREAM or PIANO PIECE XIII)
(1st scene of SATURDAY from LIGHT) for bass and piano
intermission
KATHINKAs GESANG (KATHINKA'S CHANT) for flute and electronic music
(2nd scene of SATURDAY from LIGHT)
Sunday, July 12th, 8 p.m. HYMNEN (ANTHEMS) Electronic and Concrete Music
Regions I + II – intermission – Regions III + IV
Monday, July 13th, 8 p.m. ZEITMASZE (TIME-MEAS URES) for 5 wood winds
PROZESSION (PROCESSION) for tam-tam, viola, electronium or synthesizer,
piano, microphonist, filterer and level controller (6 players)
intermission
KLANG 7. Stunde / 7th Hour – BALANCE for bass clarinet, English horn, flute
Tuesday, July 14th, 8 p.m. DIENSTAGS-GRUSS (TUESDAY GREETING) (WELCOME with PEACE GREETING)
for soprano / 9 trumpets, 9 trombones, 2 synthesizer players /
choir, conductor and co-conductor (stereo tape projection)
intermission
OKTOPHONIE (OCTOPHONY) Electronic Music of TUESDAY from LIGHT
Wednesday, July 15th, 8 p.m. KLAVIERSTÜCK XVIII (MITTWOCH-FORMEL) /
PIANO PIECE XVIII (WEDNESDAY FORMULA) for electronic piano
PROZESSION (PROCESSION) for tam-tam, viola, electronium or synthesizer,
piano, microphonist, filterer and level controller (6 players)
[realisation with computers]
intermission
HELIKOPTER-STREICHQUARTETT (HELICOPTER STRING QUARTET)
(8-track tape projection)
Thursday, July 16th, 8 p.m. DONNERSTAGS-GRUSS (THURSDAY GREETING / MICHAEL'S GREETING)
for 8 brass instruments, piano, 3 percussionists
MONDEVA (MOON-EVE) (scene of MICHAEL'S YOUTH) for tenor and basset-horn
KLAVIERSTÜCK XII (PIANO PIECE XII)
EXAMINATION of THURSDAY from LIGHT as piano solo
intermission
VISION (scene of MICHAEL'S HOME-COMING)
for tenor, trumpeter, dancer / synthesizer / tape
Friday, July 17th, 8 p.m. ELEKTRONISCHE MUSIK mit TONSZENEN vom FREITAG aus LICHT
(ELECTRONIC MUSIC with SOUND SCENES of FRIDAY from LIGHT)
(with CHILDREN'S ORCHESTRA, CHILDREN'S CHOIR, CHILDREN'S TUTTI,
CHILDREN'S WAR) (20-track tape projection)
Saturday, July 18th, 8 p.m. KONTAKTE (CONTACTS) Electronic Music with piano and percussion
intermission
LIBRA for bass clarinet and electronic music
Sunday, July 19th, 8 p.m. HAVONA for bass and electronic music
[Deutsche Erstaufführung / German première]
intermission
LICHTER – WASSER (SONNTAGS-GRUSS)
LIGHTS – WATERS (SUNDAY GREETING)
(1st scene of SUNDAY from LIGHT) (16-track tape projection)
for soprano, tenor, and orchestra with synthesizer
Monday, July 20th, 8 p.m. MONTAGS-GRUSS (MONDAY GREETING) for multiple basset-horn and elec.
keyboard instruments (4-track projection)
KLAVIERSTÜCK XIV (PIANO PIECE XIV)
BIRTHDAY-FORMULA of MONDAY from LIGHT as piano solo
intermission
DIE 7 LIEDER DER TAGE (THE 7 SONGS OF THE DAYS)
for tenor and synthesizer
MONTAGS-ABSCHIED (EVA-ABSCHIED)
MONDAY FAREWELL (EVE'S FAREWELL) (4-track projection)
for piccolo flute, multiple soprano voice and elec. keyboard instruments
Tuesday, July 21st, 8 p.m. Teilnehmer-Konzert / participants' concert
Wednesday, July 22nd, 8 p.m. EUROPA-GRUSS (EUROPE GREETING) for wind instruments and synthesizers
(stereo projection)
KLANG – 19. Stunde / 19th Hour URANTIA for Soprano and Electronic Music
(8-track tape projection) [Deutsche Erstaufführung / German première]
intermission
MITTWOCHS-ABSCHIED (WEDNESDAY FAREWELL)
Electronic and Concrete Music
Thursday, July 23rd, 8 p.m. Teilnehmer-Konzert / participants' concert
Friday, July 24th, 8 p.m. MUSIK IM BAUCH (MUSIC IN THE BELLY) for 6 percussionists and music boxes
intermission
KLANG – 13. Stunde / 13th Hour COSMIC PULSES, Electronic Music
Saturday, July 25th, 8 p.m. Teilnehmer-Konzert / participants' concert
Sunday, July 20th, 6 p.m. ENGEL-PROZESSIONEN (ANGEL PROCESSIONS)
(2nd scene of SUNDAY from LIGHT) for choir a cappella (8-track tape projection)
intermission
SONNTAGS-ABSCHIED (SUNDAY FAREWELL)
(of SUNDAY from LIGHT) Electronic Music (5 synthesizers)