John Adams' music is heavily features in the new Italian film Io Sono L'Amore. In fact, judging by the cue sheet here, the film is a cornucopia of zesty snippets by the composer.
Adams enthusiasts in San Francisco can enjoy a screening of the film on Sunday May 2 (details below). If anyone has a report from the event, please feel free to write it up in our comments section below.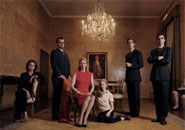 Check out the trailer and other screening info here.
Sunday, May 2, 3:30 PM
The Castro Theatre
San Francisco, CA
San Francisco International Film Festival
Hosted by John Adams, followed by a Q&A
Tickets