The Handmaid's Tale
Debuts in English
---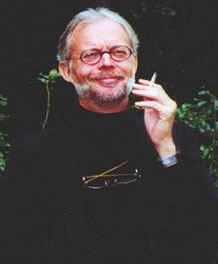 The Handmaid's Tale has catalpulted Poul Ruders into
the top ranks of contemporary composers.
---
Poul Ruders's highly-acclaimed opera The Handmaid's Tale will have its English language premiere this week in an ENO production at the London Coliseum. Few debuts could be more timely.

Based on Margaret Atwood's chilling novel, The Handmaid's Tale envisions a nightmarish future for the United States that would have been unthinkable say, three years ago, but no longer seems so far-fetched. Following a violent overthrow of the United States government by a religious dictatorship, women are denied the right to read, work, own property or enter into relationships other than first marriages. Those who defy the system are arrested, indoctrinated and assigned to childless families for the sole purpose of procreation. Offred, the title character, attempts to subvert this regime with disturbing and fateful results.

Premiered in Copenhagen to sold out houses in 2000, Ruders's opera is described as 'fabulously inventive', incorporating elements of a Bach chorale, medieval chanting and gospel music. The effect is both memorable and disturbing.

Ruders was born in Ringsted, Denmark
on March 27, 1949. His early studies in piano and organ led eventually to studies in orchestration with the Danish composer Ib Nørholm. Ruders's first compositions date from the mid-60s. He regards his own compositional development as a gradual one, with his true voice emerging with the chamber concerto, Four Compositions, of 1980. Writing about Ruders, the English critic Stephen Johnson states: "He can be gloriously, explosively extrovert one minute–withdrawn, haunted, intently inward-looking the next. Super-abundant high spirits alternate with pained, almost expressionistic lyricism; simplicity and directness with astringent irony."

Ruders has created a large body of music ranging from opera and orchestral works through chamber, vocal and solo music. In recent years, performances of his work on both sides of the Atlantic and in such distant locals as China, Japan and Russia have taken place with increasing regularity. With the overwhelming success of The Handmaid's Tale (1996-98), produced in Copenhagen (2000), Ruders became even more in demand, with commissions coming in rapid succession from the Berlin Philharmonic, The New York Philharmonic, The BBC Philharmonic, and from the Royal Danish Opera. In addition to the ENO production, the Minnesota Opera will stage the work later this year. Both the New York Philharmonic and Berlin Philharmonic will perform "Listening Earth" (2001), a work interrupted and then influenced by the events of September 11, 2001.

Ruders is currently at work with his "Handmaid's Tale" collaborator, Paul Bentley, on an opera based on Franz Kafka's The Trial. Commissioned by the Royal Danish Opera for the opening of the new opera house in Copenhagen (2005), the opera will explore Kafka's unfinished masterpiece, as well as including dramatized events from the writer's life.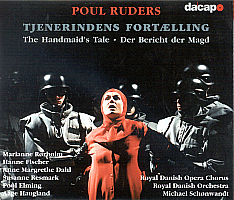 The Handmaid's Tale
Composer: Poul Ruders
Conductor: Michael Schonwandt
Performer: Royal Danish Orchestra & Opera Chorus, et al.
Da Capo - #8224165-66
Record companies, artists and publicists are invited to submit CDs to be considered for our Editor's Pick's of the month. Send to: Jerry Bowles, Editor, Sequenza 21, 340 W. 57th Street, 12B, NY, NY 10019 Also, feel free to nominate your favorite composer-- even if it's you--for Spotlight of the Week.
The Hermit Who Wrote A Hit Opera Not for years has a new opera wowed the critics and enthralled the public as Danish composer Poul Ruders's opera of Margaret Atwood's "The Handmaid's Tale" has done. "Premiered three years ago in Copenhagen in a staging by Phyllida Lloyd, the Dane's adaptation of Margaret Atwood's 1986 bestseller was acclaimed as a modern masterpiece: savage, satirical, yet lyrical, evoking both a brutal totalitarianism and private tragedy. 'The Handmaid's Tale' looks like it may be one of the most popular operas of our time. Productions are planned in Washington, Minneapolis and Toronto. And next week it gets its British premiere when Lloyd's staging comes to English National Opera." The Times (UK) 03/24/03

Margaret Atwood Sees Her Word Turned Into Music Writer Margaret Atwood was suprised when she was approached with the idea of turning her book "The Handmaiden's Tale" into an opera. "I was aware of the problems the creators of the opera must have faced. The novel has much internal monologue: how would they handle that? How to convey the back-story to the plot? Would the costumes look not strange and ominous, but merely silly?" The Guardian (UK) 03/23/03

A New Opera Masterpiece? John Rockwell heads off to New York City Opera for Mark Adamo's "Little Women" with low expectations and comes away believing he's heard "some sort of masterpiece." Almost everything in the production work, from the libretto to the music and cast. "The two styles blend effectively, the modernism not rigorously alienating and the lyricism genuine and heartfelt. Nearly all the big moments in the opera work." The New York Times 03/26/03

The Sound Inside Your Head HyperSonic Sound is something entirely new in sound reproduction. It sounds like it's coming from inside your head. "It is no exaggeration to say that HSS represents the first revolution in acoustics since the loudspeaker was invented 78 years ago - and perhaps only the second since pilgrims used 'whispering tubes' to convey their dour messages." The New York Times 03/23/03

Happy Talk From The Podium It used to be that conductors proved themselves with their music. Nowadays, writes Sarah Bryan Miller, many conductors seem more at ease schmoozing with their audiences than showing insight in their music. "The younger ones, in particular, have grown up with the idea that they should be as comfortable chatting - on radio, on television, to an audience - as actually leading an orchestra. Besides, conductors are not, as a breed, short on ego. Nattering from the podium seems, for many of the more egregious practitioners, to be just another way of hogging the spotlight." St. Louis Post-Dispatch 03/23/03

The Man Who Saved The Kirov "In 1988, conductor Valery Gergiev emerged as a "poster-boy for Gorbachev's perestroika, an intense young man chosen at the tender age of 34 to lead Leningrad's Kirov Opera. Today, everything has changed: Leningrad is once again St. Petersburg, and the Kirov Theatre has reverted to its czarist name, the Mariinsky (although its ensembles - the opera, the ballet, the orchestra and chorus -- still tour under the name Kirov). The one factor that has remained constant is Gergiev. He's no longer quite so young - his shaggy hairstyle disguises a combed-over bald spot - yet he has lost none of his intensity." The Globe & Mail (Canada) 03/24/03

Truly Cerebral Music "Hook a whole bunch of brains up to a computer, capture and play the sounds they make, and you get, well, not quite music, but certainly some interesting noise. That's exactly what happened at the Cyborg Echoes Deconcert in Toronto over the weekend. The concert was billed as a participatory event, and it certainly was: Audience members' brains were scanned, the scans were transformed into sounds, mixed with a solid little backbeat from some heart scans, combined and played back to create Music in the Key of EEG." Wired 03/27/03

How Many Operas Are There? (How Many Worth Listening To?) How many operas are there? a few hundred? A thousand? Fifteen hundred? We're aware of more and more from the past as the years progress. "Strange then that the part of the repertoire least certainly alive is the modern, the new, the freshly commissioned. But perhaps 50 years from now people will look back on us and pity us for our ignorance of our contemporaries, who are as obscure to us as Handel was to Dent." The Guardian (UK) 03/29/03

Here's Your Trophy, Now Hit The Road The musicians who win the top prizes at major international competitions are, of course, some of the best players in the world. You would think that such prizewinning talents would immediately find themselves with a full schedule of recital dates and solo appearances in the world's top venues. But in fact, most prizewinners quickly find that their careers get only a minimal boost from even the most celebrated competitions. Case in point: Van Cliburn gold medalists Olga Kern and Stanislav Ioudenitch, currently touring such classical music meccas as, um, Kansas City. Kansas City Star 03/23/03

Dream Team Orchestra Many conductors, as they travel 'round the world, play games of Dream Team - picking the best players from top orchestras and imagining how the all-star orchestra would sound. Mostly, it's an excercise of imagination. But Claudio Abbado, "presiding at this summer's Lucerne Festival, has cherry-picked players from symphony and chamber orchestras, string quartets and solo rosters to form an ensemble that will be the envy of Salzburg and a thumb in the eye for the Berlin Philharmonic, from whom Abbado parted company last year. Such dreams can come true only at festival time. In permanent orchestras, maestros get along with tenured musicians of uneven temperament and with the human clay thrown up at auditions." London Evening Standard 0326/03

Covent Garden To Stage Its First Musical London's Royal Opera House, out to prove it is more populist than in the past, has scheduled its first musical for the main stage: Stephen Sondheim's Sweeney Todd. Music director Antonio Pappano "said he wanted to open the windows ... 'I am not interested in this old argument about what is opera and what is musical theatre. Often it's so intense and serious here, but it is OK for this opera house to have fun too'." The Guardian (UK) 03/27/03
Last Week's News

---
Caught in the Act
ONE FROM COLUMN A
TWO FROM COLUMN B
---
By Deborah Kravetz

The nature of Chinese composition when created by composers living in the US is not always what we recognize as "Chinese" in sound, but the use of the pipa, a lute-like stringed instrument, provides a reminder; and pipa virtuoso Wu Man has performed with the ensemble previously to demonstrate the concept.

Representing nature, the piece by Chen Yi, Sparkle (1992), has a shimmer of violin, swirling flute and marimba whipping around light as a zephyr, fading to faint marimba, percussion and string plucks. It's a chilly spring wind with bird calls; a spring thunderstorm passes through and, when the air clears, the birds return and a stream burbles briskly.

Tian Ling (Nature and Spirit ) (1972) by Zhou Long presents the conflicts
of nature and spirit through the respective ensemble and solo pipa. Nature has a cold moan of winds and chilly cymbals, accented with hollow percussive strikes, against which the pipa struggles to be heard. A pipa solo passage is accompanied by chimes and vibraphone.

Rather than being inspired by nature, May-Tchi Chen wrote The Vision of Hildegard von Bingen (1999) based on a melody by the twelfth century composer as a single movement for a larger work for pipa, trombone, strings and baritone, sung by Markus Beam. Here, the voice singing the Latin text sets the melody, echoed and ornamented by pipa and violins; trombone serves as another voice. All voices blend well, with no one being overwhelmed in this short and atmospheric piece.

The Concerto for String Orchestra and Pipa (1999) by Tan Dun demonstrates
the variations in texture available to string instruments. After an opening stomp and sharp attack, the strings settle into a syncopated series of plucks, strikes and notes that allows the pipa equal status. Slides and elisions provide an exotic intonation accented by yells (yes) by players in chorus and a satisfied "ahh". After a pipa solo, the strings return and begin a flowing melodic theme in the adagio. The final movement returns to the staccato percussiveness of the opening.

As an encore, Wu Man performed the solo piece White Snow in Spring , a rapid dance with trilling strings.

The pieces in the second half of the concert seemed best able to incorporate Chinese elements into a classical sound and structure that captured the audience's attention.

ORCHESTRA 2001
Chinese Visions
Trinity Center
Philadelphia
March 1, 2003
(Reposted from Penn Sounds 3/28/03)

---
Uptown, Downtown, all around the town, trust Relache to do no one single
thing, and this program is a mélange of musical influences commissioned by
or arranged for Relache during 1986-2002.

A wind quartet with steel drumsso what else is new? Light and French-sounding, Voyeuristic Absurdities (From Mingus to Diallo ) (2001) by Leslie Burrs could be very early twentieth century, but the rhythmic ground and syncopation bring it quickly up to date: a jazzy piccolo theme is, well, jazzy; bluesy clarinet alternates with English horn. What could be
more refreshing?

Is the Outcome Inevitable Robert Ashley's 1991 adaptation begins with a single note on contrabass that insistently repeats throughout the piece with bass drum irregular " heartbeats" over oboe melody. The melody shifts to flute with synth chords filling in, but remains essentially insistent and quiet but for how long, as the drum grows stronger and accompaniment grows edgier. Sinuous is the way the theme twines around,shifting among soloists.

Drumkit punctuates wind quartet, with ooh-wah notes from the keyboard, a
Chinese-y melody on piccolo with clarinet and oboe. Whaddaya want from
composer Randall Woolf who grew up in garage-rock bands and studied
Schoenbergian microtonalism? Well, it's got a beat you can dance to it. Insect? Bride? Call My Insect Bride arranged in 2002 for Relache what you will, as long as you call it interesting, because you can't tell what will happen next.

And now combine marimba with electric guitar and rhythmic aerosol cans that sound like sand paper blocks. Arthur Jarvinen composed Egyptian Two-Step in 1986 to highlight the chromatic harmonica, but that has been replaced for Relache with oboe, and the original baritone sax is now a bass clarinet. Winds carry the theme over flowing piano runs. Oh, the variety of it!

This has got to be the third or even the fourth time I have heard Michael
Nyman's 1995 Relache commission HRT, which stands for high rise terminal, a feature most recognizable in Valley Girl speak. Perky, it is; jazzy theme and variations, with a Glass-ian ground for piano and electric guitar. The insistent theme in seven notes pulses its way through permutations of instruments repetitively like a pounding headache, rhythmically altering its emphasis as it goes. It's not the theme that has a high-rising terminal (fooled ya), but the last note of the piece. It's an interesting feeling for such a piece to come to feel familiar, and I even walked out humming it.

RELACHE
Harold Prince Theater,
Annenberg Center
Philadelphia
March 22, 2003
(Reposted from Penn Sounds 3/28/03)
---
Previous Interviews/Profiles
Simon Rattle,
Michael Gordon,
Benjamin Lees,
Scott Lindroth,
David Felder,
Mark-Anthony Turnage,
Erkki-Sven Tüür,
John Luther Adams,
Brett Dea
n,
Judith Lang Zaimont,
Meyer Kupferman,
Evan Chambers,
Poul Ruders,
Steven R. Gerber,
Gloria Coates
Previous Articles/
Busoni The Visionary
The Composer of the Moment: Mark-Anthony Turnage
Electronic Music
Voices: Henze at 75
Henze Meets Emenim
On Finding Kurtag
Charles Ruggles: When Men Were Men
Ballet Mécanique
The Adams Chronicles
---