FLOYD COLLINS
Music and Lyrics by Adam Guettel, Book by Tina Landau
Prince Music Theater, Philadelphia
April 2-17, 1999

by Deborah Kravetz

This reprise of the American Music Theater Festival's 1995 Obie-award winning production opens with the cast silhouetted against a sunrise scrim, a technique that is used throughout to demarcate scenes. The tone is bluegrass twang with guitar and harmonica; the singing is country colloquial; the text is free verse that sometimes falls into those annoying rhyming couplets so characteristic of 1980's musicals.

OK, what is it? Too talky and not enough music to be a musical, it's almost crying out to become an opera—singing through the dialog might dignify the material that Guettel has already composed as long meandering phrases in conversational rhythm.

The story is simple: Floyd gets trapped in an underground cave with visions of creating a spectacular tourist attraction in rural Kentucky of 1925. When he can't get out, he philosophizes and hallucinates. Friends and family attempt to help, and philosophize, and the rescue crew and media create a carnival atmosphere, and philosophize.

The music is not memorable; what remains as memorable is the visual: The Riddle Song of Floyd's and his brother's energetic reminiscences, and the reporters' Is That Remarkable , for its dance, its sudden close, three-part harmony and ragtime rhythm (but not a melody in sight), and satiric lyrics about newspapers and reporting. Get Comfortable is a hard blues number with a rhythmic driving bass that takes place during a rainstorm (really, on stage). The only motif that stayed with me was Floyd's echoing yo-do-di-oh-do yodel, which is perilously close to the vamp of New York, New York.

I feel that Guettel has taken the easy way out and shortchanged his potential audience; I basically like the material; the characters of Floyd, Homer and earnest young reporter Skeets Miller are well-drawn; the father, step-mother and asylum-resident sister are not.

The transformation of personal tragedy to public spectacle has become familiar to current audiences, and this would make better opera than O.J.'s or Monica's stories. In the end, Skeets apologizes to Floyd for " turning you into a story," and he also deserves an apology for not turning into a better theater piece, as the characters are silhouetted in front of a sunset scrim.


RELÂCHE MEETS
WILLIAM DUCKWORTH
AND THE WORLD
by Deborah Kravetz

The theater is open and RELÂCHE is usually known for its high energy, but this program was more interesting for its diverse cultural influences.

Dreaming Dances Round and Square (1998) by William Duckworth, considered the founder of Postminimalism, opens with jazzy percussion, and instruments layer on in fugue-style with a western hoe-down melody that sometimes has an oriental sound. But this is underlaid by themes from the Plains Indian tradition, and this exploration incorporates what sound like western, jazz and folk influences in a perpetuum mobile that maintains a brisk pace in the opening movement. The second section is solemn, marked by ceremonial drumbeats, and viola predominates with flute in variations on the theme. The beat picks up again in the third section with a 4/4 rhythm that seems freer and less unified than earlier movements.

Emphasis keeps shifting among instrumental combinations with a distinct Weill-ian flavor in snare and sax. Free jazz predominates in part four with brushes and syncopation, but here the minor melody seems an Eastern European touch. The piece is pleasant, but its parts could be better integrated for smoother flow of themes and styles.

The world premiere of Primus Inter Pares by Israeli composer Menachem Wiesenberg has my nomination for most interesting piece in this program. This is a rhapsody for marimba and ensemble based on Ladino wedding songs from Spanish Morocco. a percussive and percussion-oriented piece, not only in the marimba played by Israeli guest artist Chen Zimbalista, but in the staccato use of the wind instruments and added sound effects.

The melodies are presented by the ensemble, then ornamented by marimba and percussion in a way that brings them out of the medieval and up to date. The title refers to the role of the marimba as being first among equals in relation to the other instruments.

Then Zimbalista performed Rhapsody for Marimba by Takayoshi Yoshioka, a sort of etude composed to blend technical and musical qualities "at an intermediate level of technique" in a way that is still challenging. Over a steady rhythm in the bass, marimba phrases don't seem all that simple, but flute and clarinet augment the sound with jazz riffs and the drum adds drive, but the marimba never stops throughout the piece.

High Octane is speed and power for octet, as the title indicates in this world premiere by Mark Hagerty. Opening with sax riff, solo lines build up over driving chords in piano and strings before becoming unison melody that slows for the middle portion, and recaps energetically. However, stuttering starts and overlapping fragments make it difficult for this piece to get powered up—more gas, please.

RELÂCHE
Ethical Society Building
Philadelphia
March 23, 2002
(Reposted from Penn Sounds 3/31/02)


Gorecki Symphony Headlines
Modern Polish Music Concert
by Deborah Kravetz

Last week the Orient, this week Poland; if it's Tuesday, this must be Belgium, and doesn't music make travelling nicer. This Anni Baker Celebratory concert featured works from the late twentieth century by Polish composers, however, only the Gorecki Symphony exhibited any particular nationalistic hints.

Divertimento for Strings (1965) by Grazyna Bacewicz, sounds scrubby, thready and stringy, with short phrases using the range of strings as one voice, but one of very tentative speech. A middle section is smoother, slightly more declaratory. The third section is almost exuberant, but regains some of the skitteriness of the opening.

This is the Orchestra's second performance of Winter's Tale (1984) by Marta Ptaszynska, a piece informed by themes from Vivaldi's Winter, but translated into surreality, juxtaposed with reality rendered with a distinct dullness of tone. Enough of the original survives for recognition of phrases here and there, in particular that unique rushing of snowy wind that serves as a sort of glue joining the phrases together.

We are told that Witold Lutoslawski wrote Venetian Games (1961) "to make use of John Cage's ideas of aleatory and indeterminacy;" pitches and rhythms are notated, but rhythmic coordination is at the discretion of the conductor or chance. Well, at least the percussion is precisely timed, even if nothing else is, but the discretionary "freedom" permitted by the composer makes this sound very like an improvisation—unfinished, even—and tentative in sound production, except for a passage for solo flute that is anything but.

But the piece they packed the hall to hear is the Symphony No. 3 (1976) by Henryk Gorecki, the Symphony of Sorrowful Songs, performed by soprano Maureen O'Flynn with the Orchestra. This piece is mesmerizingly constructed, as a brown melody agonizingly clambers its fugal way out of the depths of the basses, through the cellos, violas and violins, gaining clarity in layers as each new instrument enters. Then, with three harp strikes, the soprano voice floats out above the held note to present the fugue theme vocally. The intensity grows into a piece that is passionate, moving and nowhere near tentative. Yet the succeeding song movements feel anti-climactic after this opening, and are almost monochromatic in expression.

ORCHESTRA 2001
Perelman Theater
Philadelphia
March 2, 2002

(Reposted from Penn Sounds 3/5/02)


CAUGHT IN THE ACT
A Touch of Shanghai
In Old Philadelphia

By Deborah Kravetz

I hadn't intended making a trip to the Orient this year, but this concert of work by Chinese composers working in America brought it to me with The Best of East and West, featuring guest artists Jiebing Chen, erhu, and Wu Man, pipa, in pieces new to Philadelphia, and one world premiere commission.

The Spell (1999) by Jing Jing Luo casts a suitable spell with aggressive low piccolo, plucked celli strings, and throbbing vibraphone that leaves tones ringing in the air long after intoned, and with shivering strings creating a scene-setting spell. A quiet celli duet and flute/piccolo duet soften the effect. Sounds imitate eastern instruments and let us know we're not in Philadelphia any more.

Spirit of Chimes (2000) by Zhou Long evokes the sounds of ancient instruments as a trio scored for violin, cello and piano demonstrating the harmonics of various bells and whistles. A usually unison melodic middle section evokes an ancient dance. The third section continues exploration of sounds applied to modern and Western instrumentation, with strings as winds and piano as percussion.

Shih-Hui Chen introduced her Fu II (1999) as an ensemble expansion of Fu I written for solo pipa. Fu means ambush, and in this context means the technique of abruptly stopping the instrument's strings after violently striking them. The pipa is also strummed here, while cello and violin play long notes and plucks, bass clarinet imitates a string bass and alto flute sounds just like a flute. Vibes provide a layer of resonance.

Jiebing Chen has arranged music for the traditional story of Butterfly Lovers, a Chinese variation on Romeo and Juliet composed originally as a violin concert , into theme and variations played here by cello and erhu, a Chinese version of a violin with no fingerboard and only two strings that is played with the bow between the strings. The cello plays the melody, while the erhu improvises in unison and embroiders the theme.

?as like a raging fire? (2002) is a world premiere of a Network for New Music commission by Chen Yi conducted by Jennifer Higdon. The composer explained that these are impressions of internal and external fire of nature and spirit, scored for violin, cello, piano, flute and clarinet.

After a fast and furious opening tutti, the piece focuses briefly and individually on varying instruments. Piano and cello are used intensely and percussively at both extremes of range; less dense moments reveal flute and clarinet more fully.

Other than the recognizably oriental Butterfly Lovers theme, it turns out
that the most Oriental of the music was expressed by non-Oriental instruments in Spirit of Chimes.

NETWORK FOR NEW MUSIC
Settlement Music School
Philadelphia
February 24, 2002

Reposted from Penn Sounds 2/27/02

Looking Backward
to Crumb and Mahler
by Deborah Kravetz

It used to be that Orchestra 2001 looked forward, presenting music of the future by new and local composers. But now, in 2002, they seem to be looking backward, not to 2001, but further back, to established, but not mainstream, composers of the last century.

This concert, of George Crumb's Ancient Voices of Children (1970) and Mahler's Das Lied von der Erde (1907-09), would seem to have a common theme in the earthiness and commonality of the subject matter, yet their execution varies so widely they might have been composed centuries apart. Crumb uses the truly primitive aspects of modern instruments with the inchoate vocalizing extremes of the human voice to invoke the prehistoric and timelessness suggested by the texts of Garcia Lorca. Mahler uses modern romantic tonality and civilized human expression in metaphorical and direct texts of human longing, joy and suffering.

Here, in the yet unfinished Perelman Hall, the differing extremes of the music stumbled. The all-too cavernous stage lacked resonance. This was fine for the Crumb, but the Mahler just did not resound with any warmth: the small ensemble huddled at the front, the strings sounded thready and forced, the piano tinkly and almost out of tune. Perelman has a cool sage fabric and blond wood appearance with latticing fronting the balconies, but the vinyl seats groan ominously with slight movement, the movable chairs scrape the floor, the long aisles seem too narrow for safe movement, and the semi-finished restrooms are tan and dimly lit and lack signage.

Fortunately, the acoustics are excellent for vocal recitals, and the voices of soloists Barbara Ann Martin, soprano, in the Crumb, Suzanne DuPlantis, mezzo-soprano, and Stuart Neill, tenor, in the Mahler resounded well over the small ensemble, with clear diction supplemented by projected text translations. In the Mahler, it was easy to glance at the text and then ignore it, but the Crumb piece was augmented with scraps of text decorated with sliding graphics and geometric shapes by Kenneth Hiebert that I found distracted me from the music. Martin has spent twenty-five years perfecting her technique in this piece, and her heartfelt trills, chirrups, yodels and wails were strongly evocative of an ancient child trying to find a voice; the use of the open piano well and sounding board was like calling down a well and listening for the echo. DuPlantis' voice was warm and mellow while retaining precision and clarity, but Neill sounded somewhat forced on the higher notes, and lacking in emotional color, despite his fervor.

(Reposted from Penn Sounds 2/8/02.)



13 Ways of Looking at a Blackbird--Number 8
by Deborah Kravetz

I know noble accents
And lucid, inescapable rhythms;
But I know, too,
That the blackbird is involved
In what I know
--Wallace Stevens

eighth blackbird flew into town on a winter wind from Chicago and blew away the locals with unpretentious professionalism and understated theatricality.

Although I am not fond of self-editorializing, in this case recitation of excerpts of reviews served as introduction to Minimum Security Trailer (2000), a sampling of a larger commission by the Minimum Security Composers Collective. With Io by Dennis DeSantis sandwiched between two sections of In another man's skin by Adam Silverman, we are served a contrasting set of romantic, long melodic phrases and alternating duets for flute-clarinet and violin-cello in which the piano and marimba serve as ground and bridge, between two chunks of frenzy for marimba and ensemble in short jagged percussive phrases performed without score, but lots of eye contact and body English—a sort of inverted Bachian fugue that is certainly lively, but lacking in resonance. With Io played under moonlight lighting and marked by poignant sweetness that never became a saccharine satire, the return of In another man's skin is a refreshing jagged frenzy in darkness.

George Crumb's Vox Balaenae (1971) reminded me of Alan Hovaness's and God created great whales. This one is performed by amplified cello, piano and flute in dark blue light with players anonymized in half-masks. Flute notes are half-blown, half-sung as the flute trills and sobs; deeply muted piano strikes, strums and chords serve as percussion and bass; there are vast echoey depths with far-off barely heard sounds; the cello presents a Far Eastern tonality in sitar-like passages; there is an eeriness in high cello scrapes that are very whale-ish. A high melodic phrase with tinkling accompaniment creates a mesmerizing attenuation to the piece.

Daniel Kellogg (b. 1976) has a Bachelor's degree from Curtis Institute and is studying at the Yale Institute of Sacred Music. His fascination for the medieval chant Divinum Mysterium led to creation of this piece (2000) following the Creation narrative of Genesis incorporating that chant. In the beginning there was one note and the original chant sung by the performers accompanied by off-stage instruments as the players walk on one at a time...in the beginning. Then there is agitation, twittering and a great thump (obviously, the composer espouses the Big Bang theory of creation). There are irregular percussive strikes as the winds become more agitato and the primordial soup bubbles and boils. This is a piece where you keep your eye on the balleticism of the percussionist who is busier than the rest of the ensemble combined and who does everything including turning the page with great flair worthy of DCI awards, although the bass clarinet also gets its due. The third movement Light has an abundance of lightness and litheness, Rest has the muted violin and cello in twining lines, and Rejoicing presents the chant in recognizable form with punctuation in a fearless organic tonality that reprises the theme before breaking into—a dance fugue with its own variations.

The pleasant surprise of this group is that nothing feels difficult or forced—every selection seems user-friendly, making me wonder if this is the way they are when they're at home, or was this a special program for out-of-town audiences.

(Reposted from Penn Sounds 1-16-02.)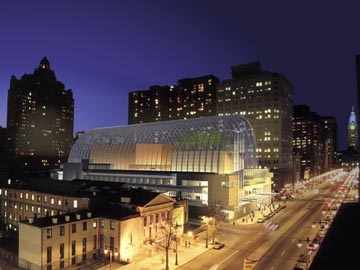 The new Kimmel Center for the Performing Arts is home to 2,500-seat Verizon Hall, a cello-shaped concert hall with mahogany walls and state-of-the-art acoustics designed especially for The Philadelphia Orchestra by Russell Johnson, and a 650-seat Perelman Theater, with a stage that rotates to accommodate chamber music, recitals and dance.
Where to Go in Philadelphia
Kimmel Center Acoustics Okay
Now, About The Ladies' Rooms
by Deborah Kravetz
Hold your horses! You want to know about the acoustics, right? Well, let me tell you about the ladies' rooms at the Kimmel Center. All those other critics never mentioned them, did they? Well, of course not -- they're all men! The rest of us know what's really important. So here's the scoop: there are six (count 'em six) ladies' rooms, two on each side of each of the tiers of Verizon Hall, with six stalls and four sinks each. The only mirror is facing the sinks, and the lighting is aquarium green and underwater dismal. Once again, women lose out to the male designers who must have made this decision, never having had to check make-up or replace
a contact lens at intermission. Ladies' rooms at the Academy, the Prince, the Walnut and the Wilma are all better lighted, and seem to have a greater ratio of stalls. So there.
That out of the way...oh, yes, the legroom. I went to the public open house mobfest on Sunday and the Orchestra subscribers' open house and sat in the last row of Verizon. While the seat was comfortable for my five-foot frame, it could be described as skimpy, but there was twice as much legroom for crossing legs and passing by as anywhere in the Academy, or even any other theater in Philadelphia. Seats on the sides of the "cello" are full-size moveable arm chairs that were too large for me, but on the sides of the third tier, I would be leaning forward on the railing most of the time to see the stage anyway. It is easier to view the stage from the angle of the sides of the second tier.
Overall, the hall seems smaller and shorter, the top seat not as high, and the stage covers a larger portion of the floor than in the Academy.
Oh, the acoustics? Well at the mobfest, a baritone was singing with piano in Verizon, and I had no trouble hearing him over the crowd from the last row of the third tier. Perelman Hall was presenting an amplified jazz band that day, and there was no problem hearing anything from anywhere there.
In fact, I would have expected to hear the vocal recital in Perelman and the jazz band in Verizon, considering the relative intimacy of their spaces.
On Sunday I stood in line at the box office, which has seven windows and will be open all day every day, to buy a ticket for Audra McDonald. They are continuing use of the Academy purchasers' database, so my address information was already there. The lowest prices for any concert are going to be in the "Conductor's Circle," the box across the back of the stage and facing the audience, so be aware that you will be exposed to every set of opera glasses and binoculars in the house; of course they are much less necessary here than in the Academy, but you had better be prepared to be visible and awake. These seats might be desirable for a string quartet or small ensemble, but not for a diva soprano, so I decided to pay a premium of $30 for a third tier seat. After leaning forward for the first half, I moved from the center of row A to the side of row E for the second half
and had a better view of the front center of the stage.
Acoustics for this performance were excellent, and even though Ms. McDonald was amplified, every syllable was clear in quiet passages with piano. It was when she sang with the 14-piece orchestra (mostly brasses) that the sound became muddy, and the lyrics of unfamiliar songs were lost.
BUT, and this is where the audience comes in, EVERY sniffle, cough, rustle and sneeze, every whisper, hum and snore was not only audible, but exposed to every other member of the audience. In case patrons don't get it, wonder why the seat armrests slope downward? Sleepers, awake! And the rest of you, stifle it!
As for the rest of the spaces, the roof garden, the soaring glass ceiling, the warm woods of Verizon and the gorgeous organ pipes (not yet activated) make lovely viewing. And the gift shop? That's on the Spruce Street side of the Plaza level. They really need an on-line linked shopping site and more visible prices on items in the display windows. But the Kimmel silk
scarf is beautiful and reasonably priced at $49.95. A Philadelphia Orchestra conductor's baton is only $9.50 for your favorite in-house conductor. Most items are classy and not found at local museum shops, and include dance and Shakespeare themes in addition to musical ones.
On my way to the concert, I heard a pedestrian passing the Academy of Music comment, "That's the old house, right?" Already it's the "old house." Here's to many more good concerts in the "new house" in the coming years.





Exploring the Carnegie Hall Millennium Piano Book
By Deborah Kravetz
If you count the cost of a concert in the number of notes played, then this program of music written for the Carnegie Hall Millennium Piano Book certainly comes at a high price. But the Network for New Music's own Charles Abramovic and guest pianist Marc-Andre Hamelin did not seem in the least fazed by the richness and were even consonant in the selection of the pieces they chose to perform.
Actually, pieces NOT written for the millennium were Tres Piezas Breves para Piano (1990) by Alba L. Potes and Leo Ornstein's A la Chinoise (1918), Suicide in an Airplane (1913) and Danse Sauvage (1913), but these still seemed of a piece with the rest of the program. Pieces selected by Abramovic seemed more atonal and dissonant, those played by Hamelin were primarily tonal.
Chen Yi's Ba Ban is purported to be drawn from a traditional folk piece, but had just as much folk reference as Ornstein's 1918 piece, primarily a percussive chiming and a hint of open fifths, compared with Ornstein's cascades of notes and similar use of fifths.
One could compare Ellen Taafe Zwilich's Lament for Judith Arron with Wolfgang Rihm's Zweisprache commemorating the deaths of five friends, but Zwilich 's piece has a hint of melody that is then managed, manipulated, repeated and further dealt with and resolved, in major!
I would like to hear this one again, but Rihm's langsam movements merely contained lots of quiet with occasional light chords.
In Image de Moreau Toccata, Louis Andriessen presents an almost mechanistic steady busy-ness with odd stops and clusters that themselves construct the melody. Compare this with Hallelujah Junction by John Adams for two pianos; there rhythmic arpeggios and chords hypnotically flow as their paths diverge and alternate to create their own soothing, but busy, patterns.
Also on the program was The Days Fly By by Frederic Rzewski, with hints of Gollywog's Cakewalk, not only in the melody, but as a rhythmic motif; but this is an abstract piece about a moment in time, as were, perhaps, the Potes pieces that opened the program.
NETWORK FOR NEW MUSIC
Settlement Music School
Philadelphia
December 2, 2001
(Reposted from Penn Sounds 12/10/01)


Caught in the Act
Indie-Rock Meets Neo-Bach
Key to Relâche Repertoire
By Deborah Kravetz
Relâche continues apace presenting what keyboardist Andrea Clearfield calls "downtown" music, that draws on rock, jazz, new age and world music, she explained. So "Indie-Rock Does Neo-Bach" explains it all. Relâche's composers may not all have formal academic training, but their bios are rife with performances around the world, recordings, awards and fellowships.
Here's a riddle: what happens if you take a melody and transpose one pitch each time it is repeated? Arthur Jarvinen does it 21 times in Goldbeater's Skin (1987) and ends up with the original melody in a lower key. That's musical math ? or mathematical music for you. Amplified viola with xylophone sets out the melody ? a jazzy riff with Celtic overtones. Repetitions get punctuation from bass, keyboard, bassoon and cheese-grater and, while retaining recognizable fragments, drift into ever-more eerie territory, yet there's such a strong pull of familiarity from the engaging melody, you're just straining to bring it back home despite the tension created by its meanderings.
Carloyn Yarnell takes "crossover" to an extreme degree incorporating baroque fugal counterpoint, North African medieval rhythms, plainchant and classical designs. More Spirit Than Matter (1996) is three pieces with cello, originally scored for Baroque period instruments. Allegro has syncopated oboe and flute set a staccato ground for bass, viola and cello in warmly-toned melodic dances that roll along with a refreshingly straightforward Romantic sensibility scored in layers for winds, strings and piano, sometimes moving at different paces. The second movement is contemplative and unison with predominance shifting among instruments along the melody line. The closing movement is a dance of high runs for flute and oboe, with low chords in strings that grows agitato to train chaos with repeated melodic fragments before re-emerging into coherence and a single plucked cello note.
In Jazz Machines (1990) Martin Butler says he was creating "jazz that machines might play, on the sly, when we're not listening," and attempts to incorporate computer sequencing with acoustic instrumental writing. In the opening, the piano sets a phrase that is repeated by cello and saxophone in unison; then viola, flute and marimba create a trio with piano. Next, various permutations create short jagged phrases that are rather lock-step ? until the clarinet breaks out into a syncopated riff that is taken up by the other instruments until it, too, becomes unison [machines just ain't got swing].
John King wrote Road Map (1995) for Relache to express different styles of jazzy music with the "sax player acting as a kind of navigator: to the schematic of the score through directed improvisations. This piece opens with wild cacophony that becomes a rhythmic jazz phrase with marked rhythm from the drum set. Ballad is quiet, with a film noir bluesy sax solo deserving of being turned into its own melody, followed by solos for bass guitar and viola with drums that evolve into a Raymond Scott-like rhythmic unison [but neither as coherent nor clever], and more machine-like than the previous piece. [Oh, Give Me a Siberian Sleighride!] The featured piece on this program is the world premiere of As the Day Goes By (2001) by Kitty Brazelton, commissioned last year, but written in response to the September 11 events, combining the traditional Dies Irae with the word "blessed" from the Koran "in a struggle to comprehend the difference between before and after" and determine what this "after" will look like.
Brazelton has the steel drum set a sweet metallic resonance in the beginning; notes hold and shift into dissonance creating tension, until a crash of percussion and a low echo crescendo into a syncopated melodic line for flute and piano with string and wind dissonance. A sudden silence is broken by a vocal call and frantic percussive chaos. Again a sudden silence; then the composer repeats the vocal line "as the day goes by" accompanied by steel drum solo that gradually includes the ensemble. The vocal line comes in again with "dies irae" that is also sung in chorus by the ensemble and leads to a new percussive chaos. The chaos keeps dropping back to quiet and repeating.
I think, "Where's that sunny day that started out with no foreboding?" This piece is a thought, but seems to be a terribly self-conscious one; a lot of sturm und drang that is not particularly original. I do like the combination of vocal and instrumental writing, the contrast of sweetness and anger that filter through the noise, but I have read better verbal expressions of the rage and sadness, and this is not yet the musical equivalent.
Relâche Ensemble
Philadelphia Ethical Society Building
Philadelphia
December 1, 2001
(Reposted from Penn Sounds 12/5/01)

CAUGHT IN THE ACT
50 Years in the Making--
Harry Hewitt's Excellent Opening Night
by Deborah Kravetz
It's tough to wait fifty years for a world premiere—there was even a revision done in 1973, but Harry Hewitt's Shinryuku (Springtime) Suite, Opus 429, No. 3 (1950/Rev. 1973) is worth the wait.
The composer described it as "not too easy, not too difficult, but with some unusual technical effects," and we hear cool spare lines underscoring romanticism that.expresses colors of the seasons. The first section is sprightly staccato, with a vaguely Oriental melodic line repeated in different registers of a breeze scudding hot and cold over fields. The next section is a soothing sense of flowing water with rolling arpeggios in the left hand, and a higher melodic line in the right. There is slightly more turbulence in the middle portion.
Section three has the left hand providing a steady rhythm against a lighter right; these are the dark clouds of spring rain, and the composer alerted us that there were "two clouds moving in separate directions." The fourth section is marked by a steady stride bass in the left rolling up and down, while the right matches and diverges.
The last section recaps the first with more density and complexity. The pianist was Jennifer Kleeman.
Juliette Stango's time spent studying in Italy shines through her music; the romantic and dramatic poems by Alberto Barbetti also drive her work. Ninna Nanna (1990) is written in an unabashed but not cloying romantic style, yet the introduction sets out a clear modern harmonic before the twittering birds begin. A yearning melody (Dormi mio tesoro) was sung by mezzo-soprano Mabel Ledo in a full and rich sonority over a lighter piano line, and her diction carried clearly over the accompaniment. She was assisted by tenor Burak Dorduncu in variations on the melody, with more bitterness in the accompaniment by Paul Fejko. A final duet has the soprano line under the tenor, with sonorities paralleling and sometimes diverging, and a poignant piano coda.
Sy Brandon's Sonatina for Piano (1998) was performed by Maria Thompson Corley. The Moderato has arpeggios and scales rolling from left to right that progresses into variations with percussive chord punctuation. Andante has a serene melodic line accompanying spare chords that become rolling arpeggio in the left as the line rises, with increasing dissonances between them that becomes an alternating conversation. Allegro is a dance with percussive left hand and high melodic line. Calmness alternates with passionate flares and declarative percussion reminiscent of Ravel's Le tombeau de Couperin in its classical references and shifting rhythmic patterns.
Excerpts from the song cycle From Green to Silver (2000) by Daniel Barta is based on poems by Lucy Shaw that are somewhat akin to Emily Dickinson's style of expression. Texts of simple phrases and internal rhymes are set to icy tones and dissonances that leave the text starkly exposed. The baritone timbre of Lawrence Indik is almost too dramatic for the material. Snowing opens a capella, then adds bass chords to accent the frozen description; slow descending single notes re the "Silver falling like flour from a slow sifter." This was the most expressive of the songs in the set accompanied by Kristine Mueller.
The program concluded with the world premiere of 6 Preludes by Joseph Nocella played by Victoria Squicciarini. Lento is slow, but building to majestic chords between tinkling scales. Misterioso has rolling arpeggios that turn into ascending chords, then descending scales and back up again. Giocoso has quick little three-note motifs that intertwine as they descend. Tranquiillo is cool and quiet, a simple line with resolving chords. Appassionato has a dark intensity and dramatism, with a hint of jazzy percussion in the melodic line and a stride bass. The piece closes with Agitato, cascades of notes that swirl, then come to rest.
During its 12 years of presenting concerts, CSI (including Crissey Concerts) has presented works by over 100 area composers; 453 works performed professionally.
COMPOSER SERVICES, INC.
CHAMBER MUSIC CONCERT
Ethical Society Building
Philadelphia
October 28, 2001


The Theater is Closed--
21 Years of Relâche
by Deborah Kravetz
Relâche celebrated the retirement of the last of its founding members, keyboardist John Dulik, with the presence of its founding Artistic Director Joseph Franklin, former executive director Colette Domingues and the presence of both premiering composers, Eric Moe and Joseph Koykkar.
Eric Moe's Eight-Point Turn (2001) opens with bass ground, a mysterious tinkle in the piano, then a dark viola theme; clarinet and bassoon play together, then flute echoes the piano. Oboe and bassoon signal a new theme with wood block percussive beat. Overall, it's a startled, jagged rhythm, whatever the instrumentation, with changing accents, as it re-news and repeats in a journey full of tension.
In Dark Waters by Ingram Marshall (1995), a staticky analog recording is fragmented and overlaid by occasional dark rushing sounds (a far off engine?) and accompanied by amplified and tape-delayed English horn that highlights and echoes phrases from a recording of The Swan of Tuonela, while the recording itself becomes endlessly fixed on certain chords; a voice of doom or a ghostly message from beyond? This composer envisions Sibelius "listening to his short wave radio and hearing, through all the static and noise, a strangely "electronic" version of his music"—which we do. Lloyd Shorter dedicated this piece to the victims of September 11.
All-American Slam (1998) by Robert Bowen is part of Relâche's all-out fun repertoire. This noirish jazzy piece has bassoon and percussion building for an edgy ground with rhythmic brush percussion. Flute, clarinet and oboe have short accompanying phrases, but it's the ground and percussion that predominate, until a jazzy piano solo takes over.
In Panache (2001) by Joseph Koykkar marimba leads a percussive piano and viola in a catchy rhythmic phrase that repeats in variations at driving speed. In the Noir movement, flute and vibraphone set a slow theme that is expanded by the ensemble. An interesting passage for bass clarinet with pizzicato bass and vibes, and a more rhythmic section for bassoon, piano and oboe, with marimba, piano and English horn. Elan is unison ensemble in jagged rhythm that alternates with another catchy rhythm. Then vibes and piano have a duet with flute accents and plucked bass, before a return to the opening theme.
Re: Louis Andressen's Worker's Union (1975): Here's a quirk: notate pitches and rhythm on a single staff for a wide range of instruments, and let 'em rip! The composer calls it "a combination of individual freedom and severe discipline." So it's a struggle he calls symbolically "similar to organizing and carrying on political action." In order to be successful, it has to be an interesting line, and this has jagged rhythm, ascending scale, lots of successively repeated notes, rising accents and surprise sudden stops. It's amazing how incessant unison can become wearying to the ear when that's all there is. It shows just how precise and well-prepared the musicians of Relâche are.
RELÂCHE
Philadelphia Ethical Society Building
Philadelphia
September 29, 2001
(Reposted from Penn Sounds 10-11-01)

Penn Sounds is a periodical devoted to the needs and interests of Pennsylvania composers. Regular features include technical and esthetic articles related to composition; a series on Pennsylvania performance groups from time to time; book and tape/CD reviews; concert reviews; announcements of Pennsylvania composer's activities. Publishes twice a year (April and October). $10.00 subscription in US. Otherwise, $15.00 Complimentary copy requests to Elizabeth Hewitt eh1958@voicenet.com

LADY IN THE DARK
Prince Music Theater
Philadelphia
September 29-October 21, 2001
by Deborah Kravetz
How can I say I liked the orchestration better than the music? The tip-off came with the overture, and the orchestra full of clarinets, saxes, trumpets and mutes, presenting a perfect portrait of a 1940's film score.
Who could imagine a musical about the neurotic subconscious played out in a series of surreal hallucinations? Moss Hart managed to, Ira Gershwin created the clever lyrics, and Kurt Weill contributed two memorable songs and some atmospheric music.
Well, it's really a love story: Liza Elliot can't make up her mind about
marrying her boyfriend, much less which cover to use for her magazine. She has a deep-seated case of low self-esteem, but doesn't know it, and consults a psychotherapist who leads her into her dreams, which are enacted for us. Who cares if the story doesn't hang together—it's all hallucination anyway.
Albeit colorful, vivid, surreal hallucinations—starting with dramatically evocative sets—a fish-eye view of New York City skyscrapers, an elegant apartment and a truly Art Deco magazine office. There are several interesting pieces of furniture, but while the fabrics and colors are glorious, most of the costumes appear uncomfortable, slapdash and makeshift. The Glamour Dream is in that wonderful steely silver-blue; the Wedding Dream more closely resembles a Magritte funeral complete with black derbies and umbrellas; and the Circus Dream is almost too frantically busy and overly (but cleverly) decorated.
Oh, yes, the music. Everyone knows My Ship, which underlies the entire play, but as a theme Liza is trying to recall, until she finds someone else who also remembers it. Girl of the Moment has a certain urgency in its melody, but as usual, Weill never really takes it to the moment, and it remains only an incessantly recurring fragment. One Life to Live was new to me and might be more interesting, but nothing remained with me afterwards.
The Wedding Dream is presented in starkly bare set and everyone dressed in black; this is where the studly movie star sings This is New, another song new to me, which did remain, but kept trying to veer off into Kern's This is Love. The Princess of Pure Delight also comes in here, and is a sweet story song that reminds Liza of her childhood, and has been (and can be) done by itself.
The Circus Dream is a real circus of clowns, tumblers, jugglers, ringmaster and a lion's cage where Liza spends the act (well, hasn't she been in a cage all these years, anyway). While they sing about putting her on trial, there is a brief Gilbert and Sullivan reference, then the song that made Danny Kaye famous, Tschaikowsky, listing all the Russian composers, before Liza justifies herself with the memorable Saga of Jenny, who DID make up her mind, to disastrous consequence (but very cleverly).
So many clever lyrics gone to waste, however. While Brian O'Brien as Randy Curtis and Beau Gravitte as Charley Johnson have fine voices, the ensemble does most of the singing, which is just as well, since Andrea Marcovicci's voice is distressingly inadequate for this role. Even with going to all the trouble of getting permission to transpose the music for her lower range, there's not much there there. I do enjoy her as a cabaret singer where she is able to put herself inside a song, but here she is miscast both as singer, and as actress, since she comes across as brittle and monotonous (playing Katharine Hepburn, perhaps?)--unless that's the way director Ted Sperling wants a woman on the brink of nervous breakdown to behave. Time to rent the video (Ginger Rogers) and borrow a CD (Gertrude Lawrence or Rise Stevens, anyone?).
(Reposted from Penn Sounds 10-11-01.)







Rouse Guitar Concerto
Premieres in Philadelphia
---
by Deborah Kravetz
Say "Antonio Gaudi" and I am back in Barcelona, examining the wrought-iron balconies of Casa Mila, or wondering at the fantastical shapes of the chimneys on the roof, or discovering the pottery shards embedded in the Serpentine Bench at Park Guell. Gaudi is mosaic, in colors, shapes and textures. So I approached the Philadelphia premiere of Concert de Gaudi (1999) by Christopher Rouse for Guitar and Orchestra, performed by Sharon Isbin.
The Allegro opens with a flamenco flourish by full orchestra and guitar in a minor key; there is tension, castanets, but the line wavers off with a flute and woodwind cadence, and strings slide into surreality with a French flavor. The guitar part is fully scored, continuous and normal. Trombones contribute slides and percussion crashes, all of which almost cover the (amplified) guitar line. Winds provide an eery accompaniment. The movement has majestic tutti cadences, brisk pacing, and only short passages for guitar solo.
A serene, slow Largo has strings in solemn unison line with an elegant guitar solo; the clarinet line comes in ever so slightly in a different mood, but interesting in itself. The guitar solo is very normal and typical, but then flute draws attention away, and chime-like muted trombones and brass, then harp and celesta, compete with the guitar in an intriguing trio. The guitar solos over a held string note, then winds come in with bluesy ending swoops. Suddenly, horns crescendo and strings come in also getting louder, with cymbals to create large organic cathedral chords. The guitar sneaks in over the sound of rushing winds for a solo with piccolo commenting. The movement ends with a harp, celesta and string chord.
Svollazante opens with brass chords with quick guitar work leading to a tutti with castanets; then a lively solo with wood block and marimba, swooping lines and light ascending strings. There is an interesting flute duet with guitar that is bright and intricate, then pizzicato strings with sliding horns, quick flute, and a guitar solo with its own slides and fades, but lyrical clusters predominating. A tutti pizzicato comes in with a repeat of the opening flourish, although more dramatic with timpani and xylophone, and ends with three string plucks.
This is a lively, lovely, humorous piece, that is a distinct knock-off of the Rodrigo Concierto de Aranjuez, which was also performed on this program, but with reminiscences of Charles Ives. The Orchestra also performed An Orkney Wedding, with Sunrise by Peter Maxwell Davies.
ORCHESTRA 2001
Trinity Center
Philadelphia
September 22, 2001
(Reposted from Penn Sounds 9/26/01)
---
WHAT I DID ON MY
SUMMER VACATION
---
by Deborah Kravetz
MEMO TO: Stephen Schwartz
RE: The Baker's Wife, Arden Theater, May 10 - June 10, 2001,
Philadelphia
What is wrong with this musical?
Well, to begin with, I went to a lecture on Alan Jay Lerner recently and rediscovered how many
wonderful composers he collaborated with -- quel merveilleaux! A very misfortunate comparison.
Take a typical French story based on an old French film -- older man,
younger wife, mysterious past. Enter the young heartthrob who thinks well of himself and sets his cap for the wife unheedful of her protestations of being married. Naturally the villagers (whose primary interest besides bread is scandal) begin to talk in platitudes.
S'il vous plait, we could skip all the songs for chorus with all their
terribly trite -- and predictable -- lyrics; we could pare down the
cast of nineteen to the baker, his wife, the cafe owner and his wife, the cure and the mayor, and the young heartthrob. Nor is the music much to write home about. There are two star turn songs, Proud Lady and Meadowlark, in the first act, however, that are indeed cleverly phrased and stand alone well -- and they should! But no one will leave the theater humming them, and I suspect it takes some study of the score to even begin to learn them.
But the theme tying together the diverse characters (and caricatures) of
the village is the Chanson sung by the cafe owner's wife, une femme
d'une certaine age, whose lyrics alter with appropriate knowingness and
bitterness as the mood of the plot progresses. And this melody did get
me all the way home, but I couldn't find it again the next day. This song,
also, among all the songs about bread, love, men, women, joy and loss
that left me cold, ties these themes together and made me catch my breath at the final reprise when the cafe owner gave his wife a rose and reaffirmed
their love.
Maybe you need to think more along the lines of Michel Legrand's
Umbrellas of Cherbourg. Keep tinkering, Steve.
P.S. Great idea having the bread supplied by a local bakery and sold in
the lobby at intermission. Smelled much better than the pipe lit on
stage.
MEMO TO: Leonard Bernstein
RE: Candide, The Prince Theater, Philadelphia, May 12-27, 2001
There is nothing wrong with this musical as to music -- it's the book
that's problematic, and I wish they'd just make a few incisions and stop
tinkering with it already.
There's that rousing Overture that really causes shivers and revs you
up, and all those fiendishly difficult tempi are still there. This is no
mere band of strolling players opening in circles around Venice, they
criss-cross the world more than once, opening in Westphalia, moving on
to Lisbon, Cadiz, Cartagena, Montevideo, back to Cadiz and on to
Constantinople before landing right back where they started. The reason
for all this peripatation is the destruction of innocence and retention
of optimism by that world-class innocent, Candide, for whom there is no end
to the troubles that beset him.
It's been several years since I listened to the original cast album, and
yet all the music was familiar to me. This is joyful, cheerful -- and
above all, tuneful -- music, and after a while, all the peregrinations
seem only excuses for a colorful locale to place the next musical number.
While the music drove itself onward, it was the book that bogged down --
all those desert islands, last-minute rescues, those strange sheep --
and we never did get to hear the story of how the old woman lost half her
backside.
Here, too, was the only vocal letdown of the production. I have enjoyed
listing to Joilet Harris for many years in a broad range of roles here
in Philadelphia, but (let me say it) she is no Irra Petina, and could not
be quite wry enough for this character.
My other puzzlement was the It's a Good Day for an Auto-da-Fe number. I
felt like this one should be appearing next to Springtime for Hitler in
the context of things. With all the heretics running around in this story,
it seems a bit gratuitous to be accusing them of heresy. Then, the
repetitious philosophizing began to get boring; thought-provoking, but
boring, when all I wanted was to hear another song. We know Candide
becomes resigned to the perfidy of his fellow man and Cunegonde is no
longer averse to getting her hands dirty after all she's been through,
just get on with it.
In this production, the orchestra reminded me fittingly of an old-world
scratchy circus band that was missing several instruments, but striving
bravely along. The sets of scrims and projections on silhouettes
designed by Jerome Sirlin were visually confusing at first, but deep with texture
and color; costumes were appropriately over-the-top for this farce, and
the voices were excellent, well-enunciated and miked.
Don't worry, Lenny, the music survives and delights!

MEMO TO: Philadelphia Theatergoers
RE: A CHORUS LINE, May 8 ? July 8, 2001, Walnut Street Theatre
One!
Singular!
Sensation!
The best, breath-holdingest, toe-tappingest, shiver-inducingest, most
recognizable vamp-til-ready ever written in Broadway musical theatrical
history! And you can't forget it once it enters your ears! It snakes
through your head, bewitches your senses, grabs hold of you from hat to
taps and just ? won't ? let ? go!
Oh, yeah. Something builds up to it. In fact, One is the curtain
Caller for the cast you've been watching bare their souls as they learn the
number and compete for the chance to dance. In fact, since its debut in 1975,
hordes of Broadway boys and girls have made their mark in the Chorus
Line, taking their star turns and moving on. It's been so long, that it would
Be less disconcerting if they would let the performers use their own
birthdates in the introduction section.
There ARE other songs in A Chorus Line: I Can Do That, Tits and Ass, At
The Ballet, Chance to Dance and Sing. Of them, only Hello Twelve, Hello
Thirteen, Hello Love is a dated 1970s rock number. Most are barely
tuneful, although At the Ballet has some nice phrases, I Can Do That a
catchy rhythm, and What I Did For Love has become hopelessly
over-familiar from over-use (and mis-use). Of all the songs, Sing! is a very clever
duet for a married couple where he fills in and sings the words she forgets.
But the DANCE is paramount, and held me mesmerized, breathless from the
try-out patterns to the tap combination and the finale. Only when
Cassie gets her "chance to dance" does it all deflate. That number is all
walking, turns, poses and flapping arms -- a very high school
imagination of what Broadway dance is really like. Where are Hermes Pan, Gower
Champion and Bob Fosse when you really need them ? here?
Sure it could use some tightening in the slow talky parts with Paul and
Cassie that are not muted out by chorus numbers, and you could tell,
because the audience had the nerve to start talking and fussing with
candy wrappers.
But it all leads up to the finale; as the cast learns it, you learn it
along with them ? the lyrics and excellent orchestration tell you what
to do. The movements are so commensurate with the phrasing, text and
volume development that your body almost knows what's coming next and gets
there right on the beat.
Makes me want to dance!

MEMO TO: Stephen Sondheim and James Lapine
RE: Passion, The Wilma Theater, Philadelphia, May 16 - June 24,
2001
This is the third time I have seen Passion, and I still don't get it.
While I love the lyrically flowing music, Passion seems dispassionate
And leaves me discomfited. The plot is still improbable, there are
inconsistencies of character and lines, actions are unbelievable and
reactions are ridiculous.
Oh, it's a fine story of emotional blackmail, torment and abuse that is
not pretty or safe or easy, and all the characters seem to confuse love with
sex with beauty with happiness in an "if it's one, it must be the other"
kind of slippery logic. If the question is "can you make someone love
you," then friendship and compassion offered "to save a life" take a
desperate stranglehold on the giver who is unable to keep his intentions
clear. Well, see what happens when you sit on the bed, take your feet
off the floor, "sleep" together, dream together? Free will is all on one
side and compared with things that are out of control.
The obscenities and crude jokes by the military officers are a real
relief from all the intensity; the music is beautiful, but only "this is
happiness" remains with me later and there is little resembling
resolution of line when every aria remains unfinished.
The acting, lighting and sets are good; the voices competent; nothing
shines, and when it is over, there is a bitter taste remembered.
Start over again from the concept, Steve and Jim.