David Krakauer:
The New Year After...
The shofar sound represents prayer beyond words, an intensity of longing that can only be articulated in a wordless shout, But the order of the sounds, according to one interpretation, contains the message in quite explicit terms. Each series of shofar blasts begins with a Teki'a, a whole sound. It is followed by a Shevarim, a tripartite broken sound whose very name means "breakings." 'I started off whole,' the shofar's speech says. 'And I became broken.' Then follow Teru'ah, a stoccato series of blast fragments, saying 'I was entirely smashed into pieces.' But each series has to end with a Tekk'a, promising wholeness once more. The shofar cries out a hundred times on Rosh Hashana: 'I was whole. I was broken, even smashed to bits. But I will be whole again.'
--Arthur Green, See My Face, Speak My Name
---
By Jerry Bowles

No other musical instrument so closely mimics the sound of the human voice as the clarinet. In the hands of a virtuoso like David Krakauer, the godfather of modern klezmer, the traditional celebration music of Eastern European Jewry, it can express a joyousness that borders on delirium and a level of despair that could move the dead to tears.

"For me personally it is important to do two things in playing klezmer," Krakauer says. "One is to preserve the Jewishness - the inflection of the Yiddish language in the music (that I recognized in the speech inflections of my grandmother), the melodic shapes, the ornaments, the phrasing, the traditional repertoire, and the flavor of the cantor. But the second is to keep klezmer out of the museum - to write new klezmer pieces and to improvise on older forms in a way that is informed by the world around me today."

Last year, Rosh Hashana, the Jewish New Year, fell on September 18--one week after the tragedy at the World Trade Center. For Krakauer, the ram horn's message was clearer than ever. From that experience came a new composition called The New Year After...which uses the Teki'a/Shevarim/Teru'ah/Teki'a chant structure of a long full note followed by two short staccato note measures followed again by the long full note to present the idea that what was once whole and is now broken will become whole again.

Although it is the only piece that is overtly "about" 9/11 on Krakauer's marvelous new album--The Twelve Tribes (Label Bleu), he also plays his signature piece--the traditional Der Gasn Nign--in a way that resembles nothing so much as a cry of anguish for the vaporized souls of September 11. (The cover shows the symbols of Israel's Twelve Tribes on a background photo of downtown Manhattan with the Twin Towers intact.)

The rest of the album is pure joy. Backed by his incredibly gifted band called Klezmer Madness!, Krakauer serves up his usual musical collage of jazz, classical and rock and roll--all tied together by its roots in klezmer. From the funky opener Tribe Number Thirteen to the traditional Chasen Kale Mazel Tov (Good luck to the bridge and groom) to the final Monk-like As If, Krakhauer et al put a new and magical spin on old music that celebrates life at the edge of ecstasy. (It is not a giant leap from here to the Sufi music of the whirling dervishes.)

"In both brand new pieces and re-interpretations of older standard repertoire, everything I play adheres to (or refers to) the basic forms of klezmer music: the Doina - rhapsodic, cantorial improvisation; the Chosidl - a kind of walking slower dance; the Terkish - a dotted-rhythm dance form from Rumania via Turkey ("oriental" in flavor); the old Rumanian Hora - a slow dance in a limping 3/8; and the Bulgar or Freylekh - an up-tempo dance tune for circle dancing and lifting honored guests up in chairs," Krakauer says. "This is a music that has been played from a time way before the earliest memories of my great great grandparents in Eastern Europe; and I'm honored to continue this great tradition."

The pleasure is for all of us.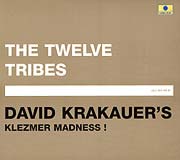 The Twelve Tribes
Composers: Various
Performers: David Krakhauer, Klezmer Madness!
Label Bleu Records
---
THE MUSIC EFFECT: "Science may not have yet figured out exactly how, or why, human beings respond to music. But research across many disciplines shows that music is a powerful stimulator, shaper and maybe even sharpener of memory." Hartford Courant 09/04/02
MUSIC FOR AN AMERICAN TRAGEDY: With the first anniversary of 9/11 coming up on Wednesday, arts groups the world over are preparing to commemorate the attacks with concerts of all kinds. The "Rolling Requiem," a worldwide performance of Mozart's last work spanning 21 time zones and including 170 choirs, will run throughout the day. In Texas, the Houston Symphony will play a free concert celebrating American music. In Minneapolis, Renee Fleming will offer Strauss's haunting Four Last Songs with the Minnesota Orchestra. And in New York, the Philharmonic will debut John Adams's On the Transmigration of Souls, written for the occasion. And that's only the beginning... Andante 09/08/02
88 KEYS AND NOTHING TO SAY: Critic Martin Kettle is bored. "If there were a softer and gentler way of saying this, then I would say it. But in my view, modern concert pianists have become boring. Very few of them have anything very interesting to say, at least to me. To make such statements is to invite some heartfelt attacks. Some will say that it isn't the pianists who are boring, but I who am bored with the piano. Perhaps that is the case. But then I only have to put on a CD by Schnabel to know that I'll never be bored by him, at any rate." The Guardian (UK) 09/05/02
WE'RE NUMBER ONE! OR TWO! WE THINK!: "Ranking orchestras by quality is hard -- and subjective. Doesn't every city think its orchestra is great? Orchestras wouldn't have been formed without a strong element of civic pride. And yet orchestras are ranked all the time -- by managers, by critics, by musicians, by conductors, by soloists... If there's a vague consensus about what orchestras are on the list, what are the criteria? Recordings? Repertoire? Tours? Reviews? Budgets? Technical accomplishment? The glamour and talent of the music director? Orchestra managers and officials suggest that it's a complicated question and that ranking basketball teams is much easier." The Star Tribune (Minneapolis) 09/08/02
A BUYER'S MARKET, IF YOU CAN FIND IT: Despite the troubles sweeping the recording industry, there are more recordings of great classical music available today than at any time in history. Still, where does the serious collector go to find that obscure recording or digital reissue? "The future, everyone says, lies on the Internet, but there are still a lot of problems there. One of the basic issues is the difficulty of building a database for classical music that is consistent enough for the search engines to deal with. (How do you spell 'Petrouchka'?). And of course, the Internet is not the easiest place for you to find something you just have to have if you don't already know that it exists. There isn't a catalog that can keep up with what is theoretically or actually available. No publication like the Schwann Catalog of the LP era can claim to be 'the collectors' Bible' anymore." Boston Globe 09/08/02
A LECTURE FOR CRITICS: Composer John Corigliano has a rigorous definition of job standards for music critics, and tells critic Justin Davidson so: "Am I saying that critics need to be trained musicians, thorough scholars, and snappy writers — all on a freelancer's meager salary? Yes. 'What professional standards should critics be held to?' You need to be able to read like a conductor, research like an historian, judge like a parent and write like a playwright. 'How should critics reconcile the demands of accuracy with the realities of the deadline and the music business?' Take this question to your editors, Justin. Critics must improve the business of criticism: composers cannot. It's tough out there, from what I hear. But it's tough for composers, too. Sorry." Andante 09/05/02
AND IN THIS CORNER... For a critic, reviewing a work of new music presents unique challenges, not the least of which is that the composer is still around to shoot back if s/he doesn't like what's written. Two Pulitzer Prize-winners - one a composer, one a critic - see the conflict from decidedly different angles, and the debate ranges from whether critics are capable of recognizing a bad performance of a good piece to whether composers drastically overstate the impact of critical assessment. Andante 09/01/02
I WANT TO HEAR LEONARDO'S NINTH: All ye who love music, read the following at your own peril... A UK magazine survey reports that "65% of children under 14 cannot name one classical composer. Only 14% of 600 children nationwide knew Wolfgang Amadeus Mozart and Ludwig van Beethoven wrote music." Asked to name a composer, students answered variously with historical figures such as Leonardo da Vinci and Shakespeare." The Guardian (UK) 09/02/02
SOVIET TREASURE: For years the heart of the Soviet Ministry of Radio and Television archives - recordings of some of the USSR's most important artists - have been stored away and inaccessible. "Now, after years of legal and technical wrangling, the performances recorded over nearly seven decades are being released. They number more than 400,000 - enough to fill 12,000 compact discs." The Plain Dealer (AP) (Cleveland) 09/02/02
BETTER LATE THAN NEVER: That CD you paid $18 for at a big national retailer cost the record company around thirty cents to produce, and these days, most consumers are aware of that, and are fairly unhappy about it. The industry has been accused for years of keeping CD prices artifically and indefensibly high, but now, the prices are coming down for the first time as individual labels try to dig out from under abysmal sales numbers and declining interest in their product. CDs by major artists are now selling like hotcakes at $11 to $13, and the industry may be on the verge of discovering a fascinating marketing concept called supply and demand. Chicago Tribune 09/05/02

Last Week's News

---
Record companies, artists and publicists are invited to submit CDs to be considered for our Editor's Pick's of the month. Send to: Jerry Bowles, Editor, Sequenza 21, 340 W. 57th Street, 12B, NY, NY 10019 Also, feel free to nominate your favorite composer-- even if it's you--for Spotlight of the Week.
---
---
September 11, 2002
---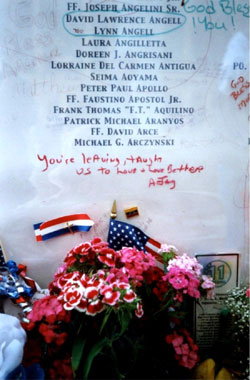 Beauty, midnight, vision dies:
Let the winds of dawn that blow
Softly round your dreaming head
Such a day of sweetness show
Eye and knocking heart may bless.
Find the mortal world enough;
Noons of dryness see you fed
By the involuntary powers,
Nights of insult let you pass
Watched by every human love.
From Lullaby by W. H. Auden, 1940
---
Personal Photos by Jerry and Suzanne Bowles
---
Classical Grammy Winners
---
Previous Interviews/Profiles
Simon Rattle,
Michael Gordon,
Benjamin Lees,
Scott Lindroth,
David Felder,
Mark-Anthony Turnage,
Erkki-Sven Tüür,
John Luther Adams,
Brett Dea
n,
Judith Lang Zaimont,
Meyer Kupferman,
Evan Chambers,
Poul Ruders,
Steven R. Gerber,
Gloria Coates
Previous Articles/
Busoni The Visionary
The Composer of the Moment: Mark-Anthony Turnage
Electronic Music
Voices: Henze at 75
Henze Meets Emenim
On Finding Kurtag
Charles Ruggles: When Men Were Men
Ballet Mécanique
The Adams Chronicles











---