---
Passing Measures: An
Evening with David Lang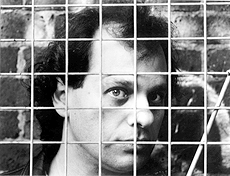 Photo: James Poke
by Jerry Bowles
The late demented comedian Andy Kaufman used to startle unsuspecting audiences occasionally by announcing that they should settle into their seats and get comfortable because he planned to read them The Great Gatsby aloud. There would be nervous laughter at first but the smiles faded into stunned incredulity as the audience realized that he was serious. He planned to read The Great Gatsy aloud--every single word of it. Some people headed for the exits immediately, others stayed for as long as they could stand it, a surprising number made into the end, which mercifully came about three and a half hours later.

David Lang, the brilliant young American composer whose music was the subject of the first of this year's Composer Portraits at Columbia's Miller Theater, is neither late nor demented but one cannot help feeling that something of a similar test of audience affection must be afoot in "Passing Measures," a hypnotic Sisyphusian trek in which the 20-person modern music ensemble Alarm Will Sound, the So Percussion Group, the Tarab Cello Ensemble, a Loose Band of Women (a seven-voice choral group), as well as 11 musicians from the Manhattan School of Music, and bass clarinetist Evan Ziporyn, all led by Alan Pierson, attempt to push a single, painfully slow chord up a very steep hill over and over and over again, only to slide back down, take a few deep breathes and start out all over again.

"My piece is about the struggle to create beauty," Lang writes. "A single very consonant chord falls slowly over the course of forty minutes. That is the piece. Every aspect of the piece is on display, however - magnified, examined, amplified, prolonged. The soloist's notes are impossibly long, requiring frequent drop-outs for breath and for rest. The players are all instructed to play as quietly as possible, and then are amplified at high volume, in order to make their restraint an issue of the piece. Four percussionists scrape pieces of junk metal from start to finish, as if to accompany the consonance of the chords with sounds of dirt and decay."

The objective seemed to be to weave a protective, mantra-like musical cocoon around listeners so they could take their minds on a mini-Club Med vacation, perhaps to a chill-out zone in a parallel universe, or an ear spa for the urban sound weary. In its recorded form, Passing Measures - Canteloupe, the piece actually delivers just that meditative quality. I've played "Passing Measures" at home many times and always enjoyed it enormously but listening to it live in a concert hall is a more demanding experience. Maybe it was the over heated auditorium or the distraction of the overcrowded stage but starting at about the 35 minute mark (I didn't have a stop watch going but it seemed to me that Pierson kept the piece going way past the length of the recorded version), audience members started disappearing, first in dribs, then in droves. Even worst, the musicians started to look exhausted and bored. Bottom line on the love meter: I'd say the audience, the orchestra and I all liked David much better at 35 minutes than we did at the 45 minute mark.

As fans of Lying. Cheating. Stealing know, Lang has a wonderful rhythmic sense and more successful was another new piece called "So-Called Laws of Nature" performed by the So Percussion Group, four mallet-wielding percussionists who mercilessly beat up an assortment of ceramic bowls and teacups and other objects that the score directs them to acquire themselves. (One envisions a befuddled security guard at K-Mart eyeing these guys suspiciously as they walk around the aisles clunking the tea cups for pitch and timbre.) Altogether, it's a high-octane romp over pieces of junk metal, ceramic, planks of wood, and drums with the players moving in perfect and dizzying unison throughout.

My favorite piece of the evening was the opening work, "Increase," another premiere, performed by the gifted Alarm Will Sound. It is basically 10 minutes of small, recurring riffs and gestures, grounded by a slowly building two-note drone and occasional ominous pedal tones. The effect is rather like listening to a Berio minature from which a grand Richard Strauss theme is constantly threatening to break out. The tension was exquisite and Alan Pierson conducted for maximum effect.

The length was about right, too.

---
Miller Theater
Composer Portraits
Saturday, October 19
David Lang
Alarm Will Sound
---
THE NEW WAVE: "Every half century, history rolls at us another wave of composers who will change the way music is heard and played. At the beginning of the 20th century came Debussy and Schoenberg, soon joined by Bartok and Stravinsky. In the 1950's, those arriving ranged from John Cage to Milton Babbitt. Now it is time for another great sweep, perhaps going in even more diverse directions and prompted from farther out on the periphery. The 20th century's revolutions were led from Europe and then the United States; now may come the turn of China, Australia and Latin America." Exhibit A may be Argentinian composer Osvaldo Golijov. The New York Times 10/27/02

IS NEW MUSIC FINALLY POPULAR? Ever since the modernist and serialist movements of the mid-20th century, conventional wisdom has held that the concertgoing public cannot abide new music, and that any effort to program modern works must be counterbalanced with a healthy dose of 'safe' classics. But with the rise of accessible (and yet unquestionably serious) composers like John Corigliano, how can anyone still claim that new music is unpopular? Philadelphia Inquirer 10/27/02

COMMITMENT TO NEW MUSIC, WYOMING STYLE: The Cheyenne [Wyoming] Symphony is a long way from a major city. But the orchestra decided to present a program of music by composer John Corigliano. The orchestra invited Corigliano to town for three days, found underwriting and sponsorships, and sold out the city's 1,500-seat civic center. "The concert was greeted with cheers, whistles and cascades of applause. Quite simply, it was a success in every way." Denver Post 10/22/02

HARD TIMES AT PRODIGY CENTRAL: You know the music industry has hit hard times when the president of the Juilliard School is saying things like "I'm just as much thrilled if someone gets a job teaching junior high school music as if they get a job in the Chicago Symphony." Joseph Polisi also indicated that, with the job market in music tighter than ever, it will be essential for young musicians to find new ways of bringing music to the public if the form is to survive. Star Tribune (Minneapolis/St. Paul) 10/23/02

A NEW TAKE ON PIANO CONCERTS: A concert promoter brings his pop model to the classical piano recital. He's pairing big stars with young "opening acts," setting low ticket prices, performing in unusual spaces, and advertising in non-traditional (for the classical world) ways. The New York Times 10/24/02

COPYRIGHT HYSTERIA: "People auction everything from stereo equipment to World Series tickets to used software on eBay. Why, then, did an indie musician who tried to hawk his own band's CD get fingered by the site as a copyright violator?" Wired 10/24/02

JUNKIFICATION OF THE CLASSICAL CHARTS: Simon Rattle's new recording of Mahler's 5th Symphony with the Berlin Symphony recently topped the Classical charts. It was the first time in a decade that a symphony held the No. 1 spot. Why so rare? Over the years the classical charts have been junked up with music that can hardly be classified as classical. "Over a dozen years, as sales slumped, the classical record industry dumped the serious stuff and embraced dubious surrogates." La Scena Musicale 10/23/02

THE MODERN ORCHESTRA MODEL: With orchestras collapsing and gasping for breath all across the continent, the San Francisco Symphony is firmly in the black, artistically sound, and universally acknowledged to be one of the most musically daring ensembles in the world. Is it the ultra-trendy city? The dynamic and flashy music director? Don't fool yourself: the SFS is where it is due to prescient long-range planning, an unswerving commitment to its audience, and a top-notch management team which foresaw the economic collapse five years before it happened, and had a 'Plan B' ready to roll. Dallas Morning News 10/27/02

WELCOME (BACK) TO HONG KONG: "In August of 2000, some 10,000 classical music fans in Hong Kong paid US$30 each to hear Russia's famous orchestra play a series of concerts. By most all accounts the evening was a success, with one local critic lauding the orchestra's 'exciting accelerandos and heart-stopping rubatos.' The only problem was that the real Moscow Philharmonic Orchestra was touring France, Spain and Portugal at the time. A group of apparently cash-strapped musical imposters duped Hong Kong's music aficionados." This week, the real Moscow Phil makes its triumphant premiere/return to Taipei. Taipei Times 10/25/02

Last Week's News

---
Record companies, artists and publicists are invited to submit CDs to be considered for our Editor's Pick's of the month. Send to: Jerry Bowles, Editor, Sequenza 21, 340 W. 57th Street, 12B, NY, NY 10019 Also, feel free to nominate your favorite composer-- even if it's you--for Spotlight of the Week.
---
---
A Little
Water Music

---
By Deborah Kravetz
Temple University Concert Choir presented a concert of new American choral music,
featuring water and chant themes, performed mostly a capella, with some
percussion accompaniment. The program, conducted by director Alan Harler, was designed for the singers and audience to experience the "tapestry of
diversity" and "broad landscape of contemporary society."
The opening piece, To Be Sung on the Water (1969) by Samuel Barber,
presented delicately balanced and blended voices, excellent diction, and a
melodic emphasis that moves among vocal parts as others comment between
phrases. Eric Whitacre's Water Night (1996) brings out astringency and
mystery with bi-tones that chill, to accompany the English text by Mexican
poet Octavio Paz. Whitacre's second piece, Cloudburst (1996) to Spanish
text also by Paz, represents a meditation of unleashed energy that at
moments sounds like a babble of praying voices, and culminates in a
percussive rainstorm.
In a Philadelphia premiere, Rain Chant (2002) by R. Murray Schafer is an
extended vocalize of repetition based on Native American chants, included
by the Canadian composer as part of a music drama. Slides, grunts and
trilling are non-traditional vocal technique that had to be mastered; if
some of the vocal intervals were not exactly as written, the listener could
not always discern.
Temple graduate composition student Girard J. Kratz adds harp and vibraphone
to set off text by Sara Teasdale in There Will Come Soft Rains (2002). The effect
is that of chimes and Japanese goto (guitar), for a soft veil of sounds to go with the nature—swallow, frogs, wild plum tree—sweet spring in time of dissonant war.
The second half of the concert featured music by Meredith Monk that explores
vocal technique and performance, excerpted from her science-fiction opera The Game,
a vocal repetition of rituals on a distant planet as a means of preserving Earth's culture and civilization. Short hummed phrases set an atmospheric mood; the ensuing harmonic vocalise expands and varies the set motif. Then, the whoops and wails start on top of the theme. Then the chorus starts walking around; some form a line and tap each other
on the shoulder as new sounds are started and passed along.
Next a line circles the hall and with synth accompaniment, presents a theme
with syncopated voices that is not unlike what we have heard from Eastern
European vocal groups, as phrases were started and passed around a large
circle to a continued bass ground chord.
The work was not overly
repetitive, even fragmentary, and seemed to be lacking dance and video to
fill in the sensory experience. The closing Panda chant at least provided
the former, as singers did a sideways stamp-step and clap to a joyous theme
with yells and trills that could have gone on a little longer.
The concert closed with a Native American chant as recessional. The
performance was marked by Harler's usual attention to vocal blend, clear
diction and clean starts and stops.
---
Classical Grammy Winners
---
Previous Interviews/Profiles
Simon Rattle,
Michael Gordon,
Benjamin Lees,
Scott Lindroth,
David Felder,
Mark-Anthony Turnage,
Erkki-Sven Tüür,
John Luther Adams,
Brett Dea
n,
Judith Lang Zaimont,
Meyer Kupferman,
Evan Chambers,
Poul Ruders,
Steven R. Gerber,
Gloria Coates
Previous Articles/
Busoni The Visionary
The Composer of the Moment: Mark-Anthony Turnage
Electronic Music
Voices: Henze at 75
Henze Meets Emenim
On Finding Kurtag
Charles Ruggles: When Men Were Men
Ballet Mécanique
The Adams Chronicles

---