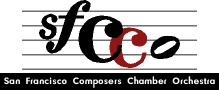 Everybody likes to grouse about the weather, and East Coasters, who've moved to California, may expect sun 24/7. And though that's never the case here in San Francisco, the climate, and especially the cultural climate on both coasts, does have one very definite thing in common — the dearth of welcome homes for new music, plus a congenial band to spread the word.
New York has the long-running American Composers Orchestra, the S.E.M. Ensemble, and Bang On A Can, and the Bay Area, the San Francisco Composers Chamber Orchestra, which has been in operation for three years. Its March 10th concert at San Francisco's Old First Church showed it going from strength to strength. A Springtime Romance fairly blossomed under music director and co-founder Mark Alburger's careful, and for him, very relaxed guidance.
Katie Wreede's 4 poem suite, from Robert Louis Stevenson's Childrens' Garden, began its life as a viola / soprano duo for the composer, and Lisa Scola Prosek, and joining them here was pianist Alexis Alrich as the third member of their Serafina Trio. Wreede's settings suggested a kind of childrens' candor, which Scola Prosek made irresistibly charming with her superlative diction and strong projection; Wreede and Alrich added their simple, flowing parts to the whole. Scola Prosek was represented with another section, Wedding Scene, from her to be performed at San Francisco's Thick House opera, Belfagor, based on Machiavelli's comic novella of the same name. SFCCO presented its overture, which features a big bass clarinet solo for Rachel Condry, last December; Condry beguiled with her tone as well as her mastery of her part's manifold challenges.
The challenge for any theatre or film composer is to make whatever world they enter come alive convincingly as sound, and Scola Prosek's instincts seem right on the money, whether that world is Periclean Athens, Imperial Rome, or Renaissance Italy, which she conjured "simply" yet effectively with rich sustained harmonies for her vocal quintet — sopranos Maria Mikheyenko and Eliza O'Malley; alto Gar Wai Lee; tenor Aurelio Viscarra; and bass bartone Micah Epps — and her orchestra, which launched the scene with a bright snappy fanfare. Loren Jones' Dancing On The Brink of the World, San Francisco — 1600 to The Present–was effective–he obviously knows how deliver standard styles — but much less imaginative, while the middle, slow movement, of Alexis Alrich's Marimba Concerto, which soloist Matthew Cannon played with polish and point, though not baldly eclectic, lacked an overriding sense of personal style.
Chris Carrasco's The Mind Suite fortunately had one, though its Glassian homages, especially in the inner part writing for strings, were easy to spot and not that interesting, though he may develop — he's very young — in surprising ways. The big surprise in fact was Erling Wold's way tongue in cheek Baron Ochs, which despite a veritable melange of styles, still seemed to hang together, unlike his opera Sub Pontio Pilato, which stylewise seemed like a mad dash out the door in mismatched socks. He also seems to have gotten the knack of how to orchestrate effectively for every choir. The two seats I sat in — "stage left" aisle 6 — and the first row of the Old First's balcony — seemed to offer the same sonic picture: warm music/ audience friendly balances when the scoring was chamber refined, and harsh congealed climaxes when it wasn't.