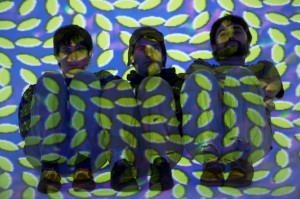 While the spotlight on Tuesday will be on the inauguration, it's also a big day for the music business. Among several important CD releases is the new full length from Animal Collective, Merriweather Post Pavillion (Domino). Hua Hsu wrote an article about the building interest in the band leading up its release in Sunday's New York Times. 
It's interesting to note that Merriweather is already posting significant sales numbers, particularly for an 'out' rock release, on strength of the vinyl version alone (released Jan.6). The recording has quickly become the darling of the blogosphere, garnering a cherished high rating from Pitchfork.
What one imagines will be of even more interest to S21 readers is the level of experimentation Animal Collective deploys on Merriweather. Noise has become an intrinsic part of the band's soundworld; samples of breaking glass and feedback squalls compete on equal footing with the more conventional materials of pop song. True, part of their aesthetic comes out of the psych-rock movement; but there's certainly more than a casual nod to daring electronics of the contemporary concert music persuasion.
And, one hastens to add, this is no Kid A, where Radiohead was able to indulge their penchant for new music (including sampling Lansky) by salvaging the songs for pop consumption; placing more 'widely palatable' material above the debris. Merriweather is full of the unexpected throughout, entreating listeners to wade into decidedly off-kilter music-making, particularly for an album with this much mainstream buzz (pardon the pun!).