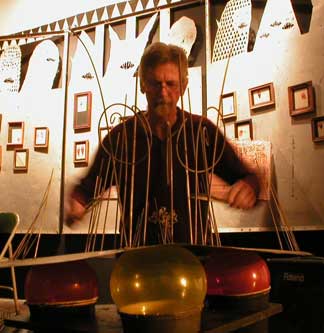 I've been working so hard today I've forgotten to eat, and it's in that spirit of lightheadedness and poor impulse control that I share with you the following San Francisco Bay Area new music scene update.
The Lab's 25th anniversary performance series is well underway, and in just one night, they'll run the gamut of styles celebrating their audacious artistic vision.  On Thursday, July 2nd, Mills College's own Chris Brown will curate and perform in a concert featuring Charles Johnson, Chad and Curtis McKinney, Tom Nunn and William Winant.
When Johnson et. al. take the stage, you'll hear amplified string and percussion instruments tuned in just intonation, combined with analog electronics configured to create difference tones.  Chad and Curtis McKinney are twin brothers whose SuperCollider-based computer network music makes a tightly interwoven, visceral and strongly rhythmic combo. Chris Brown will put on his electroacoustic hat, teaming up with instrument inventor Tom Nunn to tangle with legendary percussionist William Winant.
If you can' t make it this week, never fear, since the series will continue next week with Miya Masaoka and Tomas Phillips on Thursday, July 9th, and a multimedia event the next night with Nao Bustamante, Margaret Tedesco, and Cliff Hengst.  Performance artist Bustamante will embody 1940s Dominican movie starlet Maria Montez, using video and the body as a source of backdrop, narrative, and emotion, taking audiences on a journey all over the body and its bejeweled parts.
The Lab is conveniently located at 2948 16th Street, San Francisco, near the 16th and Mission BART station.  They'll let you in for $8.00 at the door. For more information, call (415) 864-8855.