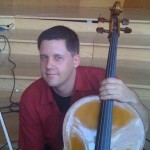 Last week on the podcast: Cliff Colnot (download Cliff's interview here).  This week: Nicholas Photinos, cellist in eighth blackbird (download Nick's interview here).
Turns out that 8bb was just finishing up some studio sessions at the end of last month for Reich's Double Sextet.  Unfortunately, we will need to wait over a year until we actually get to hear it.  (Incidentally, Galen has some commentary about how frustrating it is that we have to wait so long for these recordings here.)  Anyway, I don't know how many ensembles think about their programming in terms of a five-course meal, but these guys do, and Nick tells us a little bit about that process.  More beer!
Check-in next week for the first of two interviews with members of the Chicago based new music ensemble, dal niente.
As always, you can subscribe in iTunes here, on the web here, or just click here to download Nick's episode.