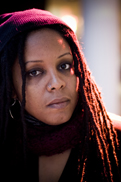 [Ed. note: Composer and S21 regular Chris Becker sat down recently with the one and only Matana Roberts. I told him I'd love to feature his interview, and so here it is: ]
………………
Saxophonist, composer, fanzine writer, and blogger Matana Roberts is the current artist in residence at Issue Project Room (NYC) where she is developing and presenting in a series of concerts material for her "large scale…sound narrative" COIN COIN.  COIN COIN might be described as a multi-movement composition utilizing composed, improvised, and pre-recorded music along with elements of theater (projections, candles, chains) to give voice to a complex family history that extends from Louisiana to at least three other continents.  Matana – a Chicago native – combines her Midwestern roots (including the influence of the Association for the Advancement of Creative Musicians of which she is a member) with a very Southern-styled "collage" compositional technique to realize performances that (in Matana's words) "…create an atmosphere where the people witnessing it feel enveloped into the experience."  Those words certainly describe the two COIN COIN performances I myself have witnessed, the most recent being last week (September 30) where Matana, on alto saxophone, clarinet, and vocals, was accompanied by drummer and percussionist Mike Pride.
Her recent CD The Chicago Project (2008) is a wonderfully varied collection of original compositions featuring Chicago musicians guitarist Jeff Parker (Chicago Underground Trio, Nicole Mitchell's Black Earth Ensemble), bassist Josh Abrams (Josh Abrams Quartet) and drummer Frank Rosaly (Ken Vandermark) and special guest tenor saxophonist Fred Anderson.  We talk a little bit about this recording in the interview that follows.
I first became aware of Matana's work via her blog (Shadows of a People now called In The Midst of Memory). What I like about her writing is its immediacy and honesty whether she is providing details about her family ancestry or reacting to this country's current confusions regarding race, gender, and class.  Matana's will to give voice to her experience as a creative artist in the 21st century, as well as to the history of her Southern, African, and European ancestors is one of the things that inspired me to reach out to her for this interview.
Please note:  This interview was conducted and edited just before the untimely and tragic passing of Issue Project Room founder Suzanne Fiol.  Matana is certainly not the only artist to speak highly of Suzanne, and I would like to express my sincere condolences to everyone who knew and loved her.
Chris Becker:  As a composer and bandleader, can you talk about how you select musicians for a recording date or a Coin Coin performance? Do you compose with specific musicians in mind or do you go about the search and selection after the fact?
Matana Roberts:  I like to compose with specific people in mind when I have the luxury to do so.  Since I have been working on COIN COIN now for about 5 years as I re edit the work, I can pick and choose amongst sound makers that mean a lot to me not only as musicians but also as friends and almost honorary family.  I put together The Chicago Project with every musician that is on that record in mind. I wanted it to be a very specific document about my Chicago roots and development and all of the people involved are people who made it possible for me to play at the level I am playing now.
The only exception on that record would be Frank Rosaly– Frank showed up in Chicago right after I left, but I wanted him on the record because I felt he represented the positive new influx of creative direction Chicago has been getting in the last 10 years or so, and I also just liked him as a person. I'm more interested in musicians as people first, sound makers second. If they are not compassionate and open and considerate as people, that means that their sound output will (to me) be just as cold as their probable personality in my opinion.
CB:  Not to take anything away from the other musicians you play with, but one of the many exciting things about your CD The Chicago Project is the sound of Jeff Parker's guitar playing alongside the sound of your alto saxophone.  You each have a very distinctive sound that blends as well as contrasts with the other throughout the tracks. What do you anticipate musically from Jeff when he is playing with you?
MR:  For whatever reason I have yet to figure out why Jeff and I have a very special musical connection that has always been apparent even in the little time we have played together.  Maybe it's because he has such big ears.  He listens to some of everything and deals with the process of sound in so many different capacities – in collaborative groups, groups he leads, as a deejay.  He's one of the busiest sidemen in creative music and so I just feel like he internalizes so much that allows him to connect with someone weird like me in a really empathetic and eerily intuitive sense.  He's also just has an incredible big heart, the best laugh ever (Nicole Mitchell is a runner up to this though-her laugh comes from such an amazing wellspring of sound!) and speaks with such kindness about so many things, and knows how to speak on them with a tasteful brevity that I wish I could access more often…
He also has an incredible work ethic when it comes to dealing with the guitar and improvisation that I'm not sure many people are aware of.  I personally think he's a bit too hard on himself creatively, but so am I, so maybe that's why we get along so well musically? He's wonderful, I love him so much.
CB:  Another treat on The Chicago Project are your three Birdhouse duets with Fred Anderson (tenor saxophone).  I hear something new each time I listen to these tracks. Was there any discussion in advance between you two before recording the performances? Or was that even necessary?
MR:  No discussion necessary beforehand, I just wanted to document myself getting "schooled" by a master in real time! Originally I wanted it to be a saxophone trio with myself, Fred and Von Freeman,  as those two men represent so much for me as far as saxophone, Chicago and my development there but Von wasn't able to do it at the last minute and actually now in retrospect I was am so glad. Fred, 80 plus years old, was killing me in there! If it had been the double trouble of Von and Fred? Sheesh, I shudder to think on that…One time when I was playing at his Sunday night jam session Fred asked me to come by early the next week. As he was  standing behind the bar getting things ready for the nights upcoming fun he turned on the stereo and blasted some classic Bird (Charlie Parker) recordings, talking to me about my sound and what he heard and what he didn't hear in my sound that he heard in Bird's sound that I needed to work on. There was a certain strength in the core of my sound that was hiding then. We did this ritual for a long time, really trying to put into words what the core of Bird's sound was. It was hands down some of the best teaching I ever got about dealing with the saxophone. So when we were playing I was thinking a lot about those times-and named the tracks Birdhouse not only for that but also as homage to one of Fred's first clubs in Chicago that went by the same name. He has provided so many opportunities for inner city Chicago youth musicians who just needed somewhere safe to go that they'd stay off the streets and deal with music.  Von too with his regular Tuesday night jam at the new apartment lounge. I owe of them a great deal….I hope to one day be able to provide the same kind of space for developing musicians.
CB:  In a recent interview, you described your experience with elder musicians in Chicago: "…I felt like I was learning from artists who really lived their lives – like the way they learned how to play was by truly living life and very organically turning this into music."  This reminded me of something a friend of mine – a friend who teaches jazz guitar and composition in a University – said.  He said once jazz loses its connection to "the street" it's no longer jazz.  Is there any way to teach a student, other than by example, how to live a life and turn it into music?
MR:  Stay out of traditional music schools, would be my initial answer.  I am a graduate of two by the way, and so I'm not trying to be a hypocrite here, I just have yet to see a music program that teaches people to be critical thinkers outside of trying to master their instruments.  It might not be possible as there is so much that has to be focused on just dealing with the building blocks of music that there's just not the right time frame.  The mastering of an instrument takes a lifetime.  You will not learn a life time of mastery in a 4 to 6 year educational period.  But you can learn in that 4 to 6 year period core intellectual ideas and values  about the possibilities of the  human experience that will last u a lifetime and will push your artistry forward if you have the wherewithal and freedom  to blend the two (and it might be cheaper – music school is big business….)
On the flip side – I have had a lot of compassionate, energetic, passionate teachers within the box of "music education" and I would hate to say music school is a completely bad thing as its also allows real music masters who are also master educators (sometimes that's not always one in the same) to have another way to support themselves and in the end support art and music (it's all a cycle really).  But I have also had my fair share of negative experiences within this framework partly because they could not classify my creativity.  I think this is dangerous.  I also find the diversity within a lot of these programs lacking and now see the residuals of this in the 21st century jazz framework looking kind of scary.  But I mean whose fault is that really? For instance almost the entire jazz blogosphere  reminds me of music school in that I rarely see any women trying to be a part of the discussion and rarely any folks of color.  And I'm not quite sure if I should care in this post-Obama world we live in, but I don't know how I can contribute without just being naturally reactionary and this troubles me.  I know there are folks out there blogging who are very aware of this, but few touch on it.  Why is that?
At the same time, the idea of what it means to be a person of color in America is changing – it already was before Obama because of the complexities of 9/11.  Now more than ever its time for a reexamination and redefinition of the idea of race as well as the idea of gender as it relates to the classification of the African American identified woman and lastly how this all relates to creativity.  It can't be summed up to sound bites or the classic (in my opinion, tired) intellectual arts reactionism and generalizations of the last 30 years. My COIN COIN project has been helping me personally redefine some of these things…
Also, I don't know if it's so much about Jazz's connection to the street per say as its connection to the struggle of the African American question? Again I am having to think of this along those lines because this has been my experience.  I feel like the elders I mentioned, both African American, all came up playing during a time where there was so much struggle and strife going in relationship to the color line that a lot of the questions that this brought up came out in their expression.  Miles Davis was from a middle class family; there was nothing "street" about his upbringing, but the music he made had a lot to do with these questions.  Another elder musician I admired greatly and came into some contact with when I was growing up in Chicago was the white tenor man Lin Halliday – an amazing player – and his experience spoke of a cultural camaraderie with African American musicians.  There's not this same camaraderie anymore, because there doesn't have to be, which is great in many respects.  I mean at one time in America the only thing that Black folks were allowed to do was entertain.  Jazz music, no matter how intellectual it might have become, was initially attached to this sphere.  If Count Basie hadn't of been a band leader he would have been a janitor (he even said so himself).  So now that being African American means more choice in terms of expression combined with the fact that you can receive a degree in a music that was once seen as a slumming type of discourse the whole the idea of jazz's "connection" has changed and demands a re-definition instead of a re-romanticization that answers nothing concrete.  It just can't be summed up so simply anymore based on the sociopolitical-economic history of our country's past.
CB:  Have you performed the Coin Coin project in Louisiana or elsewhere in the Southern U.S. ?
MR:  Not yet.  Would love too.  Right now my focus is just on getting to these places to do more in depth research.  There is only so much you can do via the internet, phone calls. I need to touch the soil of these places I speak of, hug the people who have been so kind as to share tidbits of really beautiful memories with me.  I also need a patron to really make this happen on the level I want it too.  In the meantime I'm trying to play the grant game so that I can get support for the work but so far its been a no go.  But little things keep helping it to chug along – the residency that I was just given at the wonderful Issue Project room in Brooklyn is helping me so much in just keeping the project from dying…. I can only do so much in creating the music and if it were not for people like Suzanne Fiol, proprietor of Issue, who definitely has had a vision for supporting creative and experimental sounds my own artistic visions might never be heard.  I am so grateful to her and her superhero staff and also to the tireless Jim Staley of Roulette who was the first to commission this piece when I started it 2006. It was because of him that this project and the ideas I have been able to put together with it even exists in the realm it does now.
CB:  In December 2009 you'll be presenting chapter one from your Coin Coin narrative "Gens de Couleur Libre" (Free People of Color) at Issue Project room.  You said you've discovered ancestors who lived in the Cane River area (in Northwestern Louisiana ) who weren't Cajun or Creole.  And that these are the people who appear in Gens de Couleur Libre.  Can you elaborate a bit more on the background of your Cane River ancestors and describe how they'll be represented musically in this upcoming performance?
MR:  I guess I would direct everyone to read three books – A Forgotten People by Gary Mills, Cane River by Lalita Tademy, and Cane River and its Creole Stories – self-published by Kathleen Balthazaar Heitzmann, a cousin I found in doing this research.  Mills' book (he is a genealogist) is an important document.  It's out print but you can still find used copies on Amazon.com.  That book cites a lot of my people.  I am a direct descendant of Carroll Jones, a very powerful businessman from that area.  It examines, though maybe too briefly, the question of Creole versus African versus Cajun etc.  Tademy's book is more historical fiction based on family research she has done and though I am not related to her line everything that she speaks of in that book is very much relative to my people's experience on that river.  Hietzmanns book is really important because it's a collection of documented historical narrative by people in their own words who actually lived there and it gives a really good taste of what that community was like.  All of this combined with stories I have been told by my own family that still remembers certain important things in regards to race on that river I have used as jumping board to create the first chapter of the narrative Gens de Couleur Libre.  The Creole thing is confusing.  I have uncovered a myriad of things and am not sure how to make sense of it.  Just the other day a relative told me my Great Great Great Grandmother spoke French Creole, but not Louisiana Creole.  Not sure what to make of that! Again it means its time for a visit.  Creole is a dying language and I am hoping, I am trying, to include more and more of it in my piece about these amazing people.
My relatives are represented in different ways in the piece – some of which is seen and some is not.  It focuses a little, but not exclusively on the life of Marie Thérèse (COIN COIN) Metoyer – a woman I am not related to by blood in any way I can decipher yet but  am related to her distantly by marriage. (The pianist Jason Moran is actually related to COIN COIN – something I found out after I started this project – by direct blood lineage.  He has also been doing work on the Cane River story with the Imani Winds – you might want to contact him about his work on the area.  He turned me onto another interesting book – The Known World by Edward P Jones which doesn't talk about Louisiana but discusses the mysteries surrounding slaves owning slaves in the South – something that is a part of my family's Cane River history as well).  COIN COIN's story was a big part of my upbringing in that it was one of the first historical legends I was told about constantly in terms of my peoples' connections to Louisiana .  And she was the first strong female, woman of color archetype outside of the women in my immediate family that I was exposed to exclusively by family story telling.  For me that translates well in terms of my own struggles trying to be a woman of color dealing with an art form that sometimes refuses to include me in the discussion of it's progression among other things.  But also in this chapter I touch on some New Orleans stories that were passed onto me (some of which you saw the other night) and stories of other family members within that part of my lineage.  But again some of that is more ingrained in the conception of the composition and its score in ways the people witnessing and even the musicians performing it might not even realize unless I explain.  I use  a lot of numerology in my scores for COIN COIN, and a lot of the musical ideas are based on dates, geographic coordinate numbers, addresses, etcetera, that are directly connected to specific stories and sometimes specific people within the narrative.
Please visit the Issue Project Room website for the latest news on Matana Roberts upcoming performances.  The Chicago Project is available via Amazon.com, iTunes, as well as Downtown Music Gallery.  Matana Roberts contributed an essay for Arcana IV available via Tzadik.com and Downtown Music Gallery.  Visit the Matana Roberts website.