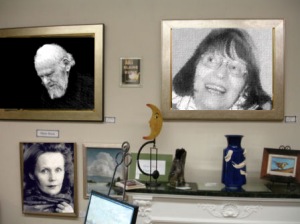 Miller Theatre at Columbia University is running a great little series of composer portrait concerts this month:
Saturday, Nov. 7th, Galina Ustvolskaya (1919-2006) is featured, with Chicago's Fifth House Ensemble doing the honors. The program includes Ustvolskaya's Trio (1949), Piano Sonata No. 6 (1988), Octet (1949-1950), Composition 2 (1972-1973), Piano Sonata No. 4 (1957), Composition 3 (1974-1975).
Then on Tuesday, Nov. 17th, we get a full plate of a true American "gnarly" individualist, Ralph Shapey (1921-2002). Miranda Cuckson (violin, viola, and artistic director), Charles Neidich (clarinet), William Purvis (horn), and Blair McMillen (piano) will join conductors Donato Cabrera and Michel Galante, The Argento Chamber Ensemble, New York Woodwind Quartet and Talujon Percussion Quartet for this rare panoramic essay of Shapey's work: Five for violin and piano (1960), Interchange (1996), Movements (1960), Etchings (1945), Concerto for clarinet and chamber group (1954), and Three for Six (1979).
Things round off with a concert on Sunday, Nov. 22nd, devoted to Finnish composer Kaija Saariaho (1952- ). Violinist Jennifer Koh will join the International Contemporary Ensemble and conductor Brad Lubman in a concert full of gems: Terrestre (2002), Graal théâtre (violin concerto) (1994, rev. 1997), Lichtbogen (1985-1986), and Solar (1993).
All concerts kick off at 8PM. Columbia University's Miller Theatre is located north of the Main Campus Gate at 116th St. & Broadway on the ground floor of Dodge Hall. For tickets, call the Miller Theatre Box Office at 212/854-7799, M–F, 12–6PM, or they can also be purchased online.