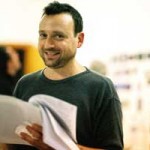 The 52nd Annual Grammy Awards are on Sunday night, here's the list of all the classical music-related categories and nominees, and here are the composition-related categories and nominees.  Let's give a shout-out to the Boston Modern Orchestra Project and to Derek Bermel for their nomination in the category of Best Instrumental Soloist Performance with Orchestra.
I was able to spend some time talking with BMOP Artistic Director Gil Rose (audio here), and BMOP violinist Gabriela Diaz (audio here) about their experiences working with composers and about what music they are excited about… or at least were excited about back in October when we spoke.
I also noticed that Meet The Composer is making another push for their Music Alive program, which matches up composers with orchestral residencies around the country.  There are not many of these residencies available, but if you work for an orchestra that's thinking about creating a composer residency, you should visit the Music Alive site.  The reason I mention all of this is because our friends at BMOP have a video up where Gil talks about their three-year collaboration with composer, Lisa Bielawa.  This link should also take you straight to that video.
Congratulations, BMOP!