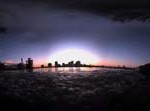 We heard from Christian Carey last week that the American Composers Orchestra has brought on George Manahan as their new Music Director but that's not until next season.  Fortunately you don't have to wait until next season to hear the orchestra – they are performing THIS weekend in New York (Friday, January 29th – Zankel Hall. 7:30pm) and Philadelphia (Saturday, January 30th – Annenberg Center. 7:30pm) with Conductor Anne Manson.  I was able to get her on the phone for a few minutes last night to talk about the program, you can listen to our short conversation here.
The program includes two world premieres: Sebastian Currier's Next Atlantis, inspired by New Orleans and written for string orchestra and pre-recorded sound, with video by Pawel Wojtasik; and Roger Zare's Time Lapse, a piece for orchestra influenced by photographic techniques, commissioned by ACO as part of its Underwood Composers Readings for Emerging Composers.
Latin jazz innovator Paquito D'Rivera's Conversations with Cachao is the centerpiece of the program, and receives its New York City and Philadelphia premieres in these performances. A tribute to Israel "Cachao" López, the Havana bass player who made Cuban Mambo a worldwide phenomenon, the piece is a double concerto featuring D'Rivera's clarinet and alto sax in dialogue with the double bass, played by Robert Black.
I was also able to spend some time talking with Robert Black last spring about working with composers.  It has nothing to do with the ACO concert this weekend, but if you want to listen to him talk about some of his experiences working with composers you can get the audio here.