In case you've been getting in the habit of just clicking on the main page, taking a quick stare and then waltzing off hither and yon… Judith Lang Zaimont tells us what it's like to get a little too close to the wrong kind of news, and the positive power of music even then… In case you've missed it, Christian Carey's trouble with eighth blackbird's $50 entry fee for some lucky composer to get a performance has been racking up the comments, both very yea and very nay… Lawrence Dillon asks if being an eclectic composer is such a sin, really… Jay Batzner is taking on the challenge of writing an album's worth of music in a month, and so far failing gloriously… Elodie Lauten wonders what's going on with funding criteria these days… Paula Mlyn has been able to get back to tending our Naxos blog, and there's all kinds of new news & interviews there just now…
In the wings: Tom Myron is itching to pen mucho new bon mots as soon as we get his blog upgraded [it's coming Tom, hold yer horses!], James Holt has more great performer interviews from all over coming down the pipe, as does our pal Chris Becker, I'm putting together an interview with composer Michael Hersch in advance of an amazing premiere a couple weeks from now, CD reviews continue apace… Etc etc, blah de blah, this is just a gentle reminder to not forget to scroll, snoop, click on down past the main page once in a while, hear?  And now, one last quick shout-out: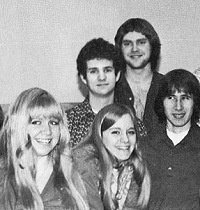 The photo is from the 1974 Pasco (WA) High School Swing Choir. The hairy Prince Valiant who's lost all the buttons on his shirt is me (hey, we're talking the 70s here, remember? I was in a rock band and had an image to uphold!). The other bright-eyed fellow in front of me, with the Art Garfunkel hair, is Bruce Neswick. Bruce and I were in classes together in our beloved podunk hometown, from 3rd or 4th grade all the way through high school, and have touched bases from college 'till now. Bruce was one of those kids who had music in his veins since birth; playing keyboards was as natural for him as breathing. It didn't matter whether it was the Carpenters or Jean Langlais (which Bruce treated me to in an impromptu two-person visit back then, at the little tracker organ in the chapel at St. Martin's College in Lacey, WA) — Bruce took one look and the music just flowed from his fingers.
While my path wandered off into the world of composition, Bruce headed off into performance, specifically organ and liturgical music. Studies both here and in Europe followed, then teaching/performance/directing gigs everywhere from Buffalo, to Geneva, to the National Cathedral in Washington D.C. He's made some wonderful recordings over the years, and is a truly phenomenal improviser at the organ.
But many of you regular S21 readers don't have to travel so far to see and hear Bruce; the last year-and-a-half he's been happily ensconced as Director of Music at the Cathedral of Saint John the Divine right there in New York City. An amazing journey and achievement for my old friend, one I hope only continues…