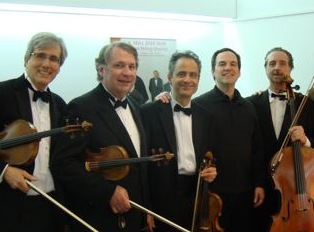 Fresh off its German premiere, composer and S21 blogger Lawrence Dillon's newest string quartet begins making its rounds of the U.S. this week, under the completely able fingers and bows of the Emerson String Quartet.
From the Invisible Cities String Quartet Cycle, String Quartet No. 5 combines elements of chaconne, passacaglia and theme-and-variations. The piece takes the Welsh tune "All Through the Night" through, as the Lawrence writes, "a dizzying and dazzling journey from twilight to twilight."  The movements are Twilight – Variations; Dream – Chaconne; Dream – Passacaglia, and Variations – Twilight. The piece was commissioned by the Emerson Quartet and an anonymous donor, in honor of the University of North Carolina School of the Arts.
The U.S. premiere performances will happen Saturday, April 10, 7:30 PM at Watson Chamber Music Hall of University of North Carolina School of the Arts (1533 S. Main Street in Winston-Salem) and then Wednesday, April 14 at Meany Hall, the University of Washington (15th Ave, NE and NE 40th St., Seattle). The programs will also include works by Schubert, Barber, Ives and Dvorak.  Future performances of the Quartet are scheduled for the Smithsonian Institution in Washington, D.C. and State University of New York at Stony Brook.
Here's wishing this particularly well-travelled baby a bright future.