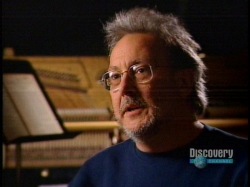 Dennis Báthory-Kitsz has been a great friend of new music, a great friend of S21, and a great friend of myself personally for about as long as I've been online. Justly (semi-) famous as the "Kalvos" half of the long-running institution that was Kalvos & Damian's new Music Bazaar (now continued as Kalvos & Damian In the House!), Dennis has never let his rather remote Vermont location interfere with spreading the word about living composers and their music, whether through regular radio and online broadcasts, a steady stream of writings, and endless creative projects. At the same time, he's also never let all these activities slow down his own personal composing schedule. Yet not every composition written has seen the full light of day, the most notable example being Dennis' opera upon his indirect ancestor Erzsébet Báthory, the legendary Hungarian "Blood Countess".
Recently Dennis has taken some steps to attempt to remedy that situation. He has a chance to see the work finally come to life, but the opera must be finished for premiere in the 2010-11 season of the Vermont Contemporary Music Ensemble. Basic funding for the ensemble's regular season is already available, but support is needed for the singer, additional musicians, staging, costumes, lighting, and time to complete the remaining 40 minutes of the opera. So Dennis has turned to a newer online site, Kickstarter.com, to actively seek the financial support to make the performance a reality. We're not talking the NEA or Ford Foundation here; we're talking you and me, the little-guy music-lover with a few spare bucks in their pocket. I asked Dennis a few questions, just to get the whole fascinating (and often frustrating! ) backstory:
Steve Layton: Tell me about the whole long genesis of the idea and travails over the years?
Dennis Báthory-Kitsz: Yes, it is long! I'll tell you everything. The genesis began shortly after Boston College professor Raymond McNally published "Dracula Was a Woman" in 1983. A state politician was doing an interview tour of Vermont entrepreneurs — I had founded a small computer company back then — and came to my home office. He knew my name, McNally was an old school buddy, he put the two together, and arrived with a copy of the book. I hadn't paid much attention to the family history, but reading McNally's book jogged something my grandfather Bathory had said — that the family had an evil female ancestor who killed people and fought with priests.
A few years later my company went under during the tech shakeup, and I started thinking about the Erzsébet Báthory story again as a distraction. Here was a countess rumored to be the world's worst serial killer with some 600 servant victims — yet with normal kids, great intelligence, superior negotiating skills, and fluent in many languages. She was also supposedly bisexual and ended her life walled into her own torture tower. What a story! What opera!
Those were also the years of some pretty big works of mine, particularly "Mantra Canon" for orchestra, chorus, two pianos, six percussionists and descant soprano. By 1988 it had had two performances, so I was lit up with large-scale possibilities. The Bathory tale would make a fantastic production, maybe a huge opera of some kind.
In 1989, I wrote an overture in the form of a piano csárdás and about the same time heard that NPR poet Andrei Codrescu was writing a biography of Erzsébet. I got in touch and proposed the idea that he write the libretto. He thought it was a great idea — and he had supposedly seen her diaries, diaries that recounted the actual murders! Codrescu and I kept in touch, but things went sour. His book ended up being a novel. I hated it, and we had a falling out. After we patched things up a little, he was more famous and working on a film … meaning now the libretto would cost money I didn't have.
I started sketching my own plots for three different-sized versions. It was still idle sketching with no real possibilities. But connections are funny. Back in the computer company days, I had become friends with Zoltan Radai, a tech entrepreneur in the "New Hungary" before the fall in 1989. When my family and I moved to Europe in 1991, I contacted him. He not only knew the Bathory story, he also knew how to find the castle and spoke Hungarian and Slovak. I remember that ride very well, in a rented Fiat Uno stuffed with five of us, going on torn-up roads from Budapest to Trencin.
The castle inspired me, a great hilltop ruin in a town nobody had ever heard of. This was before the great vampire craze really hit the marketplace, before European Union funds even put up decent road signs. I took photos and wriggled around the sunken castle arches and even squeezed into the "death tower".
By the time we returned to Vermont in 1992, Codrescu's "The Blood Countess" was out and vampires were interesting to legions of teenage girls. But I was broke and couldn't consider an opera, even though another big orchestral piece called "Softening Cries" was performed that year. It was real cognitive dissonance for my compositional soul!
Then the web hit. I put up an "Erzsébet: The Opera" website in 1996. Microsoft's old home page featured it and I had millions of hits in one week. Folks submitted articles, artwork and even novels for the site, and I put them all up along with buckets of my own research. Magazines wanted interviews; the first article on my opera work was published in "Requiem" in France in 1998.
But no money. No grants, prizes, investors sponsored by the best investment newsletters, nothing came out of it. The huge bandwidth costs for the website were out-of-pocket. In 2001 a team from The Travel Channel found the website and sent me back to Cactice in Slovakia for a show called "World's Bloodiest Dungeons". The Discovery Channel asked to do a segment in 2004, again sending me to Slovakia — but this time I asked if I could write an opera scene specifically for the show. The Australian producer Chris Thorburn was actually enthused, and he and the production team came to David Gunn's home here in Vermont where a group of us performed it — singer Lisa Jablow as Erzsébet and a small ensemble including David on percussion and Marco Oppedisano on guitar. A clip showed up on "Deadly Women", which airs worldwide at least twice a year.
More authors were riding the vampire wave, Hollywood was churning out crappy knockoffs, yet my inability to market just about anything kept me from funding the opera. People wanted to work on it. Prague sculptor Pavel Kraus wanted to do set design. Atlanta graphic artist Bob Hobbs wanted to recreate the castle for a virtual or video version. Singers and musicians across Europe and the States were interested. Many site visitors offered help. Juraj Jakubisko's studio in Slovakia even contacted me about his film "Bathory" — though they wanted marketing help, not a composer.
So despite cheerleaders, it looked like it was never going to happen. I thought the project was history and decided to move on.
SL: What's prompting this latest big push?
DB-K: Two things, mostly. The first one was that in 2006 I did my PhD thesis on the opera. A significant chunk of it was a proposal for a virtual opera as a networked video game. It's actually a groundbreaking concept which involves historically constrained and psychologically based speculative fiction tied to a music recomposition engine. For now it's beyond game technology, but within a few years it will be viable. It got my enthusiasm back up about the possibilities, but I still needed an actual, physical opera to show both a finished product and to make my pitch for a virtual opera.
Both the opera and the gaming worlds are something of inbred businesses, and I was definitely outside both. Daron Hagen, who has been successful in opera, advised that I just become part of it … though he understood that wasn't happening from Vermont. And no gamers were interested in a 60-year-old. Still, after my successful "We Are All Mozart" project in 2007, I wanted to give it one more serious try. Codrescu was out. Other writing samples I'd received were all too goth or just plain bad. So I sat down and wrote the libretto myself for the monodrama version that Lisa had asked for. Then I designed it as a book, and published it on Lulu.com and offered it on Amazon. Surely a published book would inspire my tens of thousands of goth fans and I could ride the profits on the book all the way to an opera production! Aside from a couple dozen I bought to use as 'calling cards', four copies have sold in 16 months. And, or course, I'd promised myself never to do a quid pro quo for being co-host of "Kalvos & Damian" … probably half our guests don't even know David and I are composers.
The truth is, I was also angry about it, and at myself for depending on the marketplace when I should have been cozying up to the comfortable grant world. But grants aren't me and I guess I couldn't have it both ways. Plus there's a lot of hate mail when dealing with a 400-year-old but still controversial and ethnically charged topic … the Countess was Hungarian, and the dead servants were Slovak. There was a little something to prove.
The second thing was that I got a one-semester job teaching undergraduates, my first academic job ever. Aside from showing me that a PhD is good for something, it also meant that I had 15 weeks of dependable income and I could breathe. I proposed the opera to my friends in the Vermont Contemporary Music Ensemble. Could we do it? How much would we need? And then I found Kickstarter.com. They had set up a mechanism to help fund projects from a few hundred dollars through many thousands. So-called "backers" could make pledges for rewards — not donors making contributions. It was a marketplace, my kind of thing … even though I must be the oldest guy on Kickstarter, which is populated by mostly Millennials! So I put together a video that was serious and funny and played on my age. Critic Lisa Hirsch called it "the best pitch I have ever seen in my life," and it's started to gain momentum.
As with the published libretto, though, few of my thousands of goth fans have come through. Fellow composers, friends and performers have been doing the heavy lifting on the funding toward the $12,000 goal. Together with some cash rustled up by the VCME, the money will fund time for me to finish composing this thing as well as the extra musicians, costuming, production, recording, video and a small tour.
SL: I know this puppy's been eating at you for a LONG time; how important is the whole project in the "B-K" scheme of things?
DB-K: It would seem like just one more project, wouldn't it? I've done a lot of successful big projects and failed at others. But my father, who died six years ago, was interested and I'd like to do one worthwhile thing in his name. Plus, after more than 20 years, it's a little bit of an obsession to finish it. It will be good, and I can bring a lot of new compositional ideas to a storytelling form that's been pretty much overwhelmed with a kind of postmodern fragmentation.
And yeah, I believe in my stuff. This project won't help the poor or solve global warming, but it will provide a take on the complexities of a woman who died nearly four centuries ago.