Congratulations to John Luther Adams for that 2010 Nemmers Prize, and to all the other Adamses, Reichs, Harbisons, Salonens, Lachenmanns, Carters etc. out there. Keep doing what you're doing! …Meantime though, there are a few folk closer to my own home & circle, that I'd like to draw your attention to: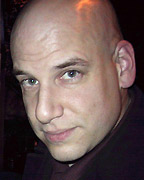 First up is Christopher DeLaurenti. My good pal and sound artist extraordinaire has ventured out of his beloved Seattle haunts to pay NYC a visit, tonight (Friday), 8pm at The Stone (corner of avenue C and 2nd street, Manhattan, $10/5 students). This is his first New York solo appearance since 2001.
Maker of the notorious Favorite Intermissions album released by NY-based label GD Stereo, Chris presents field recordings that capture unusual confluences of sound, speech, music and "found soundscapes," accidental field recordings, and inadvertent intersections of audio glitches, improvisation and recording technology.
He'll also be playing the flap-o-phone — a hand-cranked turntable made of cardboard — improvising with vintage performances by Igor Stravinsky and radio transmissions embedded on 78 rpm records.
.   .   .
The next day (Saturday) our own S21 Senior Editor Galen Brown has a gig at the Gershwin Hotel, doing extremely curious covers of current pop hits. Christian Carey has all the details over at his part of the site.
.   .   .
Also on Saturday Garth Sunderland's Lost Dog Ensemble — who made our last S21 composers concert such a success — will present the final concert of their season, 8:30pm at the Kaufman Center – Ann Goodman Recital Hall (129 West 67th Street, NYC, $20/15 students). On the bill is John Luther Adams' (hey, there's that name again!) Among Red Mountains for piano, David Lang's quintet Sweet Air, Jennifer Higdon's Rapid Fire, George Crumb's mysterious trio Vox Balaenae (Voice of the Whale), and the world premiere of emerging composer Shawn Crouch's Quintessence, about the alchemical 'fifth element' — life itself.
.   .   .
Lastly, I'd like to mention a project by our recently-departed-to-teach-in-Virginia, s21 stalwart David Salvage. In David's own words:
It has been for a while a point of small personal embarrassment that, while you all know I compose music, so few of you have heard any of my compositions. I've always vaguely meant to build one of those whiz-bang super-impressive composer websites, featuring stern, artsy photos of myself, some mp3s of my music, and a buffed and polished version of my bio. As perhaps my tone suggests, something also has always held me back. But a few months ago I had an idea for something a bit different. And now I'm happy to say that that something different is now a reality: albumleaves.com ….Taking inspiration from the undisputed Albumblattmeister Robert Schumann, I have begun to compose short solo piano pieces at the rate of three every two weeks. I then record each piece here in my living room (on my wonderful Weimar-era baby-grand piano) and post it on the website. While the site's main feature will be the albumleaves, other kinds of posts will also appear …. For those of you who have had a lingering curiosity about my music, you now have a place to go where you can listen to what I'm up to—and even leave a comment if you like. I hope you enjoy the music, and I hope this e-mail finds you well.