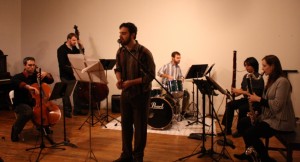 In Chicago?  There's a concert this week I wish I could attend — maybe you'll be my proxy —
The Sissy-Eared Mollycoddles (named for a colorful bit of Ives invective), is a hub for an enthusiastic community of young Chicago performers and composers.
Their upcoming concert, "Ghost Towns," will feature two premieres: Brian Baxter's mountainous Lulu City and Eric Malmquist's take on the traditional Irish Folksong, The Wind that Shakes the Barley.  Luke Gullickson's epic Terlingua Meditations, Ben Hjertmann's raucous Dakruvoso, and James Klopfleisch's miniature for two violins, Cairn, round out the evening.
Thursday, May 20, 2010 7:30pm
Curtiss Hall, Fine Arts Building
410 S Michigan Avenue, 10th Floor
Chicago, IL 60605
$10 suggested donation at the door
Going to this concert?  Leave a comment here and let us know what you thought!