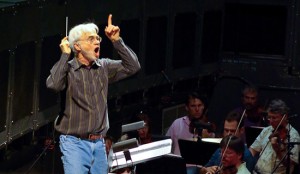 The National Symphony Orchestra has been hosting composer John Adams over the past two weeks in presentations of his own works as well as works of the 20th century American, Russian and English repertoires.  Last week he presented works by Copland, Barber, and Elgar as well as his own The Wound Dresser.  This week, Adams and the NSO were joined by violinist Leila Josefowicz for a performance that included Adams' electric violin "concerto," The Dharma at Big Sur, and the Washington premiere of the Dr. Atomic Symphony.
The program began with Benjamin Britten's "Four Sea Interludes" from his opera, Peter Grimes.   While the opening "Dawn" interlude began on somewhat shaky ground, Adams quickly proved himself a capable conductor of this repertoire.  The composer has been doing a lot of conducting over the past decade and it's beginning to show.  His confidence as a conductor, particularly one of pre-WWII 20th century music, has grown by leaps and bounds and the NSO's playing under him reflected this.   Whenever Adams conducts, however, he always presents his own work (it is part of the attraction, after all) and where in Britten and Stravinsky he is confident and capable, in his own work Mr. Adams is simply superb. 
The Dharma at Big Sur, not so much a formal concerto for six string electric violin so much as a rhapsodic evocation of cross-country travel , California mythology, and the poetry and prose of Jack Kerouac.  This is a powerful work, conveying a joyful energy that is simply infectious.  The violin carries the bulk of the musical argument in the piece, with very few tutti moments offering rest from some highly energetic, virtuosic music, and Ms. Josefowicz astounds in her role as Kerouac's musical manifestation.  Her playing is a revelation and she simply OWNS this part.  One hopes that she and Adams will come to record the piece sometime, not so much to replace the original 2006 recording with Tracy Silverman, the violinist for whom the work was written, but to complement it, as Ms. Josefowicz brings an exuberant energy to the piece that is just on the edge of wildness, where Mr. Silverman's recording seems much more sedate by comparison. 
After intermission, Mr. Adams and the orchestra took on Stravinsky's early, slight orchestral showpiece, Feu d'artifice (Fireworks).  They handled the work expertly, certainly, but it is a work that has failed to make much of an impression upon me through the years as little more than a youthful work by a composer on the verge of greatness.  Indeed, the second half was really all about the Dr. Atomic Symphony, a reworking of material from Adams' 2005 opera, Dr. Atomic.  While the symphony obviously owes a great deal to the opera (and Adams, both in his speeches to the audience in between numbers and in the program notes, rather redundantly stressed the musical connections with the opera's plot) it is certainly worthwhile as a free-standing work and does not really need any programmatic allusions to make its point.  This is a harrowing symphony, full of a wild energy that proves the dark contrast to The Dharma at Big Sur's sublime apotheosis, and the NSO and Adams gave it a duly appropriate reading which deservedly brought the house down.  And while the symphony makes a visceral impression, it is also governed by a Sibelian formal logic that makes it an important addition to the somewhat dormant American symphonic tradition.  It will hopefully prove to be one of Adams' truly major works. 
The National Symphony Orchestra, Leila Josefowicz, violin, under the direction of John Adams, will repeat this program on Friday, May 21 at 1:30 p.m. and Saturday, May 22 at 8:00 p.m. at the John F. Kennedy Center for the Performing Arts in Washington, D.C.