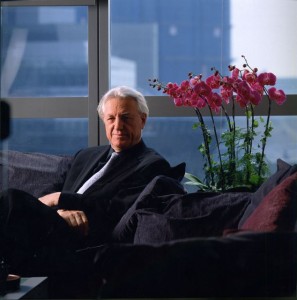 Naxos Records' founder and CEO Klaus Heymann meets me in a café, downstairs in the midtown hotel where he's staying in Manhattan. Heymann is on a trip to the US in which he's doing press meetings and presentations in New York, followed by meetings with the Naxos America team at their base of operations in Franklin, Tennessee. Then he's off to the West Coast for still more meetings. Finally, he gets to go back to his home in Hong Kong. When I remark about the seemingly whirlwind nature of the trip, Heymann says, "International travel is expensive these days. It's best to take care of all the business I can in a single trip."
But while Heymann is averse to wasting money on the jet-setting model of yesterday's record labels, he's certainly willing to invest the label's resources where it counts: on the music! The imprint has a catalog of nearly 4000 titles, boasting both tremendous depth of repertoire and many fine performances. And it's growing continuously. When I suggest that we discuss the projects in the offing, Heymann brings out a list of recordings that is jaw dropping in its comprehensiveness. Of course, I ask first about the area dearest to my heart (and most germane to my writing beat).
"Let's see, the American Classics series: we have 73 titles 'in the pipeline,'" says Heymann.
The list of American recordings on the way includes a number of famous figures: Aaron Copland, John Corigliano, Richard Danielpour, and Michael Torke among them. But there are a number of projects by composers who, while they may be discussed on Sequenza 21, certainly aren't yet household names: Paul Moravec, Roberto Sierra, David Post, and too many others to recount here.
I notice a couple of Sequenza 21's contributors on the list too: Judith Lang Zaimont and Lawrence Dillon. There's a significant commitment to diversity. Women composers such as Zaimont and Jennifer Higdon and conductors such as Jo Ann Falletta and Maren Alsop feature prominently in Naxos' future plans, as do artists from a wide range of ethnic backgrounds. And Heymann doesn't seem to have a style agenda: Naxos presents both Uptown and Downtown composers and seemingly everything in between. I'm particularly excited to hear about a forthcoming recording by the New England Conservatory Percussion Ensemble (including Elliott Carter's Tintinnabuli!).
Is there a composer who's conspicuous in his absence? "No more John Adams for a while," says Heymann. Seeing my eyes widen, he continues, "He made some very disparaging comments about Naxos in an interview … budget label … mediocre performances. It was very hurtful to a number of people at the label who've advocated for his music."
This is the first I've heard of the interview, which I later find online in Newsweek. Given that Naxos' recently released a fine recording of Nixon in China, the ingratitude is stunning. (In trying to reach Adams for comment, I'm told that he's on "media blackout" while finishing a commission).
In addition to our appetite-whetting discussion of upcoming recordings, Heymann enthuses about a variety of methods for delivering music to consumers. On the day of our meeting, he's is also booked to demonstrate Naxos' first Blu-ray audio recordings. The initial run of ten titles is slated for release in Fall 2010. They include a recording of a contemporary American work: John Corigliano's Circus Maximus.
Heymann says, "When we recorded Circus Maximus, I promised John that we would release it in surround – that's how it was meant to be heard! SACD seems to be a declining format, so we waited … and now will release it on Blu-ray."
While Naxos has remained committed to releasing recordings via physical media – CD, DVD, Blu-ray – they are also continuing to diversify their collection, providing a plethora of format offerings for the digital age, from conventional MP3s to streaming services such as Naxos Audio Library and Naxos Radio.
"I'm very interested in the technology side of things," says Heymann. "When the iPod first came out, I was certain early on that it would be a transitional device – that streaming would be the wave of the future. And as the technology improves, we're streaming better and better quality audio online.  Sales of our streaming services are improving while downloads seem to be stagnating. Of course, no one knows what the future will bring, so we're remaining flexible. We've even recently released a recording on a USB stick: five hours of Chopin. The packaging looks like a CD jewel case, but the stick delivers higher quality audio – and more of it – than a conventional CD."
The Audio Library is available through my university, and I've found it to be an invaluable resource in the classroom. It doesn't just contain Naxos' recordings; there are over 200 labels represented. I mention wishing that so many of the historic recordings in its database weren't barred in the US.
"Me too," says Heymann ruefully. "But that's something to take up with your congressman; the laws in America are restrictive in that regard."
Naxos has recently added a Video Library. It currently has around 400 titles. "There are more to come," says Heymann. "It won't have 44,000 titles like the Audio Library does, but our near term goal is to get it up to around a thousand. In addition to operas, we're planning to include educational programs and plays."
Despite the myriad challenges facing the record industry, Naxos seems to be a flexible player poised to take classical music into the future. Heymann says, ""People talk about piracy and illegal downloading: both of which are indeed problems. But seeing the amount of young people who are studying classical music, I remain optimistic about music's future."
He continues, "We don't make a lot of money on most of our recordings. Things like The Best of Chopin sell well. But then consider most of the recordings in the American Classics series; we don't release them because they're lucrative, but because it's important to do so. Naxos has created a catalog that I'm proud of – one that's now an intrinsic part of the classical music landscape."