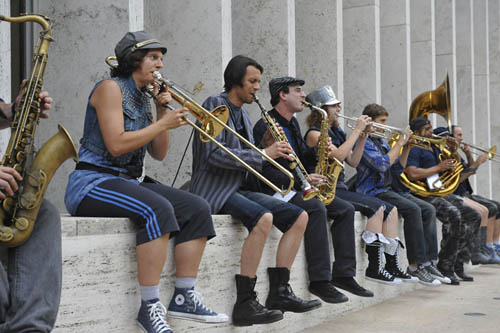 In this space just a year ago we told you about Asphalt Orchestra's Lincoln Center Out of Doors hit-the-streets, in-you-face debut last summer. Well, what a year they've had! In August they performed during lunchtime at Philadelphia's 30th Street Amtrak Station; it's a testament to the band's transcendence of genre that The Philadelphia Inquirer named that show one of the 10 Best Classical Performances of 2009, even though it took place in a train station and featured almost no classical music! In late 2009 the band was selected to play the official opening of Lincoln Center's newest space, the David Rubenstein Atrium, and garnered even more critical hoo-hahs. Their ever-changing set list now includes commissions from Tyondai Braxton of Battles, Stew and Heidi Rodewald of The Negro Problem and Passing Strange, celebrated Balkan musician-composer Goran Bregovic, as well as new arrangements of Björk, jazz legend Charles Mingus, Swedish metal pioneers Meshuggah, the eminent American experimental composers Conlon Nancarrow and Frank Zappa, the playful Brazilian songwriter Tom Ze and the iconic Zimbabwean artist Thomas Mapfumo.
AO brings together some of the best rock, jazz and classical musicians in New York City and beyond: Jessica Schmitz (piccolo), Ken Thomson (saxophone), Peter Hess (saxophone), Alex Hamlin (saxophone), Shane Endsley (trumpet), Stephanie Richards (trumpet), Alan Ferber (trombone), Jen Baker (trombone), Kenneth Bentley (sousaphone), Yuri Yamashita (percussion), Sunny Jain (percussion) and Nick Jenkins (percussion). Is it classical? Yes. Is it rock, prog, jazz, world-party street band? Yes. Is it useless to try and pigeonhole this vital bridge between the arty and the party? Yes.
All this is to tell you that Lincoln Center Out of Doors is back starting tomorrow, Aug 4th, and AO can be found there again doing their gloriously noisy thing Wednesday through Sunday this week. Head to AO's website for daily event details.
Among their here-there-and-everywhere, they'll be premiering new commissions by David Byrne and Annie Clark, and Yoko Ono (they've been rehearsing with both Ono and Byrne the past weeks). If that weren't enough, following their own set on August 5th they'll be featured in the Taylor 2 performance of Paul Taylor's piece "3 Epitaphs," in celebration of Taylor's 80th birthday. Appearing with the company's dancers, the band will premiere new arrangements of pieces originally played by the Laneville-Johnson Union Brass Band.
But wait, there's still more! AO's eponymous first CD on Cantaloupe Music just dropped today, allowing happy listeners around the world to hear much of this music. The recording was made live-in-studio at Water Music Studios, Hoboken, NJ, in August 2009; here's the tracklist:
1. Frank Zappa: Zomby Woof
2. Goran Bregovic: Champagne
3. Charles Mingus: The Shoes of the Fisherman's Wife Are Some Jive Ass Slippers (arr. Jose Davila)
4. Meshuggah: Electric Red (arr. Derek Johnson)
5. Bjork: Hyperballad (arr. Alan Ferber)
6. Stew and Heidi Rodewald: Carlton
7. Tyondai Braxton: Pulse March