It's a cliché to say Texans like things BIG although a mid morning drive on Houston's freeways will do little to dispel this notion. However, many incredible opera companies in Houston presenting cutting edge programming and embracing fresh approaches to audience outreach are relatively small operations. But that doesn't mean these companies and their ambitions aren't growing.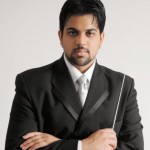 Viswa Subbaraman is the Founder and Artistic Director of Opera Vista, Houston's innovative contemporary opera company. October 15, at 8pm at Zilkha Hall (located in the Hobby Center for the Performing Arts) maestro Subbaraman and company present the world premiere of composer and Bangkok Opera artistic director Somtow Sucharitkul's The Silent Prince. Billed as a "Bollywood Opera," The Silent Prince tells the Buddhist tale of Temiya Jataka, a Buddha who has been reincarnated as a prince. When forced to choose between committing terrible karmic deeds and disobeying his father, Temiya withdraws from the world into silence.
After visiting Sucharitkul's website to hear samples of his music and blog to read his first hand accounts of composing and conducting music in Thailand, I reached out to Viswa Subbaraman with a few questions about next Friday's premiere and the future of opera:
What are the connections between Bollywood and The Silent Prince? Does the Bollywood connection have to do with the production's staging and choreography as well as the appearance of a live elephant?
The Bollywood connection has primarily to do with the staging, dancing, and costuming. In a lot of ways, I see this as a throwback to to the Bollywood movies I remember watching with my parents. When I was really young, it seemed as though my parents could only find Bollywood movies that had been out for at least 5-10 years. It wasn't as prevalent to find Bollywood movies in the US back then. Those old movies had a very operatic element to them. I think the Bollywood connection in this opera harks back to that type of Bollywood film.
Musically, the work tends to be a very eclectic piece. There are moments that strike me as being old-school Bollywood. There are also times that I'm reminded of Sondheim, Wagner, Bernstein and a score of other composers. What I find extremely successful is that it does not sound piece meal. There is a definite unity between the various musical styles.
The score for The Silent Prince combines Western and Indian instruments. What Indian instruments are used? Does the score incorporate instruments from other parts of the East as well?
The Indian instruments in Somtow's score include Tamburas and Harmonium. In the original conception, there were ideas to use Indian percussion and a variety of Indian instruments, but in the end, it seemed as though Somtow pared things down to create a much cleaner texture. One could make the argument, however, that he uses the violins and flute in a very Carnatic way at points. There is a definite South Asian connection in the instrumentation. Somtow uses a number of tam-tams, gongs, and antique cymbals, so there is a "gamelan" influence. Granted, those instruments tend to be so common in the orchestra that we don't consider them as exotic any more. That being said, there is a definite nod to eastern traditions in the way those instruments are used.
From your perspective as a conductor and director of an opera company, where do you think contemporary and yet-to-be-written opera in the 21st century is headed? Are the costs of production stifling the development of this tradition of music? Or are more and more people like yourself discovering innovative ways to keep this particular genre of music and its audience growing?
This is an interesting question in that these days I see a ton of new opera. Opera Vista runs an annual competition for new opera (The Vista Competition), and since our focus is primarily opera by living composers, we also receive a number of perusal scores. When I started Opera Vista, I was wary of what we would receive in the way of submissions for the competition, and I was also curious to see what the state of new opera was. I can honestly say that we should be excited by all the great opera being written by living composers. I think opera, much like other areas of contemporary composition, is marked by eclecticism. I don't know that you can say that there is a specific style or direction that marks contemporary opera. We're seeing every manner of opera under the sun. There seems to be almost no subject area that is taboo. There also doesn't seem to be a musical style that is necessarily in vogue right now.
Costs of production are probably the biggest hurdle. I have literally hundreds of ideas for new productions of new opera as well as a variety of directions we could go to help composers develop their art. That being said, it is still difficult to convince potential donors of the necessity of donating to support new music. New music still scares people. This is an area that I guess I could write a book about now. I love all types of music, but as Artistic Director of an organization that is still in its infancy, there is no doubt that I have tabled some productions that I think would be amazing to explore – Elliott Carter's What Next? comes to mind – because I need to develop my audience base as well as their faith that new opera can be interesting and not scary. I really want Opera Vista to develop a consistent donor base and to be able to truly afford its staff and musicians before pushing the envelope too far – although a Bollywood opera with a live elephant really does feel like pushing the envelope! In some ways, that is the beauty of The Vista Competition.
The Vista Competition for new opera has been an amazing way to introduce living composers and their music to audiences. Every year, I have thought that there might be a piece in the mix that is "above the audience," and to my amazement it does extremely well in the competition. The Vista Competition is run in an American Idol style. We perform 6-10 minute excerpts of the opera to give the audience a flavor of the work. The jury then asks the composers questions about their work, and in the end, the audience votes for the winner. Because of the interaction between the jury and the composers and in the finals directly between the audience and the composers, there is an opportunity for the audience to learn about the piece in fun and hopefully not-so-scary manner. It has been a building process. I'm excited each year by the number of people who return for the competition and bring friends. We are slowly finding a way to overcome the "opera" and "new music" stereotypes that scare people.
I think there are a number of groups that are working towards fostering new opera. It takes time and a ton of effort. It truly is a labor of love initially. It's an exciting time for new opera. I really believe in the work we are doing. I know there is now the Microscopic Opera Company in Pittsburgh, Bluegrass Opera in Kentucky, and a number of others are growing.
The Silent Prince by Somtow Sucharitkul, performed by Opera Vista, Viswa Subbaraman conducting, will premiere October 15, 2010, 8pm at Zilkha Hall at the Hobby Center for the Performing Arts,
 800 Bagby St.,
 Houston, TX.