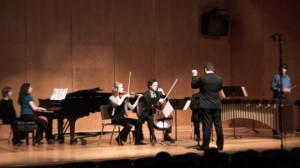 The University of Michigan School of Music, Theater and Dance's second Student Composers' concert of the year took place this last Monday, November 15. A hefty buffet of close to two hours of music, I found the evening passed by quickly and satisfactorily because each work was strikingly self-confident and virtually every moment of music was significant such that it never seemed like the pieces were treading water. Beyond this, the concert was particularly remarkable because of the prevalent display of composition students' performing abilities. Only three of the night's eight pieces lacked a composer-performer, and two among the other five were doubly notable because the works' composers delivered solo performances.
Given his enormous contribution to the concert – appearing in three works on cello, and writing another, the chamber concerto Nephelopolis – I must first mention Jeremy Crosmer, a masters student in Music Composition and a doctoral student in Cello Performance. I asked Mr. Crosmer – along with the other three composers who performed Monday evening – to comment on the relationship between his performance and his composition. Interestingly, Mr. Crosmer does not often perform his own music, though he cannot deny the strong influence performing has had on his writing, namely in the area of notation:
I've learned to write with the intention of leaving many musical nuances up to the performers, rather than specifying every last detail. I find that this is a very important way to keep the music alive… [by] allowing the performers freedom, I think the music can adapt to the circumstances of any given day and any given audience and concert.
From working with Mr. Crosmer on my piece, Clavdia, the opening work on Monday's concert, I believe this perspective has informed his playing and helped him become a gifted interpreter of new music. His other performances second my observation, namely David Heetderks' Stratus, a beautiful duo for cello and piano. Stratus decorated the clear pandiatonicism and modality of its melodies with captivating textures and a friendly, yet unpredictable, form. Mr. Crosmer and his companion, pianist Justin Snyder, presented Stratus in a light and charming manner, perfectly manifesting the program note's claim that the work "reaches for the sky".
Mr. Crosmer's final performance came on the last piece of the first half: Roger Zare's string quartet Road Trip. Explained in detail in its program note, Road Trip is a musical depiction of a cross-country vacation from Mr. Zare's youth. The work was cinematic in its portrayal of the journey, beginning with ostinati to capture the forward-moving monotony of car travel and – in the second movement – using references to jazz and mariachi music to more clearly state the distance covered in the piece's narrative backdrop. Contained within the demands of the quartet, Mr. Crosmer's virtuosity emerged most prominently in the final movement – Pacific Coast Highway – which featured the cello as a soloist against cloudy figures in the rest of the quartet, meant to represent fog.
As stated earlier, Mr. Crosmer played on my piece, Clavdia, but he was not the only composer I worked with to pull that performance together. Donia Jarrar, also a masters student in Music Composition, played piano on the piece, which is scored for clarinet, violin, cello, piano, marimba and vibraphone. I asked her to comment on the composer-performer duality and on her experience playing Clavdia. Though the work has strategically placed solos for the clarinet, violin and cello, it is primarily an ensemble piece and the piano anchors the group for most of it. I was not surprised when Donia responded to the experience:
It was inspiring as a composer to help bring [Clavdia] to life on stage, to get the chance to be a part of somebody else's work and to communicate through them, to see and understand their creative process outside of your own process…It's easy to get lost in your own world as a composer, so for me getting the chance to perform the work of another composer makes me feel like I am part of a community.
It was a fantastic experience working with Ms. Jarrar, Mr. Crosmer and the other members of my ensemble. Though Clavdia was challenging, my satisfaction with my players is unqualified because the group became very comfortable with the music, or, as Roger Zare said in reference to his quartet's work on Road Trip, they "owned the piece". In talking about performing her own works, Ms. Jarrar used a baking metaphor to illustrate the kind of communicative control she enjoys, "[w]riting for yourself is like baking a cake with a recipe you wrote, that you've baked a dozen times before." Further along in her comments she returned to her analogy to describe the joy of having others play her music, the same joy I experienced Monday night: "the best, of course, is when [your players] bake the cake ten times better than you could have ever baked it."
In between Mr. Heetderks' Stratus and Mr. Zare's Road Trip came the last remaining piece from the first half of the concert: Joseph Prestamo's Sketches, a five-movement suite for solo piano. Mr. Prestamo offered very personal insights on performing his own music, which mirrored the intimacy of his composition:
I approach pieces that I have written the same way I would approach a piece that I have not written; I practice it, I play one hand at a time, I work on particularly hard passages over and over, etc. Sometimes I feel like I am the only person who can interpret it correctly, but other times I feel like I am so close and connected to the music that I am incapable of interpreting it the way I really intend to.
Sketches was sensual, sophisticated and multifarious. Each movement possessed a unique character and texture, but all of them were held together by Mr. Prestamo's expressive and atonal language. For example, the first movement, Improvisation, lilted from one harmony to another like a modernized and expanded iteration of the Choral Inappetissant from Erik Satie's Sports et Divertissements. Moreover, Mr. Prestamo found a way, within each movement, to countermand the strong identity of its primary material. In the third movement, Scherzo, he contrasted the dry texture of an important ostinato figure with sudden rolling, resonant arpeggios. This attention to detail, though first mentioned here, was common to all the evening's pieces and, furthermore, I left the hall pleased and impressed that each composer had employed a structure that kept the listener off-guard without losing its sense of internal logic.
The most extreme instance of this kind of higher order in Monday's compositions was Justin Aftab's Landscape 4:54. The second work after the intermission, it is easy to say Landscape 4:54 stole the show on a night when every piece was, essentially, flawless. Mr. Aftab gave a multi-faceted performance in which he used the piano traditionally, as a percussion instrument and sang, both in English and Japanese. The exceptional nature of Landscape 4:54's dramaturgy, its use of vocal extended techniques and highly unusual piano sounds (Mr. Aftab plucked and strummed the strings in addition to creating resonant, drum-like sounds by striking the underside of the key bed) made it the evening's most memorable offering. However, the work was not a nonsensical collection of gimmicks. Like the other music we heard Monday evening, Landscape 4:54 was excellently organized but differed from its companions on the program because the thread that held the piece together was not a musical gesture, melody or orchestrational destination. Rather, the intensity of Mr. Aftab's performance acted as a large-scale narrative line that unified the composition.
As unconventionally courageous as his performance was, Mr. Aftab described his mindset as a composer-performer with unexpected nonchalance:
Performing my own compositions is liberating because I have complete control over what is communicated through the music. However when I perform I disconnect from myself as a composer, and become sort of an omniscient third party. This allows me greater perspective on the work and, I think, provides for a sense of subjectivity in both my interpretation of the music and the audience's reception to it.
Unfortunately, the theme of my review has forced me to leave the three works that did not feature composer-performers to the end. Yet, they were no weaker than the others and contributed equally to the incredible strength of the concert. Beginning the second half was Jeremy Crosmer's chamber concerto, Nephelopolis. Those of you who read my review of last month's Student Composer's concert will remember Mr. Crosmer's style is unique among the composers at Michigan and harkens to mid-century American greats like Howard Hanson and Kent Kennan. Scored for flute, oboe, clarinet, bassoon, piano, xylophone and percussion, Nephelopolis exploited the diverse capabilities of its ensemble to the fullest, ranging in texture from percussive dances between the xylophone, drums and piano, lyrical duets among the winds, and a beautiful wind quartet chorale in the second movement, Reverence.
The final two pieces were Samn Johnson's Unmarked Boxes, for string quartet, and Ron Amchin's"Now take your lady to the World's Fair, and do the Ragtime Dance" for soprano saxophone and piano. Unmarked Boxes' modal language and repeating rhythmic figurations at first seemed starkly light in contrast to the preceding work on the program, Justin Aftab's Landscape 4:54. However, the work quickly came into its own thanks to Mr. Johnson's clear sense of formal direction and the strong identity of his material. Obviously cognizant of the clarity with which he presented his ideas, Mr. Johnson cleverly undermined the unobtrusive character of his work by ending it suddenly and abruptly, almost as if the audience's collective iPod had run out of power just before Unmarked Boxes wound down to its end.
Mr. Amchin's work was also impressive, and demonstrated an extraordinary strength in navigating disparate moods and materials uncommon to most composers Mr. Amchin's age. Elegantly churning between pointillism, references to ragtime and virtuosic dissonance, anyone would believe a doctoral student wrote "Now take your lady to the World's Fair, and do the Ragtime Dance". Mr. Amchin is a sophomore. It was appropriate to me that "Now take your lady to the World's Fair, and do the Ragtime Dance" ended Monday night's concert because its structure and the integrity of its musical rhetoric recapitulated so many of the impressive elements from the evening's other compositions.
The composers featured on Monday's concert were fearless in their realization of their musical ideas and found unexpected, clever and successful methods to present these logically, no matter how diverse or unrelated. That so many composers participated as performers on Monday night's concert is an accessory to the overwhelming potency of the music. How rare it is for the talent of a composition department to be demonstrated so persuasively on two levels in one evening of music! Perhaps I am too impressed by what I saw and heard Monday evening because in my educational experience, skilled composer-performers have been hard to come by. Nevertheless, I imagine I will be hard-pressed to again experience so spectacular a confluence of excellent composers' performances and authoritative compositions.