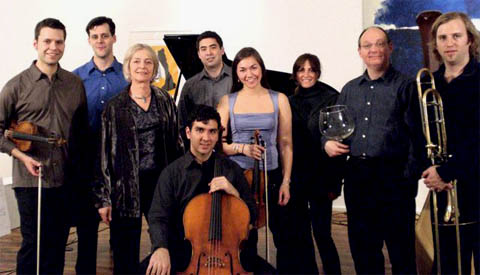 If contemporary classical music had "supergroups", the 8-year-old ensemble Ne(x)tworks would definitely be one of them. With the likes of Joan La Barbara (voice), Kenji Bunch (viola), Shelley Burgon (harp & electronics), Yves Dharamraj (cello), Cornelius Dufallo (violin, Director), Miguel Frasconi (glass instruments & electronics), Stephen Gosling (piano), Ariana Kim (violin), and Christopher McIntyre (trombone), their roster is led by  major movers long on the NYC new-music scene. Working with both classical and improvisational roots, their repertoire encompasses the open scores of the New York School composers of the '50s, the experiments of the AACM, and the SoHo scene and Downtown composers of the '70s and '80s. It's a wonderful and vitally important thing, to have an ensemble active in keeping earlier experimental works not only remembered, but truly alive.
Ne(x)tworks  just released their latest CD through CD Baby, documenting a 2007 performance at the Stone in NYC, and they're also beginning a year-long residency at the Greenwich House Music School. As kick-off to both, they're giving a concert at GHMS this Thursday, November 18 at 8 pm, as part of the 25th anniversary season of North River Music (Renee Weiler Concert Hall, 46 Barrow Street, NYC / $15).
On the bill, Edgard Varèse's little-known Untitled Graphic Score (ca. 1957). Varèse created the score while attending Earl Brown's workshop on graphic notation, and the piece — conceived for an ensemble of jazz and classical musicians — reflects the kind of scores the composer was writing in real time on a chalkboard during that period.
The program will also feature two works from Ne(x)tworks' latest CD. Creating a form that moves beyond the "jazz" and "classical" labels, Leroy Jenkins' Space MInds: New Worlds, Survival of America (1979) offers a platform for an active dialog between the performers and the composition itself, with extensive improvised passages. Arthur Russell's Singing Tractors (pages 1 & 2) (ca. 1987) is an open-ended work that merges influences from Post-Cagean randomness to free jazz to rock and pop music to classical elements to African beat and dance music.
Also included are a sneak preview of ensemble member Christopher McIntyre's Smithson Project (2010), scored for mixed ensemble and computers and drawing its inspiration from the work of renowned earthwork artist Robert Smithson (1939-73) — as well as Jon Gibson's Multiples (1972) for open instrumentation, a classic example of early minimalism from this stalwart member of New York's experimental music community.
As a bit of concert preview, we managed to get a few words from Ne(x)tworks members Joan La Barbara, Miguel Frasconi, and Christopher McIntyre themselves, on aspects of the ensemble and the upcoming performance:
Joan La Barbara: Ne(x)tworks was formed in 2003 by a coalition of like-minded musician/composers who were fascinated by specific aspects of avant-garde music and the expanding threads of the experimental tradition. We specialize in open form music, realization of graphic, instructional and non-traditional notation with almost every piece involving elements of improvisation. The group's focus has evolved to become a collective of performing composers exploring relationships between composed (written/notated) and improvised (spontaneous) music with an emphasis on extended techniques and real-time compositional choices. Ne(x)tworks is characterized by a generosity of spirit, a willingness to share thoughts, ideas, expertise and a body of knowledge that covers a vast territory of music.  All of this is brought to the task at hand, whether it is in realizing scores by fellow members of the ensemble, collaborating with contemporary composers, or resurrecting neglected scores by past heros of experimental music and the avant-garde whose works may have suffered from a lack of comprehension on the part of musicians who were even willing to tackle them at the time they were created.
Miguel Frasconi (director of Ne(x)tworks): Ne(x)tworks' first concert of the 2010-2011 season, and the premier event of our residency at Greenwich House, has been design to explore the essence of who were are as a group. The pieces on the program were chosen because each composer incorporates the performance of the piece as an integral part of the compositional process itself. As such there is a dialog between the performers and the composition that goes beyond interpretation but stops short of pure improvisation.
In Arthur Russell's Singing Tractors (ca. 1987), two pages of melody and chord changes are given without much instruction. Our realization has been informed by research into the late composer's overall work and direction from trombonist Peter Zummo, who collaborated with Russell while this piece was being created. (Arthur Russell was active in the downtown New York new music scene in the late '70s and throughout the '80. He performed works for solo cello & voice, was a member of Peter Gordon's Love of Live Orchestra, and was a well known Disco producer.)
Leroy Jenkins' Space Minds, New Worlds, Survival of America (1979), on the other hand, is scored for specific instruments using a combination of traditional notation and graphic representation. In this piece, sections of pure improvisation are specifically indicated, as well as which instruments get to do so. (Leroy Jenkins was a violinist and one of the masters, along with Anthony Braxton and George Lewis, of "Creative Music," a form that emerged from Chicago in the 1960s and went beyond the "jazz" and "classical" labels.)
In Jon Gibson's Multiples, from 1972, the instrumentation is totally open. The score is a grid of pitches and durations that phase against one another. Range, articulation, tempo, and dynamics are guided by written instructions that direct the musicians in ways to best play and listen together as an ensemble. (While best known as a founding member of the Philip Glass Ensemble, Jon Gibson is also an accomplished composer of music that incorporates minimalist concepts with improvisation.)
Then there is the Varése piece. This is the only known purely graphic score he ever produced. Composed around 1957 for eight unspecified  instruments, Varése created this piece while he was teaching and directing an ensemble at Greenwich House. It is quite fitting that we will be performing this concert in the very same room in which these classes were held. The score uses drawn curving lines to indicate pitch, but otherwise is quite "Varésian" in it's use of dynamics and articulation.
Christopher McIntyre: Ne(x)tworks' performance of my music on Nov. 18 is a preview of material from a larger, in-progress body of work inspired by artist Robert Smithson (1939-73). Last year I was asked to write for a film project involving this important early Post-minimalist art maker and thinker. As I researched his oeuvre, in particular the prolific writings, I felt a real affinity to the way Smithson's intellectual pursuits were manifested, from his first mature sculptures through his well-known "land art" projects including Spiral Jetty (1972). As a composer whose aesthetic springs from an improvisational performance practice, I've often experimented with dialectical relationships in my work, primarily those involving player choice within a score. Dialectics are a crucial component to Smithson's output as well, from the basic concept behind the "Nonsite" works to the "de-differentiation" of his land works within their environment. This performance is the first bit of ensemble music created under the Smithson Project rubric. The material is segmented roughly in two. Section A is a sort of activated, synchronous landscape of noise elements, abstruse texts (read by Joan La Barbara) fragmented and digitally processed, dislocated thematic material appearing and disappearing, etc. Piano and percussion (Stephen Gosling and Danny Tunick respectively) then create an interstitial bridge to Section B, which is a brutally minimal ensemble workout that parses and contains radical elements from the A section within its hard edge, irregular rhythmic profile. This purported sonic architecture is an analogy to Smithson's "Nonsite" idea: rubble and photographic documentation from a remote granite quarry (A) is collected and neatly displayed on the walls and in geometric bins within the white box gallery (B).