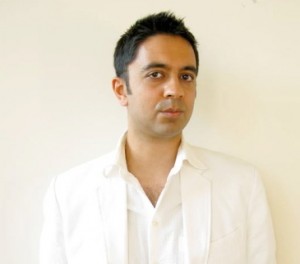 One of the great perks of living in Ann Arbor, Michigan is the University Musical Society (UMS), a community group that, for 132 years, has brought diverse programs of dance, music and theater to this Midwestern cultural center. This year's schedule has allowed me many new experiences as an audience member – most notably my first dance concerts with the Paul Taylor Dance Company and Sankai Juku – and has given all of us in the area access to many of the world's most praised musicians, such as Renee Fleming and Wynton Marsalis.
This last Saturday saw the most recent chapter in my interactions with this UMS season when I attended an outstanding jazz concert featuring the Grammy Nominated Vijay Iyer Trio and Rudresh Mahanthappa and Bunky Green's Apex. As a composer, jazz has always played an interesting role on the fringe of my musical development. I played jazz in high school at a decent level, studied it somewhat more in depth at regional summer programs, but never latched on to the genre in the same way as I did concert music, both historical and contemporary. I saw Saturday night's concert as an important reconnaissance mission, so to speak: it allowed me a small window into the state of contemporary jazz and, more interestingly, gave me an opportunity to compare what I know of concert music with the evening's performance.
The performances were really incredible, and quite different in a surprising way. The Vijay Iyer Trio opened and freely explored material on their acclaimed album Historicity, earlier music and even covered the Michael Jackson song "Human Nature". What I found the most remarkable part of the Trio's performance was the seamless coexistence of free-form improvisation and strict coordination. As many of you know, jazz compositions loosely mixture of pre-determined and extemporaneous material and Vijay Iyer's music is an incredibly elegant emulsion of these sources. Most stunning were arrival points that emerged suddenly from long periods of cumulative improvisation. As impressively virtuosic as Vijay Iyer (piano), Stephan Crump (bass) and Marcus Gilmore (drums) were on their individual instruments, the sensitivity of their collective listening and concentration – which enabled elaborate musical structures to exist amongst improvised anarchy – was the most profound element of their act.
The second half of the concert featured the well-seasoned – Vijay Iyer grouped them among his "heroes" – forces of Rudresh Mahanthappa and Bunky Green's Apex, featuring the two headliners on alto saxophone, Craig Taborn on piano, Francois Moutin on Bass and Damion Reid on Drums. Apex's set was much more formalistic than the Vijay Iyer Trio. By this, I mean the tunes were more traditional – at least, to my understanding – whereby they played the head melody and then passed solos around the group at fairly strict intervals. Stylistically, the solos were much more old-fashioned in that they had a clear connection to the athleticism of 1960s hard-bop. In a bizarre way, Apex's performance reminded me of a series of Baroque da capo arias: the music peeled back to allow the soloist an undisturbed soliloquy full of blurrily fast scales and innumerable figurations. The appeal of this musical presentation was very different than what had come just before it, but not necessarily better or worse. I was surprised such a strong stylistic dichotomy existed in jazz, but – again – I am very ignorant of the genre. Hearing the Vijay Iyer Trio and Rudresh Mahanthappa and Bnky Green's Apex Saturday night has piqued my interest, however, and I intend on investigating these musical divergences.
After the concert, I reflected on how this jazz concert differed from an art music concert. Most obviously, the mood was much more informal, audience reactions were expressed at will and the rapport between the players and listeners was more open – for the most part – than what I've found on contemporary and classical music concerts. However, this element of my experience varied from one act to another. The Vijay Iyer Trio's performance seemed much more intimate and inclusive than the Apex's set, principally because Rudresh Manhanthappa and Bunky Green used music stands and the body language of their playing conveyed a more formal, declamatory dynamic. To this end, I found it interesting that the second performance was not too different than any chamber music recital, excepting the audience's cheering and abundant applause.
Speaking in strictly musical terms, what I heard Saturday night was not far off from a lot of contemporary music both in its melodic complexity and harmonic ambiguity. Even the rhythmic foundation I associate with drums was not as stalwart as I previously thought. At least on Saturday night, the drums didn't always provide a strong sense of pulse or direction and, instead, were more responsible for different colors and energy levels than anything else. With these thoughts in mind, I wonder how much the audiences for this kind of jazz and contemporary music overlap, if at all; I'm curious how the jazz audience would receive contemporary music; I am intrigued to see if we could grow the public venue for contemporary music through jazz and its audience.