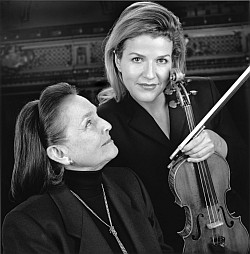 Among your name brand violinists, Anne Sophie-Mutter has been the most ardent champion of modern and new music.  There are few, if any, 20th century violin masterworks that she hasn't played and/or recorded.  She rarely does a concert without modern pieces and her appearance with a group of  chamber music all-stars at Avery Fisher Hall at 3 pm this Sunday, April 3,  is no exception.  In addition to the Beethoven String Trio in G Major op 9, No. 1 and Mendelssohn's Octet for Strings, she will be teaming up with the brilliant young double bassist, Roman Patkoló, for the U.S. premiere of Krzysztof Penderecki's  Duo concertante for Violin and Double Bass and the world premiere of Wolfgang Rihm's Dyade for Violin and Double Bass.
I have two pairs of tickets to give away for the concert to whoever can answer at least two out of three questions.  One of the answers is strictly hush-hush and won't be announced until next Sunday's concert but if you can attend the concert and want to take a stab, leave an e-mail address so I can contact you and tell you how to get your tickets if you win.
Ready?
1. Frau Mutter's foundation has established a new award program for gifted musicians.  Who is it named for?
2. How did the person for whom the award is named get her first name?  (I don't know the answer to this one myself but I have a theory and if your theory is the same as mine, you get points.)
3.  The first winner of the award in question will be named this Sunday.  Who do you think it will be?   Don't forget to leave your e-mail with your answer because I'm not confirming the answer in print until Sunday night or Monday morning.