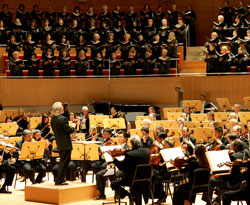 Last Saturday night I caught a trio of Philip Glass's slightly more obscure music, performed by a well-rehearsed Pacific Symphony and Pacific Chorale (based in Orange County, California) as part of their annual American Composers Festival. Although lesser-known than its Los Angeles counterpart, the symphony is staffed with many fine Southern California-based musicians and performs in the recently built and acoustically impressive Renée and Henry Segerstrom Concert Hall.
The opening piece, "Meetings Along the Edge" from Passages (1990), featured Glass's collaboration with Ravi Shankar, in which both agreed to each compose a melody for each other and write a new composition around it. Usually I cringe at the results at these attempts at cultural exchange and creative collaboration, but in this rare instance I was very taken with the way Shankar's Indian melody combined with Glass's signature contrapuntal and harmonic elements. It created a fascinating juxtaposition, that gave me new insights on how Shankar's Indian musical elements integrated into his very recognizable compositional language.
The Concerto for Saxophone Quartet and Orchestra (1995) was written to serve dual purposes: first to be performed primarily as a saxophone quartet (here handled by the Prism Quartet), and secondly to be performed with an added orchestral accompaniment. Judging by the many recordings available of the quartet (sans orchestra), it has become a popular addition to the saxophone repertoire, but at Saturday evening's performance it was hard to forget that much of this music was very similar or even repurposed from Wichita Vortex Sutra (1990), Glass's song cycle collaboration based on Alan Ginsberg's spoken-word poetry with solo piano. Reusing music has been widely accepted (besides borrowing heavily from Mozart and Purcell, Michael Nyman is a common recycler of his own music) and I think there is nothing inherently wrong with reusing one's material, but in this case the unintended results were the equivalent of watching James Gandolfini from The Sopranos appear in another TV show. No matter how hard you try, it's hard to see him as anybody but Tony Soprano. Comparing this secondhand saxophone showcase against the powerful combination of Glass's music with Ginsberg's poetry doesn't really equate apples to apples, but more like apples to apple butter.
After intermission, just from viewing the assembled 140-member Pacific Chorale and orchestra, it might be easy to assume that Glass's The Passion of Ramakrishna would feature a grand spectacle similar to his non-narrative operas like Akhnaten and Satyagraha. But for reasons I can't fathom the assembled full chorus and orchestra wasn't used to its full potential, at least in comparison to his similar vocal and operatic works.
The libretto, which recounted the final months and last words of the 19th-century Indian philosopher Ramakrishna, were surprisingly taciturn and the music was pleasant, but as the Passion of Ramakrishna was coming to a close I was struck that I had never been left so cold by a Glass vocal piece: It was basically 50 minutes of recitative with no aria (i.e. mostly all story and very little emotion).  After the performance my concerns were confirmed when some of the performers said that Glass had mentioned he'd been hoping to eventually to flesh out the piece further, which was especially curious because the weekend's performances were being recorded for a possible release on Naxos or Glass's own Orange Mountain Music label.
Whether or not the piece performed Saturday night was the final version, it does leave me to think that in its current version, the Passion of Ramakrishna could use a few changes — namely, more "Passion" to balance out the exposition.  As a composer who has learned much from studying and performing Glass's music over the years the music presented Saturday night shows that even though many already are calling him a "living legend", sometimes deadlines and professional obligations lead to music that was created by a mere mortal.