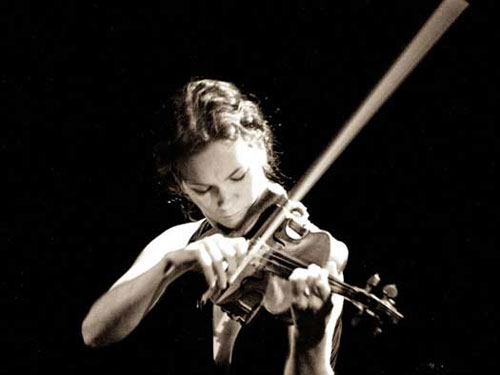 Hilary Hahn was supposed to be in Japan this week on a recital tour with her frequent collaborator Valentina Lisitsa but nature had other plans.  The catastrophic  twin disasters of a 9.0-magnitude earthquake and powerful subsequent tsunami on March 11 took the lives of thousands of Japanese citizens and have left thousands more without homes, electricity, or access to clean water.
Hahn's Japan concerts were understandably canceled so she decided to use the time to organize and play four Japan-relief benefit concerts in the United States this week.
"I had been looking forward to performing in Japan: the country is unlike any other, and the audiences are so dedicated and love music so much that it is always a pleasure to play for them," Hahn writes.  "I first went to Japan when I was a teenager and have returned nearly every year since. My memories from my time there are vivid, and it is hard to picture a vibrant country that I know so well facing such a destructive crisis. My first thought was to organize a tour of fundraiser concerts: instead of playing in Japan this month, I might be able to play for Japan."
Hahn will play four concerts around the country to help raise money for Direct Relief International (MD, GA, and NY concerts) and for Presbyterian Disaster Assistance (VA concert). 100% of the proceeds will be sent to these charities and both charities have pledged 100% of the money will go to Japan relief and recovery funds.
The mini-tour begins today, March 24 in Baltimore, where Hahn will be joined by singer/songwriter Caleb Stine, violinist Yuka Kubota, pianist Yoshie Kubota, Baltimore School for the Arts students Tariq Al- Sabir and Robert Pate, and Suzuki students from the Peabody Preparatory. There will also be appearances by author Lia Purpura and historian Constantine Vaporis. The Baltimore event is envisioned as a community-based collaborative project. Art, jewelry and more will be on sale by Baltimore area artisans. The concert will be held at St. John's of Baltimore. Tickets are $20-$50 and are available in advance at Red Emma's Bookstore, 800 St. Paul St. and with cash at the door.
Tomorrow, Friday, March 25 a benefit concert will be held at Westminster Presbyterian Church, Alexandria, VA. This concert, and the following in Spivey Hall at Clayton State University, Morrow, GA on Sunday March 27, will feature a shared program between Hahn and long time collaborator Valentina Lisitsa. Lisitsa, called "jaw-dropping" and "glorious" by The Chicago Tribune, was set to tour Japan with Hahn and helped to make these two benefit concerts a reality. The concert in Alexandria is free, but donations are highly recommended. Tickets for the concert at Spivey Hall are $75, available from Spivey's box office: 678-466-4200 or www.spiveyhall.org.
Finally, Hahn will appear with special guests Josh Ritter, Chris Thile, and Caleb Stine on Monday March 28 at Galapagos Art Space in Brooklyn. Tickets are available on the Galapagos website:www.galapagosartspace.com. This final concert brings together a eclectic group of performers whose love for music is contagious–the evening is a celebration of music making and artistic connectivity. The goal is not only to raise money for a worthy cause, but to take time to remember the joyous love of artistic creation that makes Japan such a resilient culture.
And, I might add, to remind us why Hilary is the Sequenza21 lifetime Prom Queen.
Feel free to repost and/or pass along this condensed schedule:
Thursday, March 24 – 7:30 p.m.
Baltimore, MD
Featuring: singer/songwriter Caleb Stine, violinist Yuka Kubota, pianist Yoshie Kubota, Baltimore School for the Arts students Tariq Al- Sabir and Robert Pate, and Suzuki students from the Peabody Preparatory
2640 Space at St. John's
$20-$50
Friday, March 25 – 7:30 p.m.
Alexandria, VA
Featuring: Valentina Lisitsa
Westminster Presbyterian Church
Free, donations encouraged
Sunday, March 27 – 3 p.m.
Morrow, GA
Featuring: Valentina Lisitsa
Spivey Hall at Clayton State University
$75
Monday, March 28 – 9 p.m.
Brooklyn, NY
Featuring: Josh Ritter, Chris Thile, and Caleb Stine
Galapagos Art Space
$55