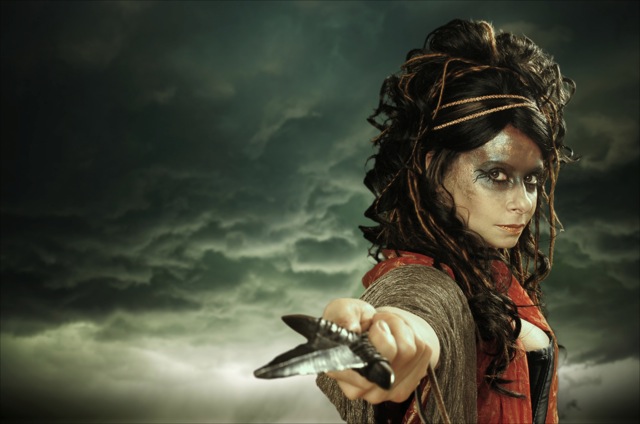 Opera Singer Misha Penton as Klytemnestra (photo by Kerry Beyer)
(Houston, TX) Houston based opera singer Misha Penton opens her unique performance space Divergence Vocal Theater this Friday, April 15th. Located at Spring Street Studios, home to many of Houston's finest visual and mixed media artists. Divergence Vocal Theater will bring together Ms. Penton's team of singers, musicians, composers, dancers, and lighting and costume designers to present new chamber opera repertoire. Klytemnestra, a collaborative opera dance theater work featuring music by composer Dominick DiOrio, sung text by Misha Penton, spoken text by John Harvey, and choreography by Meg Brooker, is receiving a great deal of positive press in advance of its premier April 15th and 16th at Divergence Vocal Theater.
Ms. Penton's mission is to subvert the social mores and business paradigms preventing singers from creating their own works. In the wake of reality after graduate school, more and more classical instrumentalists are creating their own business and career models, going further and further out into what is, for many musicians, uncharted territory. Violinist Todd Reynolds, the ensemble Alarm Will Sound, and Houston based pianists Jade Simmons and Kris Becker are a few examples of musicians who are each developing a sustainable means for commissioning, performing, and deriving an income from playing contemporary classical music. Their approaches are as varied as their personalities, and there is much to discuss when it comes to what is actually working for one musician as opposed to another. But in the near future, these intrepid instrumentalists are going to find that more and more singers, including Misha Penton, are "out there" with them.
Misha and I met shortly after my relocating to Houston and I quickly recognized a kindred spirit. This interview took place via email in advance of the premier of Kyltemnestra.
Chris Becker: In a recent interview you said: "One of the things I want to do…is restructure the way people think about who does opera, how it's done, who makes it, and who performs it…What I do with Divergence is…create my own works and I sing in them. It's very much something actors and dancers do, but singers are not encouraged to create their own products." Do you think this model that you're describing is the future of classically trained musicians?
Misha Penton: Actually, I do – but it's already happening. And it really isn't anything new…instrumentalists in particular have been savvy to this model for a long time – the success of independent ensembles like Eighth Blackbird comes to mind immediately. Some conservatories are starting to take entrepreneurship seriously. Opera America has a great feature about entrepreneurship in its spring magazine and about singer-led initiatives, and entrepreneurship is the theme for the conference this year as well. Obviously rock and jazz musicians work this way and always have. I'm seeing more classically trained singers take on their own projects, but it doesn't seem to be as encouraged by the vocal teaching tradition as it could be…but again, that is all changing. The more opportunities we, as artists create, the better we'll be able to define success for ourselves. As a singer, I'm only partly an interpretive artist. I'm a theater artist and writer too, so I've always done creative work. I think of myself as an independent artist who happens to create work collaboratively.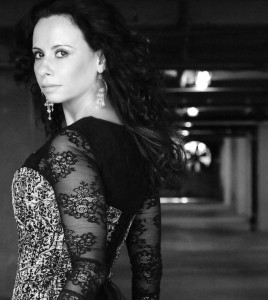 Opera Singer Misha Penton (photo by Kerry Beyer)
CB: Who are some of your peers among singers that are doing something similarly subversive?
MP There are more and more small opera companies popping up that singers are joining forces to create – that's absolutely fantastic. And classically trained singers are branching out into all sorts of music projects. I meet singers all the time who say, "Hey I have this idea for a project" – I just love that. Go do it!
In general, I question the traditional company and nonprofit structure – so I'm not sure that's the best survival tactic nor the best creative model. There are so many options for funding work now without forming a nonprofit (fiscal sponsorship, crowdfunding, etc). The last thing I want on my back is an "organization". I work project-to-project and I'm aspiring to a Robert Fripp-ian model – a "small mobile intelligent unit".
CB: You now have a dedicated space for your work as Divergence Vocal Theater. Before this, where and how did you produce your work?
MP: In the past, I primarily used alternative dance spaces – and the acoustics are dreadful in those spaces, so it makes it very difficult to hear anything. I used a church for one piece – because I thought of the work there as artistically site specific, I didn't feel that I could continue to create work in churches (which are not as easy to access as one might think!). I have very strong ideas about what types of venues are conducive to my vision, and although I love alternative spaces, they need to be acoustically and physically friendly to the art form. I don't want to spend my time and energy competing over rehearsal space, performance dates, and juggling the schedules of artists. A very serendipitous opportunity arose for me to create an intimate chamber music and multi-performing arts space in a new art studio building in Houston – Spring Street Studios – so that's what I've done. I have to brag of its beautiful reclaimed wood floors, 20-foot ceilings – and we just treated it acoustically and it sounds amazing. I don't know of any place else like it. This is all very new to me and I think of it as a grand experiment. Who knows what the future holds?
CB: You've worked with two excellent Houston composers. Elliot Cole (now studying at Princeton) and Dominick DiOrio. How did you meet these two? And what drew you to their writing for the voice?
MP: Through the grapevine, really. I love new music and I love working with composers. I started up conversations with both Elliot and Dominick about collaborating and that led to the creation of two new opera theater works, both settings of my words (Selkie with Elliot and Klytemnestra with Dominick). For me, this is exactly the type of work I want to do. I'm completely in my element collaborating to create new works and bringing them to life.
Dominick is a singer also, so he has a wonderful grasp of the voice as an instrument – and I sang for him a good deal before he started writing – so he became very familiar with my voice, with my specific instrument. Dominick's music has a dramatic complexity and depth that really resonates with me. Klytemnestra's music has an interwoven quality – web-like, veiled, cyclical, a masterful interplay between the parts. The music is deeply psychological and reflective of a Greek heroine.
Elliot writes in a broad range of styles and he has this particularly delightful avant-chamber-pop thing going on in a lot of his writing – I just really love that about his music – it's intense, intelligent, and accessible. For Selkie, I think Elliot wrote specific to what my text evoked for him as a composer – so that was really special, I think. The style of the composition was influenced by the text. Selkie has this big, lush, swirling sea-ness about it that makes me weak in the knees. I admit, I nurture collaborative relationships with amazing people – Elliot and Dominick are fun to work with, it's not more complicated than that.
CB: Klytemnestra will include sung text that you've created as opposed to spoken text created by playwright director John Harvey. What is the difference between the two texts? Was either of the texts inspired by the other? How do they interrelate in the opera?
MP: About a year ago, John Harvey asked me to portray Klytemnestra in his new translation of Aeschylus' Agamemnon – and I thought, "Oh, God – I have to memorize lines!" It's funny, but in response to that, I thought, "Well, if I have to deal with memorizing lines, then I want to create an opera companion piece". Like that's easier! And so, during the process, John asked me to write from Klytemnestra's point of view… and my writing became the libretto for the opera. Actress, Miranda Herbert, is also performing in the opera as another facet of Klytemnestra. Her lines are John's words, so the sung words are mine and the spoken words are his. Meg Brooker, a brilliant dancer, is the third aspect. The work is set for viola, piano, soprano, actress, and dancer. I think of the piece as an original collaborative work in its totality: the way a choreographer might think of their work. The theatrical vision for the piece is neither separate nor superimposed over the music, it's part of it. Agamemnon and Klytemnestra run on consecutive weekends in April as a Dionysia Festival.
CB: How does choreography and dance come into play into this performance? Is your movement onstage choreographed to some degree?
MP: I work very compositionally in a visual sense and every piece I've done has had a dance element. I continue to move closer, with each successive piece, to the entire work having an overall physical stylized feel. Visually, I keep working with the idea that the piece in its staging shifts from painting to painting. That's how it feels to me. Klytemnestra has a complete movement score. Meg is a highly skilled dancer and Miranda and I both have dance and physical theater backgrounds, so the three of us created a collaborative movement world. Ultimately, it is up to me to shape the work and to keep true to my concept for the piece, so I sift through video and assess what we do in rehearsal… but it is all highly collaborative. I've worked with Meg and Miranda several times before – that's another key to making work with a strong theatrical identity – and they both very much understand my aesthetic. It's kind of like having two more versions of me with different skill sets, but that feed a common vision. And that's a very, very big deal.
Klytemnestra premiers April 15 & 16, 2011, 8pm, at Divergence Music & Arts at Spring Street Studios, 1824 Spring St, Houston, TX 77007. To purchase tickets, visit the Divergence Vocal Theater website.