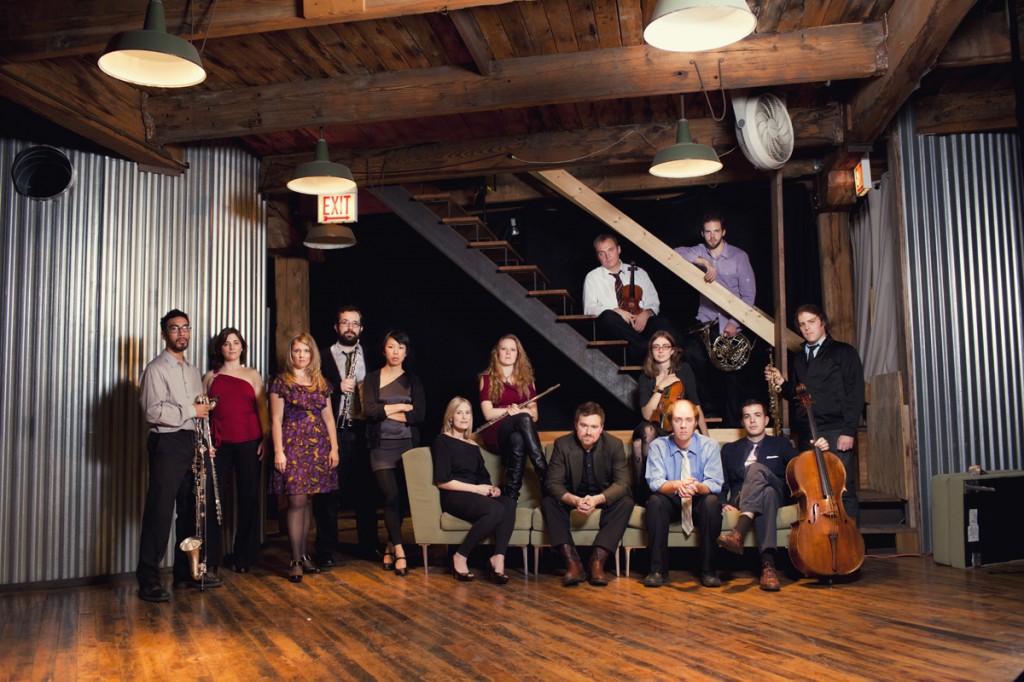 [Apologies for the delay on this posting – laptop illness kept me from completing it till today.]
During my week stay in Illinois, I was lucky enough to catch several concerts that proved how strong the new music scene is in Chicago. On Saturday May 28, Ensemble Dal Niente presented a rich and varied concert at the Music Institute of Chicago that featured several new and established works and a wide array of talented performers. Ensemble Dal Niente has been steadily gaining ground as one of several new music ensembles (including ICE and Alarm Will Sound) that has taken the structure of an extensive ensemble that allows for both small and large-scale works, and their season finale gave a good demonstration of the effectiveness of this structure.
The concert started off with the world premiere of Microscript for three winds and three strings by New York-based composer Drew Baker. Inspired by the miniscule writings by the Swiss author Robert Walser, this work intended to build momentum with a minimum of material through subtle timbral and articulation shifts, finally breaking into a set of three simultaneous duets. With all six instruments playing the same pitch for over two minutes at the outset of the work, intonation inconsistencies (update: even taking microtonality into account -rd) in the strings showed exactly how difficult such a simple concept can be – but it was impressive at how oboist Andrew Nogal and soprano saxophonist Ryan Muncy were able to blend their instruments with the flute and strings.
The Spektral Quartet, which makes up part of the string contingent in Ensemble Dal Niente, followed with a striking performance of Augusta Read Thomas' Rise Chanting; the details in the score were plainly evident in the performance and Thomas' penchant for lines that seem improvised came across very naturally and yet with an extreme precision. The first half of the concert concluded with a rambunctious setting of Louis Andriessen's 1974 piece Workers Union. With an eclectic collection of strings, winds, and keyboards (including two toy pianos and an iPad), the ensemble gave a thrilling performance of the seminal work, which was very well received by the almost-full house.
The second half of the concert featured two works that could not have been more contrasting – Morton Feldman's Vertical Thoughts 2 and György Ligeti's Piano Concerto. Violinist J. Austin Wulliman and pianist Winston Choi brought a light touch and gauzy sensibility to the Feldman, with Wulliman walking the tightrope between extreme softness and inaudibility and Choi setting each sonority with confidence. In an impressive feat of mental gear-shifting, Choi was brought back to the stage to play the solo part in one of Ligeti's most demanding works with the ensemble-as-chamber orchestra under the direction of DePaul faculty Michael Lewanski. With the exception of a few balance problems in the percussion that were exacerbated by the acoustics of the hall, the ensemble brought this work to life in vivid colors and with a exactness in detail and intensity. I have heard from many colleagues at Winston Choi's talent and was not disappointed in the performance – he really is one of the best interpreters of new music on the piano scene today. While the entire ensemble shined in the performance, severe kudos needs to be given to standout performances by hornist Julia Filson, bassist Mark Buchner, bassoonist Wendeline Everett, piccoloist Constance Volk and the haunting ocarina from Alejandro T. Acierto.