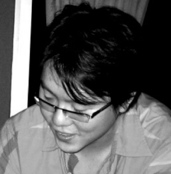 I'm excited to share a piece of music that is very close to my heart: Marc Chan's My Wounded Head cycle, the third installment of which will be performed this Sunday at The Stone.
The title comes from a set of five chorales from Bach's St Matthew's Passion, "O Haupt voll Blut und Wunden" ("O Sacred Head Now Wounded"). These chorales have become an obsession for Marc, and each station of his cycle forges a new "road trip" through the notes, patiently spinning them out into strange and beautiful patterns. Number 3, for solo piano, pushes this patience into sublime territory — each bar is repeated ad libitum, with the premiere clocking in around 1:20 — but the rhythms mesmerize, and you may even feel it not long enough.
Pianist Rob Haskins, to whom the piece is dedicated, has deep roots in both Cage and, through the harpsichord, Bach, which goes a long way to explain the — I can only say understanding — that pervades his performance of this music.
Also on the program: Chan's arrangement of Cage's In A Landscape for piano, guitar and saxophone.
Sunday, September 25
8pm: Margaret Leng Tan plays John Cage: Four Walls
10pm: In a Landscape, My Wounded Head 3
The Stone