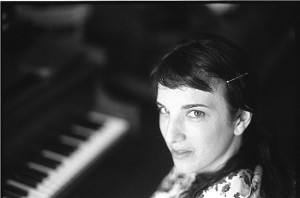 The following is the extended interview I had with singer/composer Judith Berkson, who will be appearing at the Vital Vox Festival this Saturday at Roulette in Brooklyn (She'll be appearing on Night One: Vocals + Keys). Here she talks about her beginnings, and the preview of selections from her upcoming opera.
CM: Can you give sort of a small recap of how you got from your musical beginnings to your current status as a composer/performer? Was there a significant a-ha moment or was this something that was gradual?
JB: My father who is a cantor taught me to sing when I was very young by methodically teaching me Hebrew blessings which I would sing back by rote. He was demanding about precise pitch, I remember that. From about age 5 to 10 my family had a singing group/band where we played community centers and synagogues and we were required to be in it. It wasn't really that fun since we had no choice and rehearsals were long and my father a perfectionist. But despite these conditions I was secretly compelled by music. I liked discovering how to do it. I started classical piano at age 5 and when I was 10 my father insisted on music theory lessons too. None of my friends had to do anything like that. I actually really enjoyed it though. I remember the circle of fifths blowing my mind. In high school I took singing seriously and started voice lessons. I reluctantly auditioned for conservatories not really wanting to go to college and ended up at the New England Conservatory. I thought I'd drop out and find people to play with and start a band but then I ended up falling in love with opera.
CM: How long have you been working/performing as a cantor?
JB: I've been working as a cantor for 12 years. I started when I was still at conservatory at a synagogue just south of Boston in Quincy, Ma.
CM: Is Liederkreis another side of your work?
JB: Liederkreis is a pseudonym that I use for my solo shows which includes anything from Schubert lieder to my compositions or piano music or electronic music.
CM: Can you talk a bit about the forthcoming opera that you will be previewing in solo arrangements at the festival?
JB: The opera is yet untitled but it's about Salomon Sulzer who was Vienna's chief cantor for much of the 19th century. It takes place mostly in 1826 when Sulzer arrived in Vienna at the newly built Stadttempel and started to do experimental services as part of the reform movement by adding choir and organ – conventions of the European church. He also asked Franz Schubert to write a piece for the temple's dedication and Schubert wrote Psalm 92 for Sulzer and a choir. So the opera is about this crossing of influence and ideas.
The opera is being written for drum core, organs, voices and a children's choir but for the solo performance I'll be on vocals, organ, piano, drums, sequencer and drum machine. This is the first time I'm using an elaborate setup of instruments and sequencing in a show. It's been a brutal amount of work but I am really really excited.
CM: After hearing your CD Olyam, it is clear that what you create is such a progressive style of music that also includes your singing. Do people ever ask you to categorize what it is in one or a few words?
JB: Ha ha.. I don't know if I've been asked that before. Oylam was a culmination of several years work writing songs where I played and sang in a way that was hard to recognize. I think I took that as far as I could go and now I'm following other strains and interests. I'm about to record a record of German lieder and then there's this opera!
2011 Vital Vox Festival
Sat, Nov 5th and Sun, Nov 6th, 8 PM
Roulette
509 Atlantic Ave (At the Corner of 3rd Ave)
Brooklyn, NY 11217
(917) 267-0363
info@vitalvoxfest.com
Vital Vox Fest.com
Official website
Judith Berkson.com
Judith's official website